Beer festivals are a fun way to explore new and different types of beer from all around the world.
But what should you wear? The type of clothing you choose for an event like this can make or break your experience, so it's important to know what looks best.
The ideal outfit for attending a beer festival is something casual yet stylish. For men, it could be as simple as jeans and a t-shirt paired with sneakers or loafers.
Alternatively, they may opt for chinos and a button-down shirt if they want to dress up their look more. On top of that, wearing accessories such as hats or sunglasses can give your outfit extra flair.
For women, the options are endless. A flowy maxi dress or skirt with sandals would work perfectly for a relaxed day out at the festival.
Or if you prefer something more structured then why not try cropped pants and a tank top with wedges?
There are plenty of options available depending on how much coverage you want in terms of clothing choices – whatever works best for your body type is always encouraged!
Don't Forget to Accessorize
A good accessory choice when going to any kind of event like this is statement jewelry – necklaces, bracelets, earrings etcetera – which will add some personality to any look while still being comfortable enough to enjoy the festivities without feeling too overdressed. And don't forget about handbags either; small crossbody bags or clutches will fit all your essentials while looking great at the same time!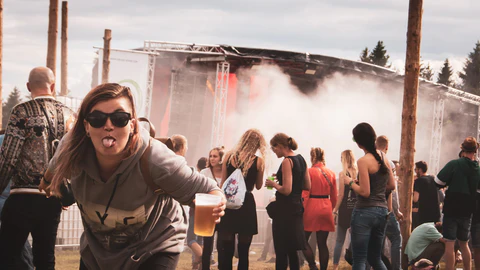 When picking an outfit for any occasion it's always important to consider comfort first; after all no one wants their clothes getting in the way during a fun day out drinking beer.
It's also worth bearing in mind that most venues tend towards quite chilly temperatures so layering up is definitely recommended – especially if there's potential rain outside too (which often happens). Think cardigans over dresses/shirts with jackets on standby just in case temperatures drop unexpectedly.
Fashion Tips: What to Wear to a Beer Festival
No matter what your style, a beer festival is the perfect opportunity to show off some of your favorite looks. For men, it's all about casual comfort. Try wearing jeans or shorts with a relaxed shirt and leather boots for a classic look that's both stylish and comfortable. Or why not try an eye-catching patterned shirt paired with distressed denim for an edgier look?
Women can go for something equally stylish but slightly more sophisticated. A chic sundress in a bold color is ideal for making sure you stand out from the crowd – just add some flat sandals or wedges to complete the look. Alternatively, teaming skinny jeans with ankle boots and an embellished top will ensure you turn heads wherever you go!
Whatever outfit you choose, make sure it fits well and reflects your personality so that no matter how much fun you have at the festival, there'll be no doubt that you got it right when it comes to fashion.
Craft Beer Festival Outfit Ideas: What to Wear for an Unforgettable Experience
When it comes to beer festivals, you want to make sure that your outfit stands out from the crowd. After all, a beer festival is an opportunity for you to showcase your unique style and have an unforgettable experience. Here are some craft beer festival outfit ideas that will help ensure that you look stylish and make heads turn.
A classic t-shirt with a pair of jeans is always a great option when attending any kind of event, especially if you're looking for something casual yet fashionable. To add an extra touch of personality, opt for a bold graphic tee or vintage t-shirt with eye-catching designs. For bottoms, go for distressed jeans or ripped denim shorts in various shades – depending on the weather – paired with comfy sneakers or sandals. Complete your look by accessorizing it with cool statement pieces like necklaces and bracelets as well as trendy hats such as bucket hats or baseball caps.
If you're going for something more sophisticated yet still relaxed enough for the occasion, try wearing chino shorts along with a plain white shirt and boat shoes; this combo works wonders in making your overall appearance appear neat without feeling too formal at all. Alternatively, if there's no dress code at the event but still want to look polished while keeping up with current fashion trends? Then we recommend pairing light wash skinny jeans along with plaid shirts (tucked into them) and Chelsea boots; this timeless combination never fails to impress!
Travel Blog: Packing Tips for Your Next Beer Festival Adventure
When it comes to attending a beer festival, one of the most important parts of the process is packing. Knowing what items to bring and how to make them fit in your luggage can be daunting – but fear not. Here are some travel tips that will help you prepare for your next beer festival adventure.
Be sure to pack layers so you're prepared for any weather condition. A lightweight jacket or raincoat is essential if you plan on being outside all day, as temperatures tend to drop at night. You'll also want comfortable shoes like sneakers or flats – flip-flops may seem tempting, but trust us when we say that there's nothing worse than walking around all day with sore feet.
Sunglasses and a hat are both great additions – they provide protection from the sun during the day while also helping tie together an outfit.
Don't forget sunscreen either; no matter how long you'll be outside it's always important to protect yourself from harmful UV rays. A cute bag is perfect for carrying around snacks and drinks throughout the event (and will keep hands free!). A drawstring backpack or crossbody purse should do the trick nicely.
At last, don't forget about personal items such as phone chargers and wallets/purses. And remember – no matter what combination of clothing pieces you choose, just have fun with it; after all, this is supposed to be an awesome experience so enjoy every minute of it.
What to Bring to a Beer Fest: Essential Tips for a Great Time
When attending a beer festival, it is important to plan ahead and come prepared. Knowing what to bring can help make your experience more enjoyable and ensure that you get the most out of your time at the event. Here are some essential tips for having a great time at any beer fest:
Dress appropriately for the occasion. Many beer festivals require attendees to wear closed-toe shoes such as sneakers or sandals with straps around their ankles. Other items such as hats, sunglasses, sunscreen and light jackets may also be necessary depending on the weather forecast. It's always wise to have an extra layer in case temperatures drop unexpectedly during the evening hours.
Another key item to remember is money – both cash and cards – so you don't run into any surprises when paying for food or drinks throughout the day. If you're hoping to take home souvenirs from your visit like t-shirts or glasses then it's best to bring along enough funds so that you won't miss out on these unique mementos of your experience at a beer fest.
Don't forget about bringing along some water bottles (empty ones will do) which can be filled up at various taps throughout the event area; this way you can stay hydrated without missing out on all of those delicious beers available.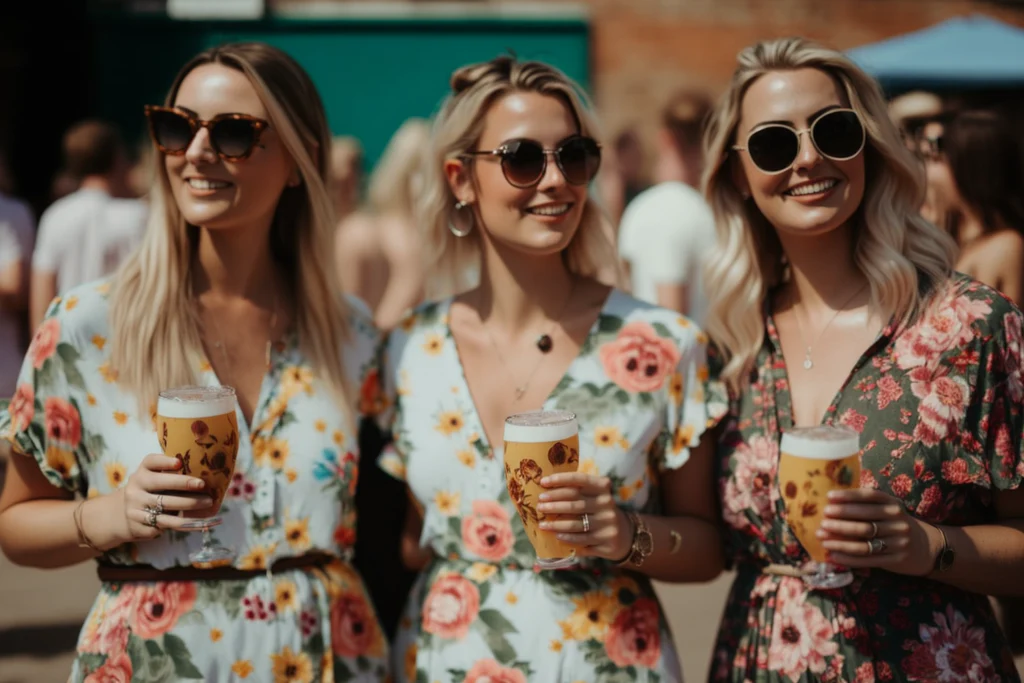 Conclusion
Well, it's time to wrap up this guide on what to wear to a beer festival. First off, make sure you've got your ticket sorted and keep a note of any rules or regulations. You don't want to miss out on the chance to sample some delicious brews because you didn't read the fine print. 
Now, when it comes to dressing, don't be afraid to let loose and have some fun. This ain't no formal affair, so save those suits for another day. Instead, treat yourself to some comfy clothes that'll allow you to move around and enjoy the festivities. 
And speaking of treats, make sure to mark down any must-try beers so you don't miss out on a good one. Trust me, nothing's worse than leaving a festival regretting a missed opportunity. Finally, get excited! Beer festivals are all about having a good time, so allow yourself to let loose and enjoy the game. Cheers!
People Also Ask
What's the fashion vibe at a beer fest?
It's all about laid-back, casual vibes at a beer fest. So, ditch the formal wear and go for something that's comfortable and easy to move around in.
How do I prepare for a beer fest?
First things first, make sure you've got your ticket sorted and read up on any rules or guidelines. Then, think about what you want to wear and get yourself all prepped and ready to go. And don't forget to bring some cash for beer samples and souvenirs.
What can I expect at a beer fest?
Expect to have a good time! You'll be surrounded by like-minded beer enthusiasts, trying out new brews and enjoying some great company. There'll be music, food, and plenty of laughter to go around.