Wearing a white shirt to a wedding can be an excellent choice, as it is both formal and stylish.
A white shirt is classic and timeless; its clean look can easily match almost any kind of clothing. It's versatile enough that you can wear it for other occasions besides weddings.
The key factor when wearing a white shirt to a wedding is selecting one that fits your style preference as well as suits your figure type and skin tone – this will ensure that you look fashionable yet appropriate for such an important event.
Wearing a white shirt to a wedding could give you just the right balance between sophistication and modernity that would help you shine on any special occasion.
Can You Wear a White T-Shirt to a Wedding?
When deciding what to wear to a wedding, many people think of the traditional suit and tie.
But for those looking for a more casual option, wearing a white t-shirt can be an appropriate choice.
While this may not work for all weddings or in certain settings, it is possible to pull off the look with some smart styling tricks.
Accessorizing wisely can go a long way when rocking a white t-shirt at any special event including weddings.
A pair of statement earrings or classic oxford shoes will add interest and complete the ensemble without making you look too overdressed or underdressed – striking just the right balance between dressy and laid-back that's perfect for these occasions.
Dress Code: Understanding What to Wear as a Wedding Guest
Although the level of formality can vary depending on the time of day or location, a general rule is that wedding attire should be tasteful and polished.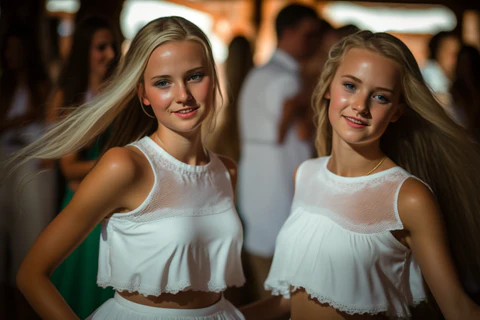 A traditional guideline is that women should wear cocktail-style dresses in darker colors such as navy blue or burgundy, while men may opt for suits in muted shades like charcoal grey or black with matching trousers and ties. It's also not uncommon for couples hosting their own ceremony to specify that no white garments are allowed on their special day; this helps ensure all eyes will be focused on them.
On the other hand, modern weddings may have more relaxed dress codes which permit light hues like cream or pastel pink.
While these tend to be less formal events where casual clothing might suffice (such as chinos paired with button-down shirts), they still require careful consideration when selecting an ensemble – wearing something too daring could distract from the couple's big moment.
The White Dress Tradition: Should You Avoid Wearing White Colour to a Wedding?
White has been a traditional wedding dress color for brides since the Victorian era. As such, wearing white to someone else's nuptials can be seen as disrespectful and a breach of etiquette. After all, it is typically assumed that the bride will be the one in white on her big day.
However, there are some ways you can wear white without offending anyone or overshadowing the bride's ensemble. For instance, accessorizing with white items like shoes or handbags may not draw too much attention at a wedding but still allow you to look fashionable and elegant. Lighter hues like cream or ivory are an excellent alternative if you'd prefer not to completely give up wearing whites for weddings.
Adding Color to Your Outfit: Accessory Ideas for a White T-Shirt
Adding a few pops of color to your white shirt ensemble can help bring the look together and make it appropriate for a wedding. A brightly colored scarf or necktie is an easy way to add some flair without taking away from the simplicity of the white t-shirt. To truly stand out, opt for a patterned silk scarf in eye-catching colors such as emerald green or royal blue that will draw attention to your face.
To further enhance your outfit and tie it all together nicely, consider accessorizing with jewelry such as statement earrings or a delicate necklace chain. A pair of gemstone studs will add just enough sparkle while remaining understated enough not to detract from the rest of your attire.
Breaking the Taboo: Standing Out in a White T-Shirt on the Wedding Floor
White has been a classic color choice for weddings, but it's usually reserved for the bride. This can leave wedding guests feeling limited when it comes to selecting their attire. Yet, breaking the taboo of wearing white is possible without looking like you're upstaging the bride. A white t-shirt offers an ideal option that can provide style and comfort on a special day.
T-shirts are a great way to stay cool in hot summer months or humid climates where heavier clothing might be too much. When paired with dress pants or slacks, they create an air of sophistication while still allowing some individuality and personal flair in your look – something that many weddings lack due to strict dress codes set by hosts and venues alike.
It's no secret that accessories can make all the difference in making your outfit stand out from everyone else's. Adding other subtle details such as shoes and jewelry will add depth to your overall look while still keeping it elegant and dignified – perfect for those who don't want anything flashy at a formal event like a wedding!
Do Not Wear White Floor-Length Skirts or Dresses as a Guest
Attending a wedding can be an exciting and joyous occasion, but it's also important to remember the dress code etiquette that should be observed. While white is generally accepted as a color for guests to wear, there are some exceptions. Wearing floor-length skirts or dresses in white at a wedding is one of them. It can be seen as rude and inappropriate to don this type of outfit since traditionally, only the bride wears all-white garments during her ceremony. In addition to being disrespectful toward the bride, wearing white from head to toe may detract from the beauty of her special day.
Not only could your ensemble take away from photographs where she's prominently featured in white apparel, but it might cause you to outshine her on her own nuptials–something you definitely want to avoid.
Bride and Her Wedding Dress are Meant To Steal All The Attention
On the big day, all eyes should be on the bride and her wedding dress. The dress is meant to be a showstopper and draw attention away from any other guests or attendees. As such, it is best to avoid wearing white if you are attending someone else's wedding – even if your outfit would otherwise look very stylish.
The idea of not wearing white has been around for centuries, as brides in many cultures often wore white gowns to symbolize their purity and celebrate this special moment in their lives. Though times have changed, the tradition of avoiding white clothing at weddings still stands today as a sign of respect for the bride-to-be and her chosen ensemble.
In A Nutshell
The age-old conundrum of whether it's okay to wear white to a wedding can be a real head-scratcher. But fear not, dear fashionista! It's all about reading the room – or in this case, the invitation. If the couple has specifically requested guests to throw on some white for their beach wedding or if you're part of the wedding party, then it's smooth sailing. However, if you're left wondering, why not opt for a chic alternative, like a champagne maxi or an ivory dress with a splash of color? Jazz up your outfit with eye-catching accessories like a statement belt, some bling-bling jewelry, or a snazzy hat to make a memorable entrance. Just remember – when it comes to attending someone's special day, it's better to err on the side of caution and avoid committing a fashion faux pas. So follow the golden rule: always check the invitation and, most importantly, dress to impress while still letting the bride and groom steal the spotlight.
Questions & Answers
Can you wear a white shirt to a wedding?
Well, to be completely honest it's a bit of a no-no: white is usually reserved for the bride and her lovely bridal party, so it's best not to steal their thunder. Now, don't get me wrong, I'm not saying you can't rock a white shirt, but perhaps it's best to add a splash of color, like a nifty stripe or two. If you're feeling extra confident, why not try a black-and-white combo?
Is it acceptable for guests to wear white to a wedding?
I must say it's not the best idea. There's a time and a place for a short white dress, but a wedding might not be it. You see, weddings are all about the happy couple, and we wouldn't want the bride to feel upstaged. I mean, she's the belle of the ball, the lady of the hour, and all eyes should be on her. So, don't wear white unless the invitation says differently.
What is recommended for a bridesmaid to wear? Can she wear white?
Why not consider a lovely lace number, or perhaps a wool dress for those chillier weddings? A classic black and white ensemble can be a real head-turner, too. The key is to chat with the bride and understand her vision for the big day.