When it comes to weddings, there are so many elements that come together to make the perfect day. From flowers and food to decorations and entertainment – all these things work together to create a beautiful atmosphere for guests. But one of the most important aspects of any wedding is what guests should wear. Dressing for a wedding can be tricky, but with some simple guidelines, you can look fabulous without overshadowing the bride or groom on their special day.
Weddings usually have dress codes that will help guide your outfit choices. Depending on how formal the event is, men might need to rent tuxedos while women often choose floor-length gowns or shorter cocktail dresses in light colors like pastels or white (depending on the tradition).
How to Dress for a Wedding as a Guest
When picking out your ensemble, think about the type of ceremony and reception you will attend: is it an outdoor garden party or an indoor church service?
The setting should determine how dressed up or casual you will go with your clothing choice.
For example, if it's outdoors in warm weather, lightweight fabrics like cotton and linen are perfect; however, if the ceremony takes place inside on a cooler day then something more substantial such as wool might be necessary.
Ensure that whatever you choose fits appropriately so that you won't have any wardrobe malfunctions during the night.
Suits also work well if they're made from high-quality fabrics in muted tones; avoid overly bright colors as they can be distracting at a wedding ceremony or reception. For an outdoor event during warmer months, lightweight materials like cotton are ideal; add a shawl if temperatures drop in the evening hours.
Overall when dressing for a wedding it's best not to go overboard – remember that although fashion plays an important role in setting up an unforgettable event, ultimately it's about celebrating two people who love each other deeply surrounded by family and friends who care about them.
Decoding Wedding Dress Codes: From Casual to Black-Tie
When it comes to weddings, many couples like to provide their guests with a dress code. This way, the attendees know what type of clothing is expected at the event. From casual to black-tie formal, there are several different types of wedding dress codes that one might encounter.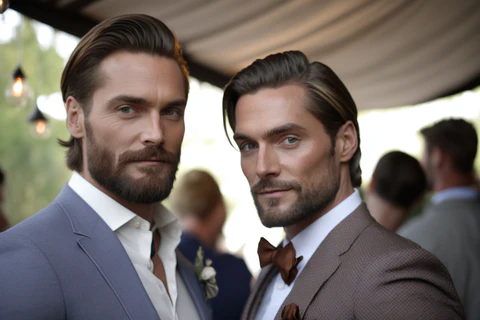 Casual attire usually means that guests can wear whatever they'd normally wear on a day out or for an evening gathering. In this case, comfortable shoes are recommended as well as light and airy materials such as cotton and linen.
Jeans may be acceptable depending on the level of informality requested by the couple – dark wash jeans should generally be avoided but lighter washes could work in some cases. A simple blouse or top with modest accessories will make up the perfect casual look for attending a wedding ceremony or reception without appearing too underdressed or overdone.
For semi-formal occasions like garden parties and afternoon receptions, guests can opt for more sophisticated pieces such as midi dresses and jumpsuits paired with heels or flats depending on personal preference (and practicality.).
Finally, we come to black tie events which are considered among the most formal dress codes for weddings – here men must typically don full suits while women have greater flexibility in terms of silhouettes from long gowns to cocktail dresses just above knee length (although floor length gowns remain popular).
Semi-Formal Dress: What to Wear to a Modern Wedding
As weddings become increasingly diverse, couples may opt for a semi-formal dress code for their ceremony. This type of wedding is the perfect opportunity to put together an outfit that will make you look and feel your best without going over the top. With this in mind, it's important to choose pieces that strike the right balance between formal and casual.
To start, selecting an appropriate blazer or sport coat can be a great way to add structure and style to your look. It should fit well but still allow for some movement so you won't feel uncomfortable throughout the night. For trousers, go with something tailored yet relaxed such as linen or cotton chinos in neutral shades like navy blue or light grey. Paired with a crisp white shirt and smart leather shoes, these items create an ensemble that exudes sophistication while remaining effortless at the same time.
Accessorize accordingly by choosing subtle statement pieces such as watches, pocket squares, or ties – depending on how daring you want your outfit to be. These details can help take any modern wedding attire from bland to bold while making sure not to overpower other elements of your ensemble either visually or conceptually speaking.
Bridesmaid Dress Ideas: Choosing a Dress That Fits the Occasion
When it comes to weddings, bridesmaids have an important role in helping the bride look her best. With so many wedding dress options available, finding the perfect outfit for your bridesmaids can be a challenge. To help you out, here are some tips on choosing a dress that fits the occasion:
The first thing to consider is color. Many brides opt for shades of pink or purple for their bridesmaids' dresses, but there is no rule saying you must stick with these colors. Instead, choose something that complements both your gown and the overall theme of the wedding – whether classic and elegant or bright and cheerful. Think about other elements such as flower arrangements or decorations at the reception venue when selecting a color palette for your attendants' outfits.
Next up is style; make sure all of your bridal party members are comfortable in whatever they wear. While long gowns might work well if everyone has similar body types, this isn't always practical; opting instead for shorter styles will allow each attendant to show off their flair while still looking uniform as a group. You can also mix and match different necklines and sleeves (e.g. halter tops versus cap sleeves) if desired – just be sure to pick fabrics that share similar hues so everything looks cohesive together!
Avoiding Fashion Faux Pas: What Is Acceptable to Wear to a Casual Wedding?
When it comes to dressing for a casual wedding, there are certain fashion faux pas that you should avoid. For example, if the invitation specifies a casual dress code then this means that you should leave your evening gowns and other formal attire at home.
Instead, opt for an ensemble made up of more comfortable pieces like sundresses or khaki shorts with dress shirts. Another mistake is to wear something too revealing; a short skirt or low-cut top may be appropriate for some occasions but not when attending a wedding where discretion is key.
If the wedding has no specified dress code then try to err on the side of caution by choosing smart separates that won't distract from the ceremony itself – think blazers over t-shirts, trousers instead of jeans, and shoes in place of trainers. It's also important to remember that although less formal than black tie events, weddings still require guests to make an effort so even if you're wearing something casual ensure it's been freshly laundered and ironed before setting off.
Understanding Wedding Dress Codes and What to Wear as a Wedding Guest
For wedding guests, it can be difficult to know what to wear. Wedding dress codes can range from casual to black tie and knowing how to interpret them is key to ensuring you look your best for the special day. It's important to take into account the season, location, and time of day when selecting an outfit that is both fashionable and appropriate.
A semi-formal or cocktail dress code calls for a more polished look than everyday attire but doesn't require full eveningwear. Women should opt for a knee-length or maxi-length dress with heels while men may choose chinos or trousers paired with a shirt and jacket; either a blazer or sport coat will do just fine. A statement clutch bag along with some tasteful jewelry adds a touch of elegance without being too overstated.
Black tie events are considered more formal than other occasions so it's best not to skimp on style here. For women, long gowns are generally preferred – if wearing shorter styles then keep hemlines well above the knee – while men should stick with traditional tuxedos including bow ties and cummerbunds as these elevate the look even further. Opting for darker hues such as navy blue instead of classic black is an excellent way to make your ensemble stand out from the crowd without compromising on sophistication.
Decoding Wedding Attire: From Casual to Semi-Formal to Black-Tie Optional
When attending a wedding, it is important to be aware of the dress code for the event. Although some weddings are casual and relaxed, others may require guests to dress in more formal attire. To help you decide what type of clothing is appropriate for each level of formality, here are a few tips:
For casual weddings, think smart-casual or business-casual; opt for blazers over full suits with trousers or skirts instead. Don't forget that comfort matters too – choose light fabrics like cotton or linen which will still look good but won't feel uncomfortable if you find yourself outside in warm weather. If there isn't an obvious dress code specified on the invitation then this should give you an idea about how casually dressed guests will likely be at the ceremony and reception.
Semi-formal events can involve wearing anything from cocktail dresses to dark suits and ties. The key difference between semi-formal wear and business wear is that men should avoid wearing regular work shirts with their suit jackets – instead opt for something more stylish such as a patterned shirt with cufflinks or even velvet tuxedo pants paired with a slim-fit white shirt without any necktie accessories needed.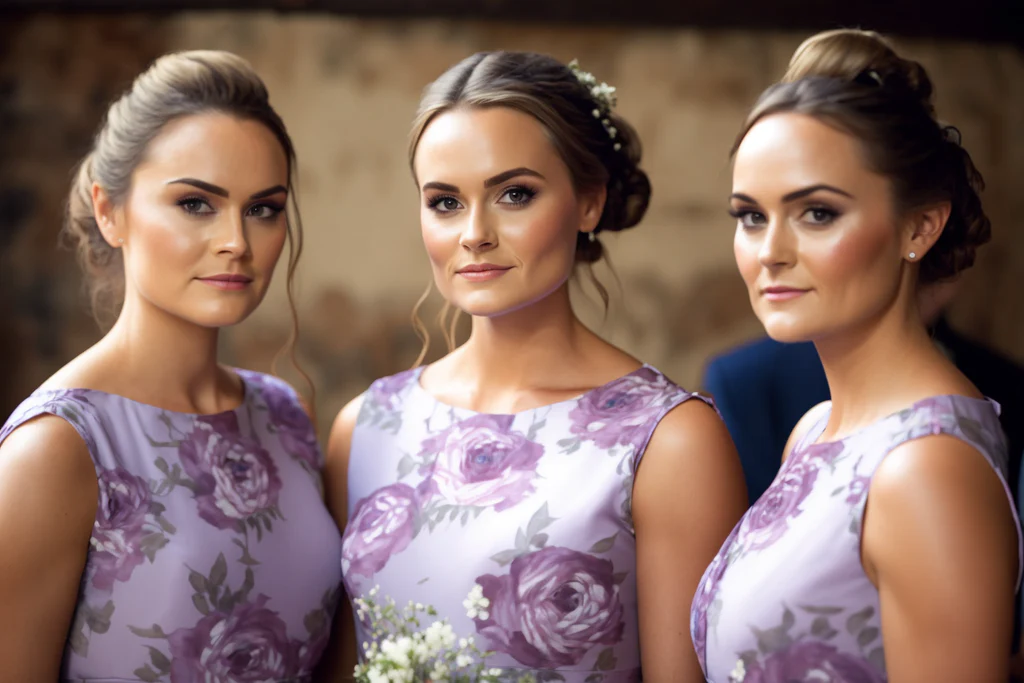 Dressing for a Black-Tie Wedding
For a black-tie wedding, the dress code is formal and sophisticated. As such, it's important to look your best without overdoing it. Men should opt for a dark tuxedo or dinner jacket with trousers in either black or midnight blue. Accessories like pocket squares, cufflinks, and bow ties can be chosen to add subtle detail and elevate the overall look of an outfit. Women can choose from floor-length gowns or cocktail dresses that are both elegant and classic.
When picking out shoes, make sure they coordinate with the rest of your outfit while still being comfortable enough to last throughout the night's festivities. Closed-toe pumps in neutral tones like black, nude, or silver work well with many ensembles while metallic sandals offer a bit more sparkle if desired. For accessories such as jewelry, clutch bags, and hats; keep them simple but tasteful so as not to detract attention away from your main attire choices – less is always more.
Don't forget about hairstyles which can help tie together any look – whether you decide on wearing an updo or going natural with soft curls just remember that whatever you choose should fit within the parameters set by your dress choice whilst also allowing you to feel confident at all times during the occasion itself.
Guest Attire and Bridesmaid Dress Ideas: Beach Wedding Outfits and Cocktail Attire
When it comes to a beach wedding, it is important for guests and bridesmaids to select the right type of attire. The key is to keep things casual but still stylish so that you can look your best without upstaging the bride and groom. For men, this usually means light-colored trousers paired with an open-collar shirt or linen button-down. Women should opt for flowy maxi dresses in muted tones like blush pink or soft blue with sandals or wedges for extra height if desired.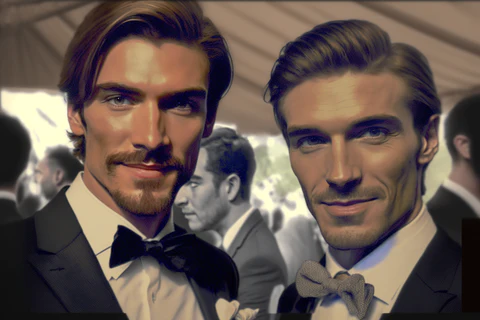 For more formal beach weddings such as cocktail dress codes, there are several options available depending on how dressy you want to be.
Men could go for slim-fit slacks in classic black matched with a crisp white shirt and leather loafers while women can choose from floor-length gowns, midi skirts, and tops, or short sundresses in eye-catching hues like emerald green or sapphire blue. Accessories such as statement jewelry pieces also help complete the look.
If you're attending a destination wedding where both traditional western wear and local culture are celebrated then you'll have plenty of choices when it comes to selecting an outfit that is appropriate yet fashionable at the same time.
Fashion Faux Pas to Avoid: What Not to Wear to a Wedding, Including Casual Attire
When it comes to a wedding, the dress code is typically formal. It is important to remember that weddings are special occasions, and you should take care when selecting an outfit. While some may think that casual attire such as jeans or sneakers will suffice, this can be considered inappropriate in certain settings. To avoid any fashion faux pas at a wedding, here are some tips on what not to wear:
Shorts and flip-flops should always be avoided when attending a wedding. Even if the ceremony is outdoors in warm weather conditions, these garments would still look out of place. Opt for a more suitable option such as khakis or capris with sandals instead. Avoid wearing too much denim; even if it's washed and distressed – unless otherwise stated by the bride and groom – denim can come across as too casual for the occasion.
While t-shirts may seem like an easy choice when trying to decide what to wear – especially graphic tees – they are not appropriate for weddings either. In most cases, they give off an unprofessional vibe so opt for something more sophisticated such as a button-down shirt with slacks or trousers instead. Not only will you look put together but also show respect towards those getting married on their special day!
To Sum Things Up
So, folks, the big day is fast approaching, and you're still scratching your head, wondering what on earth to wear to a wedding as a guest. Fear not, for we've got you covered! Whether it's a swanky black-tie affair, a whimsical outdoor wedding, or a cozy winter wonderland, the key is to stick to the dress code and let the wedding invitation be your guiding star.
Heed the sage advice of fashion experts and never wear white – that's a big no-no in wedding guest etiquette! Instead, opt for stunning sundresses, chic jumpsuits, or dapper suits and tuxes that'll have you looking like a million bucks.
Men can wear dress pants and a stylish blazer, while women can rock elegant chiffon gowns or playful midi dresses, perfect for any wedding scene.
But remember, the last thing you want is to outshine the happy couple on their special day.
Keep it classy, avoid flip-flops, and never show up in a dress or suit that screams, "Look at me, I'm the star of the show!" When in doubt, ask the couple or consult the wedding website for guidance on the style of the wedding and any specified dress codes.
So, there you have it! Armed with these expert tips, you're all set to pick the perfect outfit and dazzle the crowd with your impeccable taste. Happy wedding season, and may your guest attire be the toast of the town!
People Also Ask
What's the best way to figure out the dress code for a wedding I'm attending as a guest?
Your best bet is to check the wedding invitation or the couple's wedding website for clues on the dress code. If it's not specified, don't be shy to reach out to the couple or a member of the wedding party for guidance – they'll appreciate your effort to look the part!
Is it ever appropriate to wear white to a wedding as a guest?
In a nutshell, nope! Wearing white to a wedding is a big faux pas, as it's traditionally reserved for the bride. Instead, opt for a different color or pattern that won't steal the limelight from the star of the show.
What should I wear to a semi-formal daytime wedding?
For the ladies, a lovely sundress, a jumpsuit, or a chic midi dress is usually a good choice. For the gents, a suit in a lighter shade or a smart blazer with dress pants would be perfect. Just remember to keep the colors and patterns appropriate for the daytime setting.
I'm attending a formal winter wedding. What should I wear to stay stylish and warm?
For a winter wedding, opt for a more formal dress or suit made of heavier fabrics to keep you cozy. Women can wear a stunning floor-length gown paired with a stylish wrap or shawl, while men can don a sharp suit or tuxedo with an overcoat to brave the chilly weather in style.
The dress code isn't specified for the wedding I'm attending. How can I pick an outfit that's appropriate and stylish?
When the dress code is a mystery, it's best to err on the side of caution. Opt for an outfit that's versatile and can be dressed up or down with accessories. Think of a classic black dress for women or a suit with a tie that can easily be removed for men. And remember, you can never go wrong with the advice from fashion experts or trusted friends!