Polos with logos are a popular option for business casual attire. The polo is a type of shirt that typically has two or three buttons at the top and may have a collar. It usually comes in solid colors, but can also come in stripes or other designs. They often feature an embroidered logo on the chest or sleeve, which adds to their stylish look and feel.
The great thing about polos with logos is that they're versatile enough to wear for almost any occasion – from work to weekend gatherings. You can pair them with jeans, chinos, shorts, skirts, or trousers for an easy yet polished look. Since most polos come in neutral colors like white and black (as well as brighter shades), you can easily mix and match pieces from your wardrobe so you always look put together no matter where you go.
Are Polos Business Casual: How Can You Wear a Polo Shirt with Logo?
What makes these shirts unique is their timelessness; they never go out of style and will remain fashionable regardless of trends coming and going each season. Polos with logos also offer a more formal alternative than plain tees while still maintaining comfort levels through their relaxed fit – perfect if you need something dressier but don't want to feel restricted by more tailored garments like suits or dresses.
In terms of construction quality wise, polo shirts tend to be made out of lightweight materials such as cotton jersey fabric which gives them breathability when worn during warmer months.
Some brands might incorporate small details like ribbed collars/cuffs etc giving it extra flair compared to regular t-shirts – all depending on what kind one chooses really!
Polo shirts with logos are an increasingly popular way to express yourself in the business world.
Whether you're looking for something sleek and stylish or bold and daring, polos with logos can help you stand out from the crowd while still maintaining a professional look. It's important to know how to wear these shirts so that they don't become too casual or too over-the-top.
When it comes to wearing polos with logos, choose colors that will not be too bright or flashy but still make a statement. Light blues and greys are usually good options as they are subtle yet eye-catching enough for people to notice them without drawing too much attention away from other aspects of your outfit.
It is also important to pick clothing items such as pants or blazers that match the color of your shirt in order for the entire ensemble to look more cohesive and well put together.
When selecting what type of logo should go on your shirt, consider going for one that has some sort of meaning behind it instead of just getting any random design off the internet. This could mean anything from choosing a brand whose values align with yours, or simply finding a pattern that has some sentimental value attached to it; either way, this small detail can really set apart your outfit from others by adding an extra layer of personality into it.
Polos and the Business Casual Dress Code: Are They Compatible?
Polos are the ultimate versatile shirt, with their classic style and relaxed fit they make a great option for almost any occasion. While most people think of polos as being casual wear, they can actually be quite appropriate for business casual attire in some cases.
The key to wearing a polo in a professional setting is to ensure that it fits properly and looks smart. A fitted polo should sit close to the body without being too tight or loose, while still allowing you to move comfortably. The fabric should also be breathable so that you stay cool throughout the day. Opt for darker colors like navy or black which look more sophisticated than lighter shades such as baby blue or white. It's important to avoid logos when selecting a shirt for work; if you choose one with an embroidered logo, make sure it's small and subtle enough not to distract from your overall appearance.
When picking out accessories, go for understated pieces like minimalistic watches and jewelry rather than bright patterns or statement necklaces which can appear unprofessional in certain settings. Remember that although polos can often be considered business casual attire depending on how they're worn and styled – always double-check your company dress code before getting dressed.
How to Wear a Polo Shirt in a Business Casual Environment
Polo shirts are versatile pieces of clothing that can be worn in many different settings. When it comes to business casual environments, the key is to find a way to make your polo look professional without being too over-the-top or flashy. Here are some tips for wearing a polo shirt in a business casual environment:
Pick the right color. Stick with neutral colors such as navy blue, black, grey, and white. These colors will not draw attention away from what you have to say but still appear professional enough for most business casual environments. If you want to add some vibrancy to your outfit try adding an accessory such as a pocket square or belt in an eye-catching hue like burgundy or yellow – this way you can inject life into your ensemble without sacrificing professionalism.
Opt for quality materials when selecting your polo shirt; cotton pique fabric is ideal since it's durable yet breathable so that you won't feel uncomfortable throughout the day if things heat up during meetings or presentations. Check the fit of your polo – neither too tight nor too loose – and make sure there aren't any frayed edges on hemlines or seams; these details may seem minor but they could give off an unprofessional vibe so it's best to pay close attention them before heading out.
Avoid logo overload by limiting yourself to one statement item only; this might be anything from embroidered logos on collars and cuffs through tonal designs at chest level all the way down to branded buttons and zip pulls.
Pairing Polos with Khakis: Combination That Is Good For Business Casual Look
Khakis and polos are a classic combination for achieving the business casual look. Khaki trousers, or chinos, provide a structured silhouette that pairs well with dressy shirts and other items like ties and sports coats. Polos offer versatility when it comes to making formal looks more relaxed without appearing too laid-back. The preppy style of wearing a collared shirt with khakis is an ideal option for occasions where formality is preferred but not required.
To achieve this aesthetic, choose neutral colors such as beige, gray, or navy blue on both pieces; avoid bright colors that can clash with each other.
Opt for slim-fitting pants and shirts which will create an elegant yet understated look; baggy clothes can appear sloppy and give off an unprofessional vibe.
Finish the outfit off by adding leather shoes in shades of brown or black; loafers are especially suitable if you want to add extra sophistication to your ensemble.
Polos adorned with logos have become increasingly popular over recent years as they provide a way to showcase personal branding in a subtle manner while still remaining appropriate attire for most occasions – including those requiring some degree of professional dressing etiquette.
When selecting logoed polo shirts pay attention to the design elements: pick ones that are tasteful rather than overly flashy so they don't detract from the overall look you're aiming at creating by pairing them with khakis.
Are Polos Too Dressy?
Polos have been around for decades, and it's no surprise that they've become a staple of the business casual wardrobe. With their comfortable fit, easy-to-clean material, and versatility in color options, polos can be worn to almost any work setting. But some may worry that wearing a polo with an embroidered logo is too dressy for everyday wear.
In reality, this all depends on the type of logo you choose and how prominent it is on your shirt. If you opt for something small and subtle such as a monogram or crest near the chest area then this should not be an issue at all – these are usually considered part of standard office attire.
Another factor to consider when deciding whether to go with logos or not is how formal the workplace environment is – if everyone else sticks strictly to plain shirts without designs then perhaps it would be wise to follow suit so as not to stand out too much. Ultimately though there's no hard rule here; just make sure whatever logo design you pick complements your overall look while still staying true to what is deemed appropriate by colleagues around you.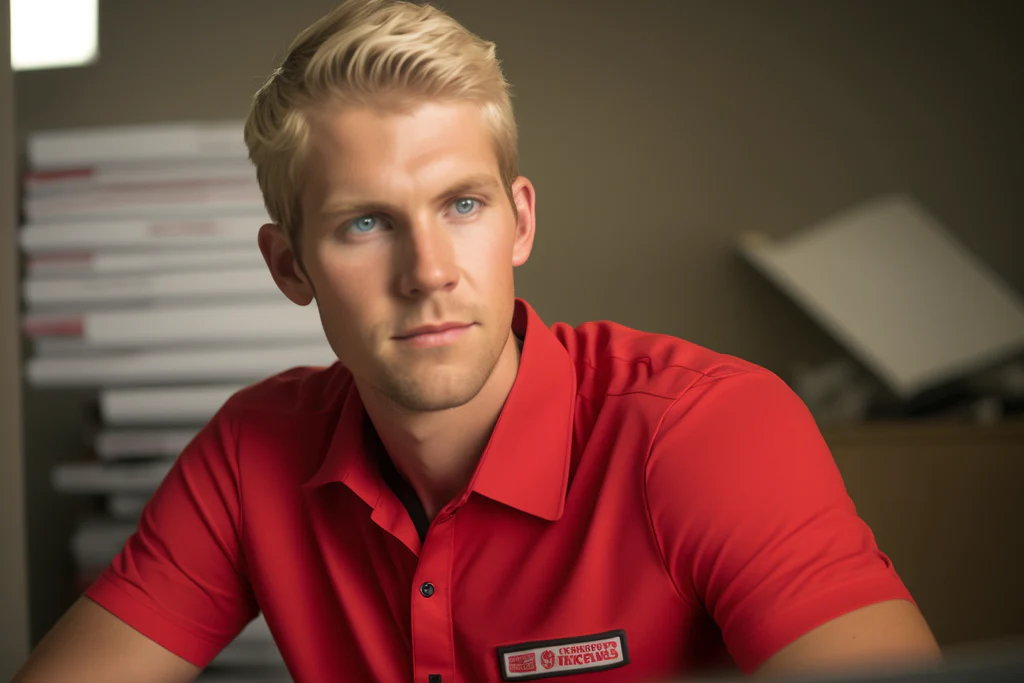 Tucked or No Untucked: How to Wear a Polo for Business Casual
It is true that polos with logos are considered business casual, but what matters most when wearing a polo for work or other professional events is how it is styled. For the purpose of achieving a polished look, there are two main options: tucking in your shirt and leaving it untucked.
When opting to go with the tucked-in style, make sure you select an appropriate length for your shirt so that it does not appear too long when tucked in. A good rule of thumb here would be to aim for one inch below the waistband of your pants. Also, keep in mind that if you want to add a belt along with this option, choose one that matches your trousers instead of trying to match it with your shoes as some people do – no matter how fashionable you think this looks.
On the other hand, choosing not to tuck in your polo can create an overall more relaxed look while still maintaining professionalism and respectability at work or formal events. To achieve this appearance properly though, remember that it should never extend beyond the mid-thigh level on any side; otherwise, you will come off looking sloppy instead of stylish. Avoid over-accessorizing as well – try going minimalistic by only adding a watch or bracelet as opposed to several pieces altogether which could take away from its intended effect.
The Versatility of Polos: Why They're a Good Choice for Business Casual
Polos have long been a staple in the wardrobe of many business professionals. They offer an attractive, yet professional look that is suitable for the office. Polos are also extremely versatile and can be worn to other occasions beyond just work events, such as dinner parties or casual gatherings with friends. The addition of a logo on a polo further adds to its versatility – while it may be seen as too informal for some offices, logos on polos can easily transition from day-to-day wear at work to more relaxed evening events.
The combination of formality and comfort makes them an ideal choice for business casual attire. Not only do they present a polished look when paired with dress pants or skirts, but their breathable material ensures comfort throughout the day – even during hot summer days. And because most polos come in classic colors like navy blue and black, they're sure to match any outfit you choose to pair them with – making them one of the best choices for those seeking an effortless way to create stylish looks without much fuss.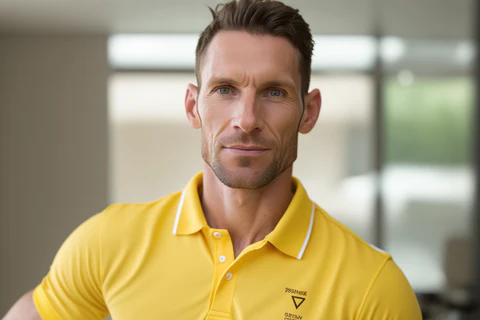 Due to their reasonable price points compared to other items in your wardrobe, purchasing several polos will not break your budget either – allowing you to invest more into higher quality pieces elsewhere instead. With all these features combined together, it's no wonder why so many people opt for wearing polo shirts when trying out different types of business casual looks!
Dressing Up or Dressing Down: How Polos Fit into a Laid-Back Dress Code
When it comes to casual dress codes, polos with logos can add a unique touch of style and personality. These shirts are great for creating a smart-casual look that still has an air of relaxation about it. They can easily be dressed up or down depending on the occasion – making them ideal for both work environments and social gatherings alike.
For instance, if you're going out in the evening but want to keep things relaxed then pairing a polo with some slim-fit jeans is a great way to do this without compromising on sophistication. Alternatively, you could team your shirt with chinos or tailored shorts if you're looking for something even more laid-back. When combined with loafers or trainers, these looks provide a stylishly effortless feel that will never go unnoticed.
On the other hand, when attending business meetings or formal events opt for wearing your logoed polo tucked into dark trousers along with polished shoes like Derbies or Oxfords. This ensemble oozes elegance while still maintaining its comfort factor.
Summary
So, when push comes to shove, are polos with logos considered business casual? It's a bit of a mixed bag, but generally speaking, polos can be a great addition to your business casual wardrobe. Pairing a fresh polo shirt with slacks or even nice-looking jeans can strike just the right balance between put-together and casual for business settings. After all, you don't want to wear a button-down every day, do you?
In the grand scheme of things, polo shirts are a step up from a T-shirt and a step down from a dress shirt, making them ideal for those hot summer months or when you're stuck in traffic on a long commute. Just make sure to choose office-appropriate colors or patterns and pair them correctly to maintain a level of professionalism. So go ahead, mix and match those polos, and embrace the versatility they offer in a business casual outfit!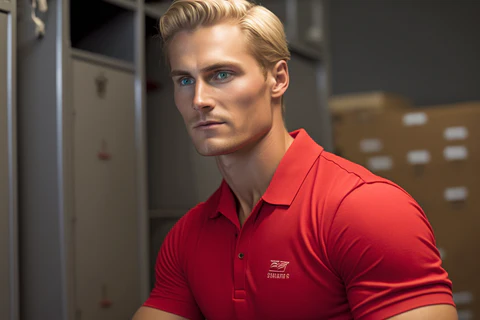 People Also Ask
Are polos business casual or do they lean too much on the casual side?
You bet, polos can be great business attire! Just make sure they don't look too casual, and pair them with slacks or a nice pair of jeans.
In a typical business casual office, polos are a good choice to keep you looking professional yet comfortable.
Can I wear a polo with a logo in a business casual setting?
It depends on the workplace, but usually, a subtle logo on a polo shirt is considered acceptable in a business casual environment. If you're unsure, consult your office dress code or ask a trusted colleague for their opinion.
What type of polo is best for a business casual office?
Long sleeve polos and pique polos are both excellent choices for a business casual setting. Just make sure they fit your body well and are made from high-quality materials to ensure a polished, professional look.