Carnival in Brazil is a time-honored tradition and one of the most popular celebrations of the year. Every February, millions of people from all over the world come together to enjoy music, dancing, and elaborate costumes. When it comes to dressing for Carnival in Brazil, there are some important things to consider.
The most iconic item associated with the Brazilian Carnival is the samba costume. This colorful ensemble typically consists of an ornate headdress adorned with feathers or other decorations; an equally intricate top and skirt; frilly petticoats; and often a pair of feathered wings attached at the back or sides. The color palette tends to be vibrant and eye-catching – think neon yellows, oranges, purples, and blues – so you can really stand out on the dance floor. To complete your look, add matching accessories like glittery earrings or necklaces.
Other popular attire options include harem pants paired with a bright tank top or bikini top (for women) as well as floral print shirts (for men). For those looking for something more subdued yet still festive, shorts sets made up of shorts embellished with ruffles along with a coordinating crop top work great too. Finally don't forget about shoes – platform sandals or wedges are ideal choices that will make sure you look good while still being comfortable enough for hours on end spent shaking it on the dancefloor!
No matter what type of clothing you choose for carnival in Brazil one thing is certain: whatever outfit you pick should express your unique style while also staying true to traditional Brazilian fashions – after all this is part of why Carnival is such an amazing experience.
Dressing for Carnival in Brazil: What to Wear During Carnival
Carnival in Brazil is one of the most iconic and colorful festivals in the world. It's an annual event that brings millions of people together to celebrate with food, drinks, music, and dance.
During this time, it's important to dress for the occasion–which means lots of bright colors and fun patterns. When choosing what to wear for the carnival in Brazil, there are a few key elements you should consider: comfortability, cultural appropriateness, and style.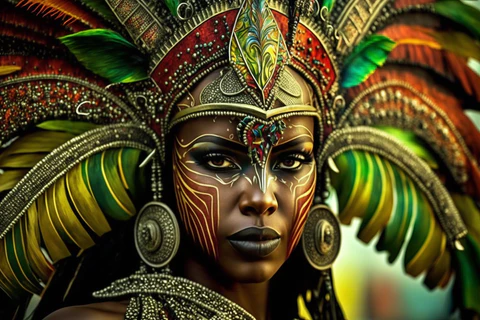 When picking out clothing for carnival season in Brazil, comfort is key. Look for items made from light fabrics like cotton or linen so you can stay cool during long days outside enjoying all that Carnival has to offer. Make sure your clothes are loose-fitting too–the more comfortable you feel while dancing through the streets on parade day, the better.
It's also essential to keep cultural appropriateness top of mind when planning what to wear at Carnival celebrations in Brazil.
Traditional costumes often feature sequins and feathers paired with vibrant hues like yellow or blue–this is part of Brazilian culture as well as being eye-catching on parade day. If going all out isn't your thing though, opt for simple pieces featuring classic prints such as floral or geometric designs instead. These will help give your look a festive vibe without going over the top or offending anyone with a costume that might be considered inappropriate by locals attending the celebration.
Don't forget about style when deciding what clothes to pack for Carnival festivities in Brazil. Opting for bold statement pieces can really make you stand out from the crowd; think crop tops adorned with fringe details or wide-leg pants featuring dazzling sequin accents along their hemlines – both options would turn heads at any Carnaval event throughout South America! And remember – whatever outfit choice you go with should reflect who YOU are and showcase YOUR personality – no matter how flashy (or not) it may be.
The Rio Carnival Parade: A Celebration of Music, Dance, and Fashion
The Rio Carnival parade is an annual spectacle that draws people from all over the world. This incredible event celebrates music, dance, and fashion in a way, unlike any other festival on earth. As one of the most iconic events to be found anywhere in Brazil, it's no wonder why so many flocks to witness this unique cultural celebration each year.
When planning what to wear for such an event, the possibilities are endless. From vibrant colors and stunning designs, there is something for everyone at the Rio Carnival parade. Whether you want to stand out among the crowd or just blend in with traditional outfits – every carnival-goer can find something special that suits their individual style perfectly.
Accessories also play a huge role when it comes to getting dressed up for carnival time; bright hats and masks are often used as finishing touches for costumes or simply worn alone as conversation starters throughout the night. It's not uncommon to see both locals and tourists alike adorned with these beautiful pieces of artistry – adding even more vibrancy and excitement to the already electric atmosphere during this amazing Brazilian tradition.
Dressing Up for the Parade at the Sambadrome
Heading: Dressing for the Sambadrome Parade If you are lucky enough to attend a carnival in Brazil, one of the most exciting events is the Sambadrome parade. Each year, teams from all over Brazil and sometimes other countries come together to celebrate their culture and heritage with costumes, music, and dancing. It's an incredible experience that you won't soon forget. To make sure your look stands out in the crowd, there are certain things to keep in mind when dressing up for this grand event.
The main focus should be on comfort – after all, it can get quite hot during Carnival season in Brazil. Lightweight fabrics such as cotton or linen will help keep you cool while still looking stylish. Bright colors like yellow or pink will also ensure that you stand out amongst the masses of people at the Sambadrome parade. As far as accessories go, try pairing your outfit with statement pieces such as headpieces adorned with feathers or glittery jewelry that sparkles under stage lights; these small touches can take your ensemble from simple to spectacular.
It is also important not to overlook practicality when getting ready for Carnival festivities at the Sambadrome; think about bringing a lightweight bag that can carry essentials like sunscreen or water bottles throughout the day-long celebration so that you stay hydrated and protected from harsh UV rays while having fun.
Fancy Dress and Costumes: How to Stand Out at Carnival in Rio de Janeiro
No carnival experience in Brazil is complete without a fancy dress or costume. Whether you're in Rio de Janeiro, Salvador, Recife, or any other Brazilian city with an annual celebration of the traditional festival, wearing a creative outfit can make your day that much more memorable. For those looking to really stand out among the crowd at Carnival in Rio de Janeiro and beyond, there are several tips to consider when selecting an ensemble.

The key to choosing a show-stopping look for carnival is all about color: opt for vibrant hues like electric blues and hot pinks that will turn heads as you dance through the street parties.
When it comes to materials and textures, choose something lightweight so you don't get too hot while boogying away under the tropical sun; sequins are also always popular choices for glamourous vibes on the Sambadrome catwalks. Accessories such as headdresses, wings, masks, and props will take your outfit from ordinary to extraordinary – be sure not to forget these extra touches.
When dressing up for Carnaval do remember comfort matters too – wear sensible shoes that won't rub against your feet after hours of samba dancing.
A great way to combine style and practicality is by rocking a pair of comfortable flats or sneakers adorned with decorative details such as tassels or beads. Whatever your chosen look maybe come Carnival time in Brazil – one thing's for certain: it'll be unforgettable!
Street Parties and Bloco Parties: What to Wear for a Casual Celebration
The Brazilian carnival is a world-renowned celebration that lasts for several days and features extravagant parades, masquerades, and performances. But the fun doesn't stop there; throughout this period of merrymaking, Brazilians also come together to party in the streets or at Bloco parties. As you prepare for these lively occasions, it's important to take into account what kind of clothing would be best suited for them.
For street parties or open-air celebrations with loud music and dancing, comfort should be your priority when choosing an outfit. Opting for loose-fitting trousers like harem pants teamed with a tank top or graphic t-shirt will ensure you can move freely without any restrictions from your clothes while still looking stylish. If temperatures drop during the nighttime festivities then wearing something over your ensemble such as a denim jacket is recommended – just make sure to pick one that won't restrict movement too much. To complete the look add some accessories such as statement earrings and necklaces as well as flat shoes so that you can dance all night long without any blisters forming on your feet!
Bloco parties tend to have more relaxed dress codes than their street counterparts but they are no less exciting affairs. For these events, aim to channel Brazilian vibrancy by going all out with bold prints and bright colors which represent their country's culture perfectly. If you're not confident enough to wear head-to-toe patterned garments then try mixing up different block-colored items instead – think vibrant yellows teamed with striking greens – adding subtle details like gold jewelry pieces will further enhance this look too! Finish off the outfit with comfy sandals or trainers depending on how much dancing you plan on doing throughout the day/night.
Samba Costumes: A Look at Traditional Carnival Attire
Brazil's vibrant carnival celebration is one of the country's most beloved and anticipated events. Attending such a grand event requires appropriate attire that reflects the festive atmosphere while also allowing participants to move freely throughout the festivities. Samba costumes are some of the most popular and iconic looks seen at Brazilian Carnival, providing attendees with an opportunity to showcase their style in stunningly colorful outfits.
Samba costumes can range from simple and minimalistic designs featuring basic accessories to more elaborate pieces adorned with bright colors, feathers, beads, and fringe details. Common items for these ensembles include skirts or dresses made from lightweight fabrics like chiffon, taffeta, or lace as well as tops made from glittery metallic materials like lame fabric. To complete this look, many samba dancers will accessorize their costumes with a variety of headpieces including sequin-covered tiaras adorned with feather plumes or beaded hats topped off by large fluffy feathers. Furthermore, those seeking an extra bit of sparkle may choose to add rhinestone jewelry pieces or glittery makeup looks into their ensemble for maximum impact on stage during performances.
For men who want something equally eye-catching but perhaps less feminine, there are also numerous options available in traditional male samba attire which usually consists of fitted trousers paired up with long jackets featuring rich embroideries along sleeves and lapels as well as billowy shirts often decorated with intricate beadwork patterns all designed to create movement when dancing in time with the music. Whether opting for a dapper two-piece suit or a shirtless number accessorized only by gold chains around the neck plus coordinating bracelets no matter what your taste you're sure to find something that suits your unique style perfectly when it comes time for carnival season.
Tips for Carnival Parties: Staying Comfortable and Safe While Having Fun
Carnival in Brazil is an event that many people look forward to all year. While the parties and parades offer plenty of opportunities for fun, it's important to take certain precautions when attending carnival events so you can enjoy them safely.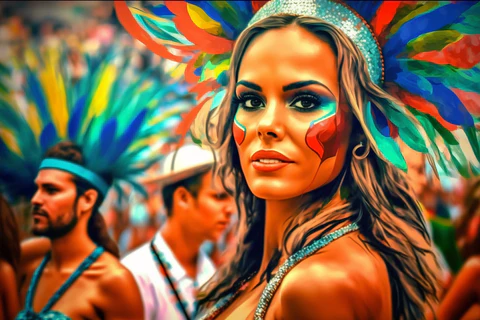 Here are a few tips to keep in mind:
Choose your outfit wisely. You want something that looks good but also won't be too hot or restrictive as you move around during the festivities. Lightweight fabrics like cotton and linen are best for keeping cool while still looking stylish. Avoid wearing anything made from heavy materials such as wool or velvet – these will just make you sweat more. Make sure whatever you choose is comfortable enough that it won't inhibit your movements, especially if there's dancing involved!
Be aware of your surroundings at all times. The crowds at carnivals can get very large and chaotic; pickpockets often target unsuspecting visitors who have their guard down, so always be mindful of where your belongings are located on your person or within reachable distance.
Keep hydrated throughout the night by drinking lots of water before, during, and after the celebrations – dehydration can lead to fatigue which might ruin your evening out.
Also, try not to overindulge too much in food and alcohol as this may impair judgment; stick to what makes you feel comfortable while having fun without putting yourself at risk of harm due to being overly intoxicated or sick afterward from overeating unhealthy snacks!
With these helpful tips in mind, party-goers should have no trouble staying safe yet still enjoying themselves fully while attending Brazilian carnivals.
Conclusion: Embracing the Spirit of Carnival Through Fashion
Carnival in Brazil is a time for celebration, and this extends to fashion. Embracing the spirit of carnival through clothing helps participants get into the festive mood. It also allows them to show off their individual style while still celebrating Brazilian culture as a whole. From traditional garb to fun accessories, there are plenty of ways to make sure your outfit stands out from the crowd at any carnival event.
When it comes to choosing an outfit for the carnival, comfort should be a top priority since you will likely be dancing or marching all night long. Opting for breathable fabrics like cotton and linen can help keep you cool during your festivities; bright colors and bold prints will add an extra layer of festivity while keeping things lightweight and airy. Don't forget about accessorizing – statement earrings, hats or masks can help complete your look without adding too much bulk or heat retention.
For those looking for something more traditional when attending carnival events in Brazil, folkloric costumes are always popular choices that truly embrace local culture with vibrant hues and intricate embroidery details. Whether you choose a ready-made costume or put together pieces from different vendors around town, these eye-catching outfits never fail to turn heads. With so many options available at Carnival in Brazil – from classic streetwear looks to custom-made creations – it's easy to find something that expresses both personal style and respect for Brazilian heritage alike.
Final Thoughts
So there you have it, your complete guide to Carnival in Brazil! Whether you want to experience the best party like a local or watch the mind-blowing parade in the Sambadrome, there's something for everyone. Make sure you don't miss the last night of Carnival, and be sure to check the parade route beforehand.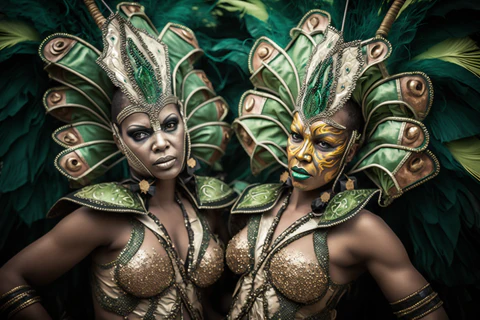 If you're planning to watch the parade, it's always a good idea to wear light clothes such as sleeveless tops made of cotton, and don't forget to wear sandals or flip-flops. With street parties taking place throughout the city and Blocos on every corner, you'll want to be as comfortable as possible. If you want to escape the drunk people, there are plenty of bars and restaurants to choose from. You can even go to one of the beaches that are located out of the touristic southern zone, like Leblon or Santa Teresa, to get pretty and participate in the performances.
Just make sure you have enough time to let loose and enjoy yourself. And if you want an authentic local experience, make sure to book your trip months in advance, as everything sells out quickly.
So, what are you waiting for? Get ready to wear the fabulous clothes you usually wear and join the Cariocas in celebrating the most popular party in Brazil! It's time to samba!
Questions & Answers
What should I wear to the samba parade during Carnival in Brazil?
It's important to wear light clothes such as sleeveless tops made of cotton and comfortable shoes like sandals or flip-flops. You'll be dancing and standing for long hours, so it's essential to wear something that allows you to move freely and stay comfortable. Don't forget to bring plenty of water, as it can get very hot and crowded during the parade.
Can I buy Carnival costumes from street vendors around the city?
Yes, you can find street vendors selling Carnival costumes all over the city, especially in popular areas like Copacabana and Ipanema. However, if you want a high-quality costume, you may want to check out specialized shops or samba schools that offer them for rent or purchase.
Is it safe to use Uber to get around during Carnival in Brazil?
Uber is a safe and reliable way to get around during Carnival, especially if you're not familiar with the city. However, keep in mind that traffic can get very congested during the event, so plan your rides accordingly and give yourself plenty of time to get to your destination.
How can I get close to the famous parade at the Sambadrome during Carnival in Brazil?
If you want to get close to the parade at the Sambadrome, you'll need to purchase a ticket in advance. Some samba schools offer guided tours that include access to the Sambadrome, but these can be expensive. Another option is to join the Banda de Ipanema, a popular street party that takes place in Ipanema during Carnival which means you can wear your own costume and get close to the action. Just make sure to check the dates and times beforehand and plan accordingly.