Plus-size shirts come in all shapes and sizes, but when it comes to oversized plus-size shirts, the styling possibilities are endless. Oversized plus-size shirts are a great way to create an effortless and chic look.
Oversized plus-size shirts typically have extra room throughout the body of the shirt, including more length than regular-sized tops. This added length can be used to your advantage by allowing you to play with proportions. To make sure your outfit looks put together rather than sloppy, try tucking in some of the fabric at either side of your waist or tying it up into a knot for a cropped look. You could also layer them over slim-fit bottoms such as leggings or skinny jeans for contrast – this will help balance out your silhouette so that you don't look overwhelmed by fabric.
Accessories are key when it comes to creating an interesting ensemble with an oversized top; adding statement earrings or necklaces will draw attention away from any excess material while making sure you stand out from the crowd. Scarves can also add texture and color to complete any casual yet stylish look – they're perfect for cooler days too. Alternatively, if you want something more structured try wearing a belt around your midsection which gives definition while still looking relaxed.
When choosing what type of oversized plus-size shirt is best suited for you there is no one-size fits all answer; take time experimenting with different styles until you find one that suits both your personal style and body shape best.
If prints aren't really your thing then plain solid colors work just as well especially when paired with bold accessories – why not team chunky jewelry pieces with basic black?
That said however nothing beats having fun with patterns like stripes, florals, or animal print – these details can be used subtly without being overwhelming since they're spread across larger areas on garments such as maxi dresses or longline tees/tunics meaning there are lots less risk involved in taking risks fashion-wise.
Finding the Perfect Fit: How to Choose the Right Oversized Plus-Size Shirt
Finding the perfect fit for an oversized plus-size shirt can be a challenge. With many sizes, styles, and cuts available on the market today, it can be difficult to know which one will look best on you. Fortunately, some tips can help make sure you get the most out of your shopping experience.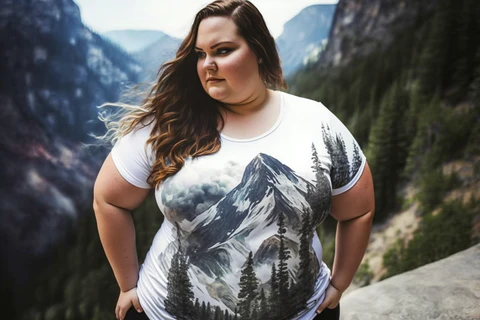 The first thing to consider when choosing an oversized plus-size shirt is how it fits your body type. If you're petite or short-waisted, go with a style that has shorter sleeves and hems so as not to overwhelm your frame.
For those who have broad shoulders or fuller arms, opt for longer sleeve lengths and higher necklines that won't bunch up around your chest area. If you've got wide hips or a larger waistline select a cut with more room at the bottom half so as not to create any extra bulk where it isn't needed.
When picking out materials for an oversized plus-size shirt pay attention to breathability and stretchiness since these fabrics tend to provide more comfort than traditional cotton shirts do when worn over clothing like jeans or skirts. Also, look for lightweight materials such as rayon blends which provide both flowy movement and flexibility without adding too much volume around the midsection area of your body type making them ideal choices if you want something lightweight yet still stylish enough for everyday wear.
Style Tips: How to Wear an Oversized Shirt and Look Stylish
One of the best ways to look stylish while wearing an oversized plus-size shirt is to pair it with some slim-fitting jeans or trousers. This combination creates a balance between the two pieces and can help make your outfit look more polished and put together. To add a little bit of extra interest, try tucking in one side of the shirt so that only half of it hangs out over your pants. This will create visual interest and draw attention away from any areas you may not feel as confident about.
Another way to style an oversized plus-size shirt is by layering it over another piece such as a tank top or cami. Doing this allows you to create dimension within your outfit while still keeping your proportions balanced and avoiding looking overly bulky or boxy. You can also accessorize with jewelry, scarves, hats, bags, etc. Which can be great for adding color and texture to an otherwise basic ensemble.
When deciding what kind of shoes to wear with an oversized plus-size shirt keep in mind that they should be slim fitting rather than clunky or chunky if you want the overall look to remain sleek and fashionable. A pair of ankle boots are always a great option since they won't overpower the rest of your outfit but instead complement its aesthetic without stealing all the attention away from it either.
Tucking and Knotting: Creative Ways to Wear an Oversized T-Shirt
Tucking and knotting oversized plus-size t-shirts is a great way to show off your unique style. If you're looking for something different than the typical tucked-in look, try experimenting with various knots and tucks. For example, if you have an extra long shirt that you don't want to be completely tucked in, gather up the fabric at the sides or front of your shirt and tie it into a cute bow on one side. This adds volume while still giving a flattering shape.
If you want more coverage but don't feel like wearing a full-length dress or skirt, try creating a half-tuck by folding over the bottom half of your shirt onto itself and then tucking it into the waistband of your jeans or pants. You can also do this with shorts as well. Not only does this create more coverage but also gives an edgy vibe when paired with some chunky jewelry pieces such as layered necklaces or statement earrings.
You can even turn an oversized T-shirt into an adorable crop top without cutting any fabric by simply tying two ends together at one side – this creates an asymmetrical hemline that will give your outfit just enough edge without being too revealing. Pair it with high-waisted jeans or skirts for maximum impact. All these creative ways to wear an oversized T-shirt will make sure all eyes are on you wherever you go!
Creating Outfits: How to Pair an Oversized Shirt with Leggings, Jeans, and More
Creating an outfit with an oversized plus-size shirt is easier than you may think. The key to making it work is finding the right combination of pieces to create a balanced and stylish look. With leggings, jeans, and skirts as your base pieces, you can easily pair them with a loose-fitting shirt for a casual yet put-together look.
When styling leggings or yoga pants with an oversized shirt, choose one that falls just above the knee for a more flattering silhouette. A midi skirt in any length will also pair nicely when tucked into the waistband of your bottoms–just make sure that your top covers enough so you don't feel exposed. To complete the ensemble, opt for sneakers or flat boots if you want to keep it low-key; alternatively, heeled booties can be dressed up for nights out on the town.
On days when denim is calling your name try cuffed boyfriend jeans with an oversize t-shirt or blouse; this look looks especially cool when accessorized with chunky jewelry and statement sunglasses. You could also reach for ankle skinny jeans which are perfect paired back to cropped tees – simply add some mules and a crossbody bag to give off major effortless vibes!
The French Tuck: A Simple Styling Trick for Oversized Shirts
The French Tuck is an easy styling hack for plus-sized shirts that can instantly make your outfit look more put together. It involves slightly tucking the front of the shirt into your pants or skirt while leaving the back and sides untucked. This gives a bit of structure to an otherwise shapeless piece, giving it some definition and making it easier to style with other garments in your wardrobe.
One great way to try this out is with a basic pair of jeans or trousers – simply tuck the front few inches of your oversized shirt into them, and then leave the rest loose at the back. This creates a nice balance between fitted and relaxed styles, adding shape to what could otherwise be quite a bulky garment. Alternatively, you could use a belt overtop for added definition – just remember not to pull too tightly.
If you're looking for something more formal, why not try teaming up an oversized shirt with an A-line skirt? The combination will create plenty of volumes but also keep everything looking neat and polished. Tucking in just enough fabric from either side will help give even more structure without having to sacrifice any comfort or coverage – perfect for days when you want something effortless yet pulled together.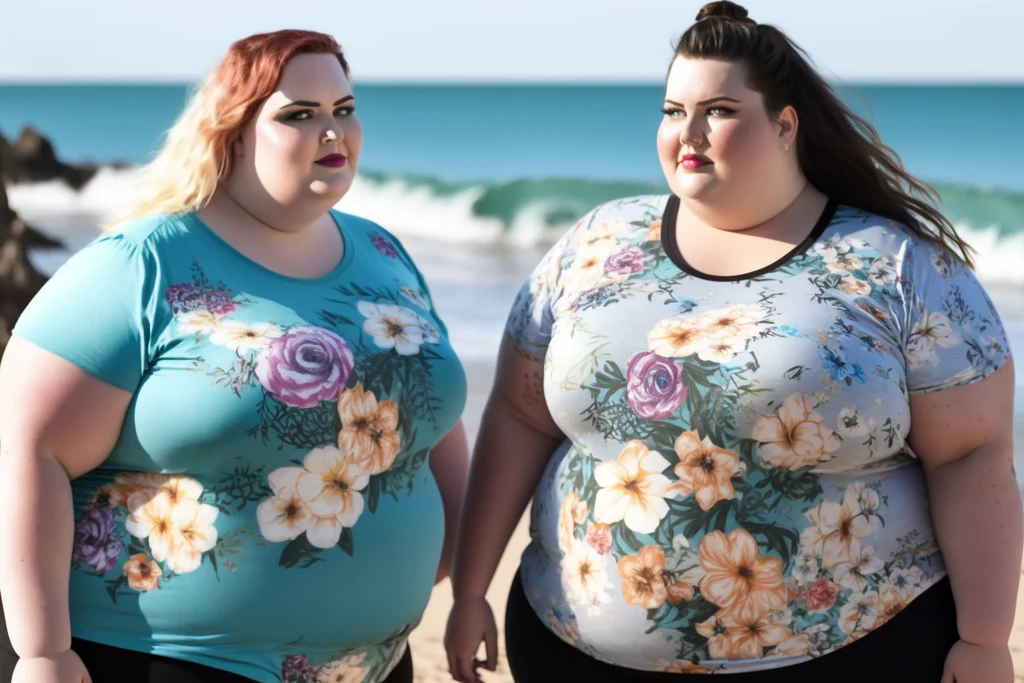 Tips for Wearing Oversized plus-size Tops and Feeling Comfy
It can be difficult to feel comfortable in oversized plus-size tops, but with a few simple styling tips, you'll be able to pull off the look and stay comfy. If you're wearing a top that's too big for your frame, try cinching it at the waist with a belt. This will give you an hourglass shape and help make sure the shirt doesn't get swallowed up by your body. To create some structure around your shoulders and arms, layer on a thin cardigan or jacket over the top of your oversized shirt; this will provide more definition to those areas while still keeping you covered up.
When sporting baggy shirts, stick with fitted bottoms so as not to add bulkiness all over–think skinny jeans or leggings rather than loose-fitting trousers or skirts. You could also tuck in just one side of your oversized shirt into high-waisted bottoms for an asymmetrical silhouette that's perfect for casual days out. For an added layer of texture and depth when wearing huge T-shirts or tunics, drape a scarf around yourself for warmth and visual interest; this is especially helpful if it's cold outside.
Don't forget about accessories like earrings, necklaces, and rings which can take any outfit from drab to fab instantly. Adding statement jewelry pieces will draw attention away from large fabric cuts while simultaneously providing extra color accents that may help even out proportions between body parts and clothes. With these tips in mind–it's time to start experimenting with different looks featuring oversized plus-size tops!
Outfit Ideas: How to Wear an Oversized Shirt and Look Stylish, With Or Without a Bra
When it comes to styling oversized plus-size shirts, the options are endless. A plain white T-shirt can be a great starting point for any look; add some accessories such as a statement necklace or scarf, and you're ready to go. To take your outfit up a notch, pair your oversized shirt with leggings or skinny jeans. Add some flats or sneakers for an effortlessly cool vibe that will turn heads everywhere you go.
For those days when you want to feel extra glamorous, try pairing your oversize shirt with a sleek skirt and heeled boots – this look is perfect for date night. Another way to dress up an oversized top is by layering it under an open blazer or cardigan. Not only does this make the outfit more structured and polished but also allows you to wear your favorite bra without having to worry about anyone seeing it. If all else fails opt for shorts: they'll keep the focus on the top while still keeping things casual and comfortable in hot weather conditions.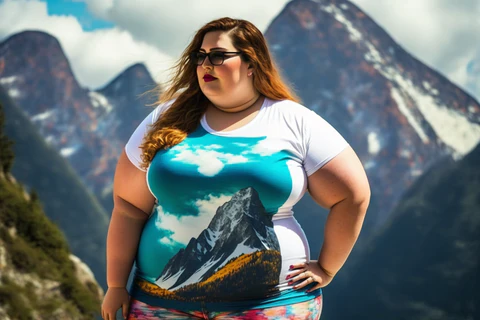 No matter what style of plus-size shirt you choose – long sleeve, short sleeve, turtleneck – there's sure to be something out there that fits both your personal aesthetic and body shape perfectly.
With these tips in mind have fun experimenting with different ways of wearing an oversize shirt so that no matter where you go you'll always look stylish.
Final Thoughts
In conclusion, wearing an oversized plus-size shirt doesn't have to be intimidating or difficult. With a little bit of styling know-how, you can transform a simple graphic tee or button-down into a stylish and versatile piece that can be worn day to night. Whether you choose to tie it around your waist or dress it up with a blazer, the possibilities are endless. And the best part is that it's optional to add your own personal touch to your oversized shirt look, which means it can be a staple in your entire wardrobe. So take a page out of Lauren Conrad's book and try out an oversized shirt for your next outfit.
FAQs
How do I wear an oversized plus-size shirt without looking frumpy?
Styling oversized shirts is a trend that has been around for a while, and it's a great way to create a casual yet stylish outfit. The key to avoiding a frumpy look is to learn how to style your oversized tee properly.
Here's how to wear your oversized shirt look day to night: For a casual day look, pair your oversized shirt with joggers or bike shorts for a loungewear vibe. To transform your oversized shirt into a more feminine look, swap your joggers for a skirt or shorts and add a pop of color with a sandal or a heel. You can also undo a few buttons and tie the shirt around the waist for a more minimalist look.
Can I wear an oversized plus-size shirt to work?
Yes, you can! An oversized shirt can be a timeless staple in your wardrobe, and with the right styling, it can be appropriate for the office. Pair your oversized shirt with a vest or blazer to create a more polished look, and tuck it into high-waisted pants or a skirt for a more put-together vibe. A button-down tied at the waist with a pencil skirt is also a classic look that never goes out of style.
What should I avoid when wearing an oversized plus-size shirt?
While oversized shirts are a trend, there are a few things you should avoid to keep your outfit looking stylish. Don't wear an old button-down that's too big for you and don't wear hoodies or sweaters that are too baggy. When wearing an oversized shirt, make sure to balance it out by pairing it with something more fitted on the bottom. Avoid looking frumpy by making sure the oversized shirt isn't too big for you and not wearing it in a way that makes you look shapeless. With these tips, you can never go wrong with styling your oversized plus-size shirt.