Shirts and jeans are classic wardrobe staples, perfect for creating countless different looks. Wearing a shirt with jeans is one of the most common ways to create an effortless yet stylish look. It can be dressed up or down depending on what type of shirt and jeans you choose.
A shirt is typically a loose-fitting garment that covers your torso, arms, and shoulders. It may have long sleeves or short sleeves, buttons down the front, collars, pockets, and other design details such as embroidery or prints. Shirts come in many different fabrics including cotton, linen, silk, and wool – each giving a distinct look to the outfit.
Jeans are trousers made from denim fabric with strong stitching which gives them durability. They usually have metal rivets at stress points like pocket corners for reinforcement; these rivets can also add extra detail to the outfit when visible on certain styles of jeans such as boyfriend fit ones. Jeans come in various cuts such as skinny fit or flared legs; this allows you to find a style that suits your body shape best while still looking fashionable.
When it comes to wearing shirts with jeans there are endless possibilities. A plain white t-shirt tucked into high-waisted skinny blue jeans will give off a casual but chic vibe while an oversized floral print blouse worn over mom-fit light wash denim will create an edgy yet feminine feel – both look perfectly paired with sneakers for daywear or heeled sandals for night time occasions! Alternatively, if you want something more formal opt for smart buttoned-up shirts combined with straight-leg black trousers – this timeless combo can take you anywhere from office meetings to dinner dates without missing a beat.
To conclude there's no right or wrong way when it comes to styling shirts and jeans together – they're incredibly versatile pieces so experiment away until you find your signature go-to look.
Dress Shirts With Jeans: A Timeless and Versatile Combination
One of the most classic and timeless combinations in men's fashion is dress shirts with jeans. This combination can be dressed up or down depending on the occasion, giving you a look that will never go out of style. Dress shirts come in many different colors, fabrics, and styles so it is easy to create an outfit that expresses your personality.
When putting together an outfit with a dress shirt and jeans, start by choosing the right fit for both pieces. For jeans, opt for a slim cut or straight leg as they are more flattering than bootcut or baggy fits. Pair this with a fitted dress shirt – either a slim fit or tailored – which will give you a polished yet effortless look while avoiding any bulky fabric bunching at the waistline when tucked into your trousers. To complete the ensemble, add leather shoes such as loafers or oxfords for more formal occasions like work events, and switch them out for sneakers if you're going casual.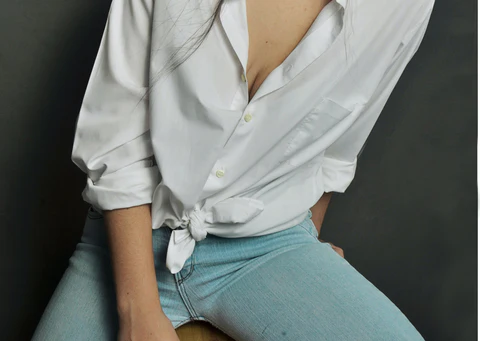 Accessories can also help elevate your look further; choose pocket squares to add color and texture to plain-colored dress shirts while ties are perfect if you want something more eye-catching but still understated enough to pair with denim pants.
Belts should be chosen carefully too – use thinner ones made from leather instead of thicker canvas styles so as not to overpower other elements of your attire such as patterned shirts paired with solid-colored trousers. With these simple styling tips, creating timeless looks using dress shirts and jeans has never been easier.
How to Style T-Shirt and Jeans For a Smart Casual Outfit
For many, a t-shirt and jeans combination is the epitome of casual style. However, with the right pieces and accessories, it can also be elevated to create a smart casual look that will take you from day to night. To achieve this timeless yet modern ensemble, start by selecting well-fitting items in quality materials for an effortless appearance.
Choose a slim-fit t-shirt with subtle details such as contrasting stitching or graphic prints for added interest; avoid oversized styles that might appear too informal or messy. Then select your denim – either skinny-fit jeans or straight-leg trousers – depending on your preferred silhouette and level of comfortability. If you want to break up the monotony of plain colors then consider opting for distressed washes or acid wash fabrics in shades like navy blue or light grey for added character.
Finally add some finishing touches with polished accessories: sleek leather loafers (or trainers if more relaxed) plus matching belt; structured bag in tan suede; watch with stainless steel case and mesh strap; sunglasses and statement jewelry pieces if desired. This mix of tailored elements combined with streetwear vibes will give you an effortlessly stylish look that's perfect for any occasion.
Should You Wear Your Dress Shirt Tucked Or Untucked When Wearing Jeans
The decision of whether to tuck or untuck a dress shirt when wearing jeans can be a difficult one. It is important to consider the overall look that you are trying to achieve and what type of shirt it is. A slim-fit button-up with a classic collar looks great tucked in, while an oversized collared shirt should be left untucked for more of a casual vibe. The same applies if you're wearing any sort of patterned dress shirt such as plaid or striped; tucking these in would make them appear too formal for the occasion.
On the other hand, if you want something slightly more tailored and sophisticated, then choosing to tuck your dress shirt into your jeans may be the way forward. This creates more definition around your waistline and accentuates any curves you may have; allowing for an even sharper silhouette than before. When opting for this look however, it's important not to go overboard by pairing overly tight-fitting trousers with a tightly fitted dress shirt – this combination could potentially lead to uncomfortable bunching around your midsection throughout the day.
Depending on where exactly you plan on going in your outfit – there are some cases where either option will work just fine: For instance, heading out with friends? An untucked dress shirt might do just fine but going somewhere fancy? Tucking it in is probably best advised. Ultimately though – as always – fashion rules should never trump comfortability so choose whichever style works best for both occasions!
Layering With a Dress Shirt and Jeans: How to Add a Sweater Or Blazer
Adding a sweater or blazer to the mix is an excellent way to up the ante on a casual look. Layering a dress shirt with jeans instantly adds sophistication and style, allowing for multiple looks that range from office-ready to night-out-appropriate. To start, begin by selecting colors and textures that will work together well. Opt for shades within the same family or those that complement each other nicely; this will create balance and harmony in your outfit. When it comes to texture, choose pieces made of different fabrics like cotton denim with wool tweed, linen chambray with velvet corduroy, etc. As this can add depth and interest when styling your look.
Now you're ready to layer. Start off by wearing your dress shirt buttoned up all the way (or partially open if you prefer) overtop of your jeans – be sure not to tuck it in as this creates bulk at the waistline which can appear sloppy after time passes throughout wear. Then add either a lightweight cardigan or boxy cut blazer on top – depending on how formal you want your ensemble – making sure that both garments fit snugly around the shoulders without pulling too much across them or hanging loose around them either. Finish off with a pair of leather boots or sneakers for an effortlessly chic vibe!
The Best Jean Types to Pair with a Dress Shirt
When selecting a pair of jeans to wear with a dress shirt, there are several factors to consider. For example, the type of denim you choose can make or break your look. Dark wash and raw denim jeans typically provide the best contrast against lighter-colored dress shirts while light wash jeans may be too similar in color and appear more casual. Choosing slim-fit style jeans will ensure that your outfit looks neat and pulled together instead of sloppy and ill-fitting.

For men who want an elevated look that won't overpower their dress shirt, straight-leg jeans are ideal because they offer just enough room for comfort without sacrificing style points.
Alternatively, skinny fit styles have become increasingly popular due to their flattering silhouette but might not be as comfortable for some body types.
If you prefer something even more fashion-forward then cropped flare or bootcut jeans could add interest to your ensemble by breaking up the blocky shape created by pairing two rectangular garments together (shirt + pants).
When it comes to fabric choices beyond traditional cotton denim – such as wool or cordur. 
Try opting for one in neutral colors like black or navy so it doesn't clash with whatever patterned dress shirt you're wearing on top.
Also, avoid anything overly textured since this can take away from rather than enhance the overall effect of your outfit's sophistication level.
Outfit Ideas: How to Wear a Dress Shirt with Jeans in 2023
2023 is the year to get creative with your wardrobe. It's all about being daring and making bold choices when it comes to fashion. An easy way to incorporate this into your style is by wearing a dress shirt with jeans. This classic pairing will make you look stylish, put-together, and always on trend no matter where you go.
Start off by choosing a fitted dress shirt in a unique color or pattern that speaks to your personality. To stay up-to-date with current trends, opt for an interesting print like floral or abstract artwork, which is sure to turn heads when paired with classic blue denim jeans. Make sure the fit of both pieces is flattering; neither should be too baggy nor too tight as this can create an unflattering silhouette. Choose neutral accessories such as hoop earrings and chunky boots for the ultimate cool girl vibe.
For those who want something more formal yet still fashionable, consider layering a structured blazer over top of your ensemble for an added touch of sophistication. Balance out the look by adding some modern touches like metallic jewelry and sleek white sneakers – these small details will give your outfit some much-needed edge without compromising its timelessness overall.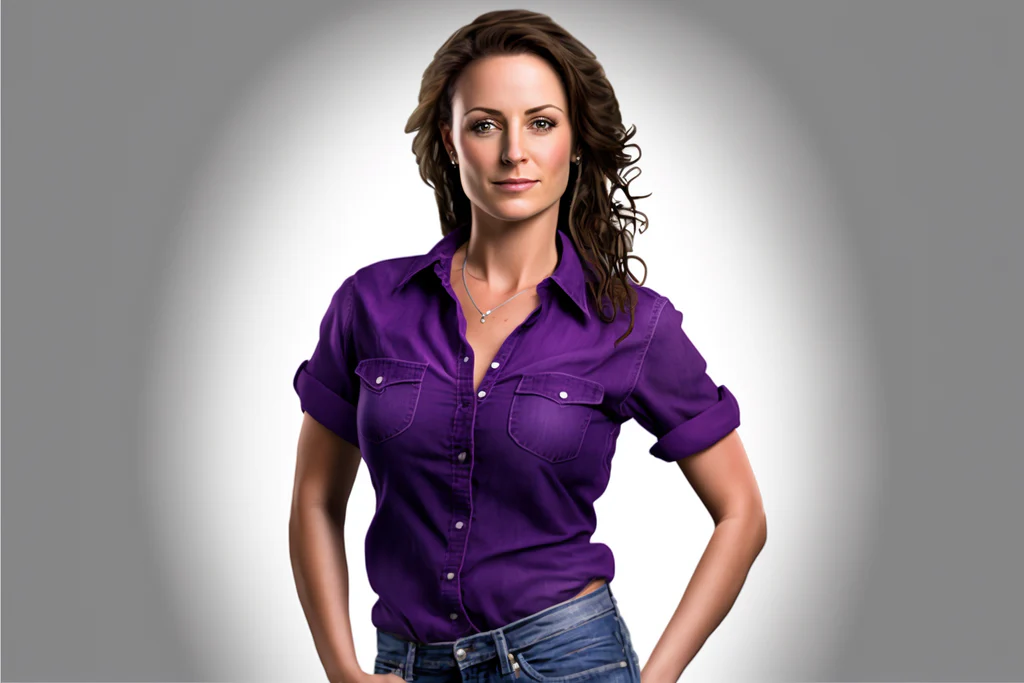 Ways To Wear a T-Shirt with Jeans: Dress It Up Or Down
A T-shirt and jeans are an easy, classic outfit combination. It's a timeless look that never goes out of style, no matter the season. The key to making this pairing work for you is in how you dress it up or down depending on the occasion.
For a casual everyday look, try layering your t-shirt with a denim jacket or adding an accessory like a statement belt or hat. This gives off an effortless vibe and keeps you looking stylish without trying too hard. On cooler days, layer your favorite graphic tee under your favorite cardigan for added warmth without sacrificing style points.
If dressing up is more your speed, consider swapping out regular jeans for something slightly fancier like dark wash skinnies or high-waisted trousers paired with ankle boots and bold jewelry pieces such as chunky necklaces and earrings to complete the ensemble. Alternatively, if shorts are more comfortable in warm weather then pair them with heeled sandals instead of sneakers along with delicate jewelry pieces such as thin chains and small stud earrings to elevate the look even further. No matter what type of shirt and bottom combo you choose–it's all about experimenting until you find what works best for you.
Oversized Dress Shirts With Jeans: A Casual and Comfy Outfit Choice
When it comes to pairing a dress shirt with jeans, an oversized style is a great way to go. This type of outfit provides the wearer with all-day comfort and has a casual vibe that can be dressed up or down depending on the occasion. An oversized dress shirt looks particularly stylish when paired with slim-fit jeans as it gives off an effortlessly chic look. The key is finding the right balance between tight and loose so that you don't look too sloppy or overly done up.
The trick to rocking this kind of outfit is picking the right accessories such as shoes, jewelry, bags, hats, and scarves – they should complement both pieces without overpowering either one. For example, if you're wearing an oversized white dress shirt then opt for neutral-colored footwear such as tan leather loafers or sandals; for a more dramatic effect try adding some statement earrings in gold or silver-tone metals. Alternatively, if you want something less flashy but still stylish then grab a pair of black Chelsea boots which will work well with any color scheme and give your outfit some edge.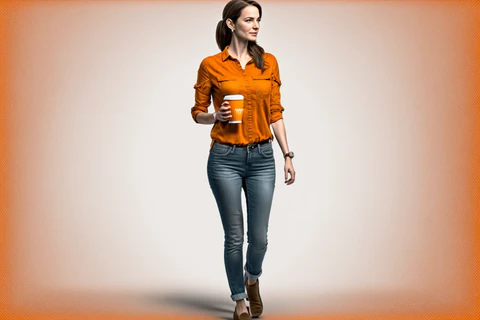 Keep in mind that layering clothing items adds visual interest – throw on a blazer over your shirt for extra warmth during cooler months or switch out your sneakers for espadrilles during summertime. With these tips in mind, you can easily create multiple outfits using just one basic piece: an oversized dress shirt paired with skinny jeans!
How to Rock Your Jeans With a Pair Of Statement Heels
When it comes to creating a head-turning outfit, pairing jeans with statement heels is the way to go. Not only does this combination look stylish and modern, but it also allows you to add your own personal flair and stand out from the crowd. When selecting a pair of shoes for this type of ensemble, there are several things to keep in mind.
First off, choose a shoe that has some sort of standout detail or embellishment – think eye-catching metallic accents or bright colors. This will ensure that your footwear stands out without clashing with the rest of your outfit; after all, one strong piece is better than many competing pieces. Make sure that the color and style work well together; for example, try teaming black jeans with classic white pumps for an effortless yet timeless look.
Take into consideration how comfortable these shoes are – after all, no one wants their feet to suffer just because they want to look good. With so many options available on the market today such as loafers and block heels which offer both style and comfortability in equal measure, there's no need for you to sacrifice comfort when rocking those statement heels!
Must-Know Style Tips for Wearing a Dress Shirt with Jeans
When it comes to styling a dress shirt with jeans, there are some tips that can help you look fashionable and stylish. The first thing to remember is to choose the right fit of jeans. Make sure they aren't too tight or baggy. Slim-fit jeans are best as they provide a sleek silhouette while still allowing room for movement. Make sure your shirt is slim fitting as well; otherwise, it won't work with the fitted look of the jeans. If you want an extra layer between your shirt and denim, try wearing a thin cotton t-shirt underneath – this will add warmth in colder months without making you feel bulky or overstuffed.
To finish off the outfit, select footwear that complements both pieces – boots and sneakers work particularly well but also consider loafers or sandals if you're looking for something more casual yet polished. When picking accessories such as belts, scarves or hats be careful not to go overboard; stick to one statement piece rather than piling on multiple items which could make your outfit look cluttered and overwhelming. When selecting colors try combining contrasting shades like navy blue jeans with white dress shirts for maximum impact – this classic combination never fails.
Conclusion
In conclusion, there are many ways to wear a shirt with jeans and create a stylish outfit that fits your personal taste. A jeans combo can range from a simple dress shirt with dark wash jeans to a more casual look with a lighter shirt and jeans.
It's important to wear fitting jeans that flatter your body and avoid baggy pairs that can detract from the overall look.
Whether you choose to tuck your shirt, leave it untucked, or wear it unbuttoned, the style guide is up to you. You could also leave off the tie and opt for a more relaxed look. Whatever you decide, remember that the outfit should make you look and feel confident, whether you're wearing jeans and a tee or a black dress shirt with pants.
FAQs
What are some ways to dress up a dress shirt with jeans?
One way to dress up a dress shirt with jeans is to wear a dark-wash pair of jeans with a simple combo. You could also layer your dress shirt with a jacket or blazer and wear a belt to complete the outfit. It's important to know how to wear a dress shirt with jeans to get the right balance of casual and dressy. Play around with different styles and find an outfit formula that works for you.
Should I tuck in my dress shirt when wearing it with jeans?
The decision to tuck in your dress shirt when wearing it with jeans depends on the formality of your outfit. If you want a dressier look, you may want to tuck in your shirt and add a pair of dress pants. If you're going for a more casual look, you could leave your shirt untucked and pair it with a fitted pair of jeans. There's no hard and fast rule, so it's best to experiment and see what looks best for you.
Can I wear a T-shirt with jeans?
Yes, jeans and a t-shirt is a classic outfit formula that can work in many different styles. A fitted white tee and jeans can give a clean and casual look, while a v-neck tee and dark jeans can add a touch of dressiness. You can leave your collar unbuttoned or wear an undershirt underneath a dress shirt. Something as simple as the color of your shirt can also affect the overall look, with a dark blue dress shirt adding a more formal touch than a lighter one. Whatever you choose, make sure your jeans fit well to pull the whole look together.