The white t-shirt effect is a phenomenon in which wearing a plain white t-shirt can make you look more stylish and put together than if you were to wear something colorful or patterned. It's a subtle yet powerful way of making an impression without having to put too much effort into your outfit. Wearing of T-shirts were popularized by Marlon Brando.
A classic, all-white tee shirt consists of a simple cut with short sleeves, usually made from cotton fabric and designed with minimal detailing. The lack of any print or design on the garment allows for it to be easily dressed up or down depending on the occasion. For instance, when worn casually with jeans and sneakers it gives off an effortlessly cool vibe; whereas when paired with trousers, heels, and statement jewelry it can become quite chic.
The White T-Shirt Effect: How This Simple Garment Can Transform Your Look
What makes the white t-shirt unique is its versatility–it can be used as part of many different looks and styles while still maintaining its timelessness.
It's also incredibly easy to care for; simply washing them in cold water will keep them looking new for longer periods than other garments would require. They are often inexpensive compared to their designer counterparts, so you won't have to break the bank just to stay fashionable.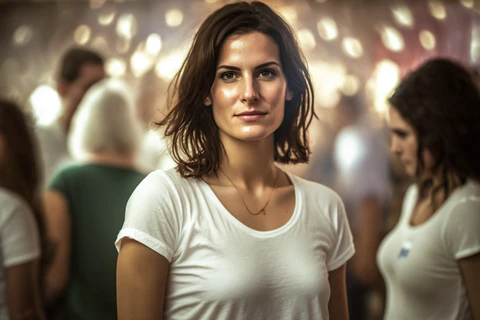 White tees come in various shapes and sizes–from loose-fitting oversized styles perfect for lounging around at home to cropped versions ideal for showing off high-waisted bottoms during summertime days out – there's something available for every taste.
And because they go well with almost anything – from skirts and shorts through hoodies – anyone who wears one will always stand out from the crowd no matter what kind of look they choose.
The white t-shirt effect is a fashion phenomenon that has been around for decades.
It's the power of a simple garment to transform your look, creating an effortlessly stylish ensemble no matter what else you pair it with. With its versatile nature and classic style, the humble white t-shirt can become the foundation of any outfit – from smart casual to evening glamour.
One way in which this effect can be seen is by pairing a plain white tee with statement trousers or skirts. This creates an instant contrast between the two garments, giving them both more impact than they would have on their own. For example, if you team a bright yellow skirt with a plain white tee and some strappy sandals, it will create an eye-catching summer look without overwhelming your frame or being too overbearing on color-blocking trends. Similarly, if you choose to wear bold printed trousers or culottes with a crisp white top and ankle boots then again you are creating an interesting combination that looks polished yet relaxed at the same time.
Another way in which this subtle wardrobe staple can help to elevate any look is by wearing it tucked into high-waisted jeans or skirts – especially when combined with heels or trainers for added height and comfort levels. Not only does this give off those vintage vibes but it also makes sure all eyes are drawn up towards your face instead of lingering at midriff level; something that's ideal for anyone who prefers not to draw attention there! Layering pieces such as jackets and scarves over simple tees adds depth and texture whilst still keeping things relatively low-key – great for those days when you don't feel like dressing up but still want to put together something presentable.
The Versatility of the White T-Shirt: Dressing It Up or Down
The white t-shirt is a wardrobe essential and a cornerstone of style. It's simple, versatile, and comfortable – no wonder it's so popular. The beauty of the white t-shirt lies in its ability to be dressed up or down depending on the occasion. Whether you're headed out for a casual day with friends or to an elegant evening event, the classic white tee can work for any look.
When you're going for something dressy but still want to keep your outfit laidback, opt for pairing your plain white shirt with slim-fitting trousers or denim jeans. Add some smart loafers or boots and accessorize with jewelry such as statement earrings, necklaces, and bracelets. This effortless combination will give you an effortlessly chic look that works great for daytime events like lunch dates or meetings at work.
For nighttime occasions like weddings, parties, and dinners out, go all out by wearing your crisp white top tucked into a midi skirt paired with stilettos or heels. Accessorize this look further by adding an eye-catching belt around your waistline that draws attention to your silhouette while also creating visual interest within the ensemble itself – not forgetting to add some sparkly jewelry pieces that shimmer when light catches them. For added drama try wearing bright lipstick shades such as reds & pinks which make the perfect finishing touch when wearing whites at night time look!
Effortlessly Chic: How the White T-Shirt Elevates Your Style in a Subtle Way
The white t-shirt is a timeless wardrobe staple, and for good reason. Not only does it come in handy on those days when you don't know what to wear, but it can also be used as the starting point of any look – from casual to elegant. As a garment that fits effortlessly into all sorts of styles, the white t-shirt has been celebrated by some of the world's most stylish icons over time – think James Dean or Marlon Brando.
There is something incredibly chic about an outfit centered around a white t-shirt; its simplicity allows you to experiment with different cuts and textures while still maintaining an overall effortless look. A pair of jeans and loafers could easily become dressier with the addition of a structured blazer while keeping your plain white tee at its core helps keep things looking classic rather than too flashy or loud. This minimalistic approach to styling makes this piece truly versatile; no matter where you're going or who you're meeting, your ensemble will always remain tasteful yet fashionable.
It's not just about how it looks either: there are practical benefits too. The fabric composition means that these pieces require very little maintenance compared to other garments such as silk shirts or wool sweaters – making them ideal for busy lifestyles where taking care of delicate items isn't always possible. Plus they usually come at budget-friendly prices so if yours gets worn out over time then replacing it won't be an issue either!
The Power of Simplicity: Embracing the Minimalist Look with a White T-Shirt
The power of simplicity is becoming more and more evident as we find ourselves in an age where trends come and go faster than ever before. But when it comes to the basics, nothing beats the timeless classic of a white t-shirt. This simple piece has been worn by everyone from celebrities to everyday people for decades, making it one of the most versatile pieces you can own.
A white t-shirt doesn't have to be boring or plain either; there are so many ways you can style this wardrobe staple with different pieces that will help create unique looks for any occasion. Whether paired with jeans or shorts, skirts or trousers – a white t-shirt can provide an effortless base layer that helps build up your look and showcase your style without overpowering everything else you're wearing.
When done right, this minimalist look is incredibly powerful because it gives off subtle hints about who you are while still looking polished and put together.
It's no wonder why this classic item continues to remain relevant despite all the changing fashion trends over time – its beauty lies in its ability to transcend eras and styles while still being effortlessly chic at any given moment.
Conclusion
The white shirt effect is a real thing and it's all about the state of attractiveness that one achieves when clothed in a white shirt, preferably a button-down. It's not just an idea, it's a full-blown phenomenon that has been observed and documented in the world of art, fashion, and even psychology. The logic behind this effect is that a white shirt provides the perfect balance between simplicity and sophistication, making the wearer look both stylish and approachable. It's no wonder that so many magazines cover feature models and celebrities clothed in white shirts, or that many high-end stores have a particular section dedicated solely to white shirts. So if you want to make a real impact and leave a lasting impression, try wearing a white shirt to your next event or social contact. It may just accord you the background you need to make a real connection!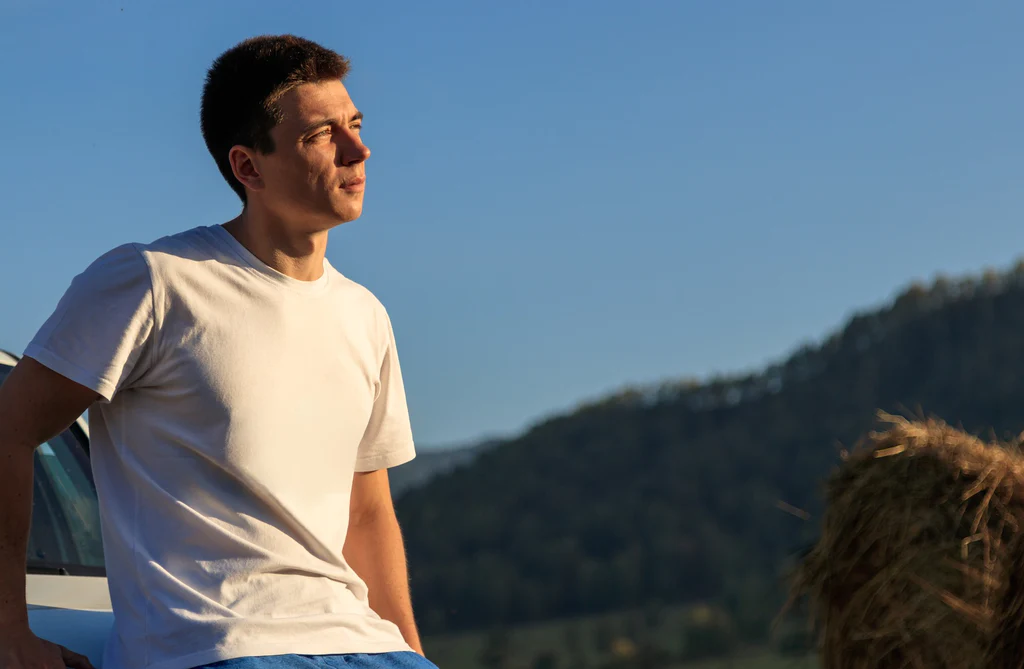 FAQ
Is there any real science behind the "white shirt effect" or is it merely a subjective preference?
While personal preferences do come into play, there is indeed some science behind the "white shirt effect." Studies have shown that the color white is often associated with purity, cleanliness, and reliability, which may contribute to the perceived attractiveness of those wearing a white shirt.
How can one maximize the "white shirt effect" in order to achieve the desired look?
To fully capitalize on the "white shirt effect," ensure that the shirt is clean, crisp, and wrinkle-free. Additionally, opt for a well-fitted shirt that complements your body shape, and consider accessorizing with a stylish tie or blazer for an extra touch of sophistication.
How does the White T-shirt Effect go around improving a man's state of attractiveness when clothed?
The White T-shirt Effect achieves a man's state of attractiveness by providing a perfect balance between a simple, clean background and a well-fitted top, often without any other contact or extra detail, such as buttons, giving a real and effortless sense of style. If you are interested in more of our articles, read if Mat Damon and Ben Affleck are still friends.