Unisex t-shirts are one of the most popular and versatile pieces of clothing. They can be dressed up or down, layered with other pieces to create a unique look, or simply worn as is. The unisex t-shirt has been around for decades and continues to be an essential wardrobe item for both men and women alike.
The classic unisex t-shirt comes in a variety of styles, from basic crew necks to more elaborate designs featuring graphic prints or slogans. It usually features short sleeves, but there are also long sleeve versions available too.
Colors range from solid neutrals like black and white to brighter shades such as reds, blues, and greens. The fabric used can vary greatly – some shirts may feature cotton blends while others have synthetic materials like polyester or rayon that make them comfortable yet durable enough for everyday wear.
Choose the Right Fit: High-Waisted Jeans vs. Crop Top Unisex Shirt
Styling a unisex t-shirt depends on the occasion and your own personal style preferences. For casual occasions like going out with friends or running errands, you could pair it with jeans or shorts for an effortless look that's still fashionable.
Alternatively dress it up by wearing it under a blazer with trousers for work events or special occasions such as weddings – adding accessories like belts and scarves will complete the outfit perfectly.
Waisted jeans and crop top unisex shirts can be a trendy and stylish combination.
The high-waisted jeans can accentuate your curves while the cropped shirt adds a touch of casual flair to your outfit. When styling waisted jeans and crop top unisex shirts, be mindful of the proportions to balance out your look. Try tucking in your shirt or wearing a belt to cinch your waist and create a flattering silhouette.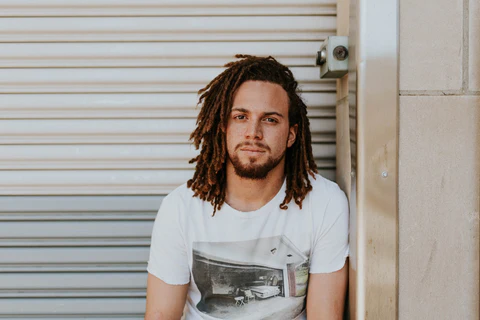 For those who want to stand out from the crowd even more when styling their unisex shirt they could try layering different pieces together; this could include combining multiple colors together – think pink over yellow – pairing different textures such as chunky knitwear with light fabrics, or wear slim fit shirt with baggy pants.
Finally, don't forget about accessorizing your outfit – jewelry items ranging from statement earrings to dainty necklaces all contribute towards creating a stylish ensemble no matter what the occasion is.
Outfit Ideas on How to Style Your Graphic Tee: Mix & Match With Blazers, Dresses, Skirts, and Jeans
When it comes to styling a unisex t-shirt, one of the most important aspects is finding the right fit. A well-fitted shirt can take an outfit from drab to fab in no time. If you're looking for a timeless and classic look, opt for a slim or tailored fit that hugs your body nicely. This type of fit will go great with a pencil skirt or dress on top and will provide enough room so that you don't feel uncomfortable but still give you shape and definition without being too tight. On the other hand, if you want something more relaxed and casual, go with an oversized option that gives off effortless vibes while keeping things comfortable at the same time and pair it with some jeans and blazers.
In addition to finding the right silhouette, pay attention to how long or short your shirt is when selecting your size as this can make all the difference in terms of style and overall look. For instance, if you're petite then choose a shirt length that hits at a mid-hip level instead of covering up your waistline; this way it won't overpower your frame but still give off some edge factor. Conversely, if you're tall go for longer lengths that hit past hips as these will create a balance between the top and bottom half making sure nothing looks out of proportion.
Finally, pick shirts with sleeve lengths that work best for what kind of look you're going for: whether it's cropped sleeves or extended ones depending on the occasion – both are totally acceptable. It's all about experimenting until finding something that works best for you so don't be afraid to try different fits and sizes till getting the desired result – after all, fashion should always be fun!
Wear Your Unisex Shirt With Confidence: Adding a Pop of Color
Adding a pop of color is the perfect way to make your unisex t-shirt stand out from the crowd. For starters, try choosing bold and vibrant colors that will contrast with the base color of your t-shirt for an eye-catching look. If you want something more subtle, opt for muted tones such as pastels or earthy shades that blend well together.
For an edgier vibe, consider pairing different prints and textures together like floral embroidery with leather patches or studs along the collar. You can also go for graphic tees with cool slogans on them – this adds a unique touch to any outfit.
Don't forget accessories like jewelry, hats, bags, and scarves to complete your ensemble. These items can help add some extra flair while still keeping it classic and timeless at the same time. With these tips in mind, you are sure to create an unforgettable look wherever you go.
Accessorize: Don't Be Afraid to Use Sunglasses & Your Favorite Pair of High Heels
Accessorizing is a great way to take a unisex t-shirt from basic to fabulous. With the right combination of jewelry, hats, and scarves you can easily create an outfit that's unique and eye-catching.
Jewelry such as statement necklaces or chunky bracelets will instantly draw attention to your look, while subtle pieces like dainty earrings can add a touch of sophistication. Sunglasses are another easy way to spice up any outfit, so choose some with vivid colors frame.
When it comes to hats, you can choose from fedoras and beanies for cooler weather days to wide-brimmed sun hats for sunny days at the beach.
Scarves are also a great addition to any ensemble; from lightweight fabrics in fun prints or bold colors for summer months, all the way down to thick knits for wintery looks. Whatever accessories you choose, adding them to your wardrobe will help make sure your style stands out. And do not forget the shoes and the impact they make on the whole outfit – high heels combined with a unisex shirt are a match made in heaven.
Incorporating Lace, Patterns, Layers, and Textures
When it comes to styling a unisex t-shirt, incorporating layers and textures is key. Whether it be stripes, polka dots, or abstract designs, prints can instantly elevate the look of any outfit. For those who prefer a more subtle approach when dressing up their basic tee, adding interesting fabrications such as velvets or corduroys can add some texture without being too bold. You could even layer your t-shirt with different materials like denim jackets and tweed blazers for added visual interest.
If you're looking to make a statement with your look then consider opting for lace details or eye-catching colors that are sure to turn heads wherever you go. From bright reds and yellows to muted blues and greys – there's something out there that will suit everyone's personal style preferences. Accessories also play an important role in pulling off the perfect t-shirt look so why not pair yours with jewelry pieces or hats? You don't have to break the bank either – try hitting up thrift stores or vintage markets where you'll find plenty of affordable gems waiting to be discovered.
No matter what kind of style aesthetic you're going for – incorporating patterns and textures into your unisex t-shirt ensemble is definitely worth every penny.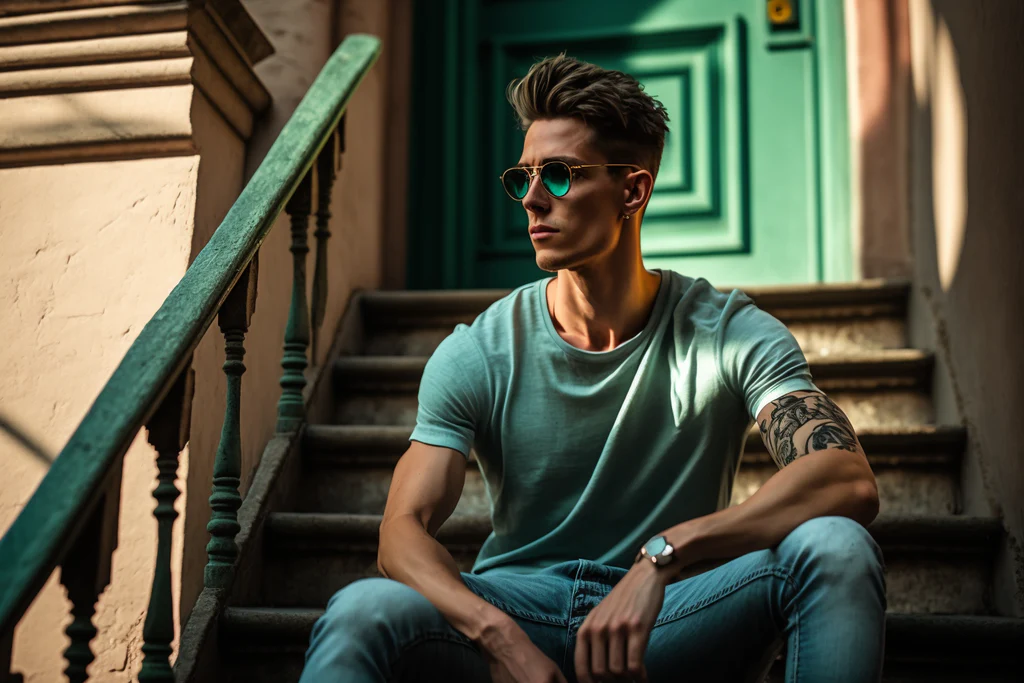 Finishing Touches for a Stylish Look: How to Knot and Tuck Your T-Shirt?
Once you have selected the perfect unisex t-shirt for your style, it is time to complete the look with some finishing touches. A great way to add a touch of personal flair and make any outfit stand out is by accessorizing with jewelry or a scarf. Jewelry can be used to add color, texture, and even patterns that draw attention.
For example, pairing a bold necklace or earrings with an otherwise plain shirt will create an eye-catching contrast that makes your look memorable. If jewelry isn't quite your thing then try adding a lightweight scarf in complementary colors as an alternative way to make a statement without overwhelming the look.
Comfortable footwear can also play a role in creating stylish looks when wearing unisex t-shirts. A simple pair of sneakers are always popular but if you want something more unique then go for leather boots or mules instead. These shoes come in various styles so there is sure to be something that fits both your taste and budget perfectly while also making sure you stay comfortable all day long no matter where you go.
To Sum It Up
In this article, we've covered some insanely cool ways to style a plain t-shirt, a true staple in anyone's closet. Whether you're going for a sexy vibe or a sleek look, there are different ways to wear and tricks to make a simple tee go a long way. One trend we're seeing is pairing it with wide-leg pants or tights for an effortlessly chic outfit.
And don't forget, you can either dress it up or dress it down – it's versatile either way! To add some pizzazz, consider adding a statement necklace or some bold earrings. And let's not forget a brunch classic – a black plain t-shirt and some jeans are a perfect casual combo. These styling tips are sure to elevate any outfit and make you feel confident and stylish.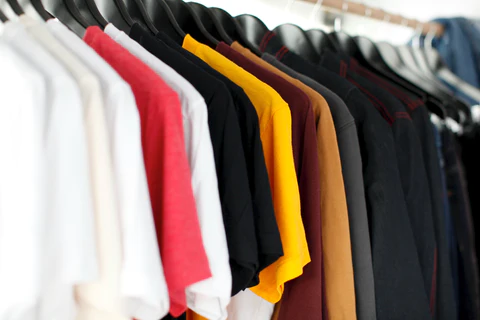 Questions & Answers
What should I wear with a black t-shirt?
Take a cue from the edgy fashion editors and pair it with some skinny jeans or tights and combat boots for a playful look.
Is t-shirt a good wardrobe piece?
T-shirts tend to be a casual wardrobe staple that can be dressed up or down depending on how you style them. T-shirts are definitely an important part of your wardrobe.
What are some ways to style a unisex t-shirt?
You can pair it with tights and combat boots for an edgy look or layer a bralette underneath for a playful vibe. You can also dress it up with a blazer and some heels, or be chic and trendy and wear a dress over your shirt with some good leather boots to complete the outfit.
What can I wear with a t-shirt for a colder day?
Layer a sweater over your t-shirt for a cozy and chic look or add a button-up shirt underneath for a preppy feel. Don't forget to pump up the volume with some statement accessories!
What are some tips for styling a unisex t-shirt?
Consider pairing it with wide-leg pants or tights, adding a statement necklace or bold earrings, and trying out different accessories to elevate your outfit. Remember, a plain t-shirt can be dressed up or down and is a versatile wardrobe piece.