Basketball shirts are supposed to be baggy and they provide a distinct look that's unlike any other sportswear. These shirts come in all sizes, from extra small to XXL, but they all feature the same loose-fit design. The primary purpose of this type of shirt is to give players more freedom of movement during gameplay.
The typical basketball shirt features wide armholes for maximum flexibility and unrestricted motion on the court. This also allows for better breathability so you can stay cool when playing an intense game or practice session.
The body of these shirts typically hangs loosely down from the shoulders with a slight taper near the waistline for a comfortable fit around your midsection.
The Debate Around Baggy Basketball Shirts
Some argue that the oversized look of a roomy shirt can be stylish and allows for more freedom of movement when playing sports.
On the other hand, others feel that it gives off an unkempt and sloppy appearance which is not in keeping with what a basketball uniform should be.
No matter where you stand on this issue, there are benefits to both approaches.
For instance, wearing a loose-fitting shirt can help reduce overheating during physical activity and provide extra protection from scrapes and bruises due to its bulkier fabric material.
It also offers wearers a greater range of motion while shooting hoops or performing fancy dribbling moves.
Your favorite team's jersey should show your respect for the players and the sport. Other than that, a basketball jersey should be worn in a way that represents a cool and laid-back fashion style.
Loose-Fitting Top
When it comes to choosing the right basketball shirt, one of the key considerations is whether you should go for a loose or more fitted look. Roomy shirts can offer a certain level of comfort and freedom when playing but there are pros and cons to be aware of before making your decision. Loose-fitting tops could help keep sweat away from areas such as the lower back or shoulders that may get uncomfortable during exercise if exposed.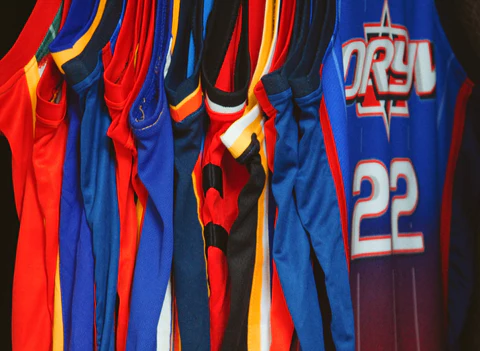 Style and Comfort Combined in Basketball Tees
When you're out on the court, looking your best is just as important as playing your best. That's why it's essential that basketball players choose their shirts carefully. Basketball tees are a great choice for anyone who wants to look good and stay comfortable during the game.
Basketball tees come in all shapes and sizes, making them perfect for any style preference. For example, some people prefer a slim-fit shirt with a longer hemline while others opt for something more relaxed like an oversized tee or tank top. No matter what type of cut you go for, something will suit your needs.
The material used in basketball tees is also designed to provide maximum comfort throughout the match – lightweight cotton blends keep you cool when things heat up and absorb sweat quickly so you can stay dry even when running around the court non-stop. The fabric also stretches nicely allowing freedom of movement so that nothing gets in your way while playing at full speed.
How to Wear a T-shirt Underneath Your Basketball Jersey Properly?
Wearing a t-shirt underneath your jersey is a great way to stay comfortable and protect your skin during games or casual wear. When choosing a t-shirt, opt for a snug fit. This will help prevent any bunching or riding up of the t-shirt, which can be distracting. Also, consider the material of the t-shirt. Cotton is a popular choice for its breathability and comfort, but moisture-wicking materials are also an option for those who get extra sweaty during games. When putting on the basketball jersey, make sure the t-shirt is smooth and untucked.
Different Styles for Different Players: How do NBA Players Wear Their T-shirts and NBA Jerseys?
The way a basketball player dresses on the court is as much of an expression of their personality as their style of play. For some, it's all about having a baggy shirt to give them that extra bit of freedom to move around and express themselves with ease.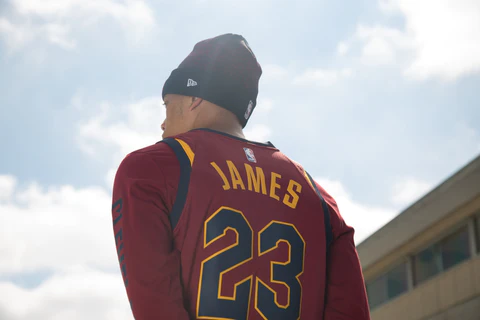 For others, it may be more important for them to have something form-fitting that allows for greater accuracy in movement. It all depends on the individual player and how they want to present themselves on the court. Most NBA players tuck their t-shirts into their shorts. For a different look, some may opt for tank tops or sleeveless shirts instead. It is less common, but some may choose to wear their t-shirt untucked and loose.
Players sometimes wear a white t-shirt under their jersey or they may also opt to go without a shirt underneath.
Types of NBA Jerseys: NBA Basketball & Fashion
Are you a basketball fan and have your favorite player or team? Would you like to pair your favorite team's jersey with your outfit? Easy-peasy. NBA basketball uniforms can be worn in a variety of styles. To achieve a look that stands out from the crowd, consider pairing an NBA jersey with basketball shorts and some stylish sneakers. To further spice up your style, add team-inspired accessories like hats and backpacks for a more daring look. To top off the outfit, a pair of sunglasses will help you make a bold statement.
Do You Want to Wear a Jersey That Fits: Vintage Jerseys
The perfect fit of a jersey can make all the difference in a team's performance, as well as your own confidence and enjoyment while playing the sport. If a jersey is too baggy or too tight, it can affect your mobility or even cause you discomfort as your body has to fight off the excess fabric. A well-fitted jersey will hug the contours of your body and move with your movements, allowing you to perform at your best.
Vintage basketball jerseys and shirts are a blast from the past. They're perfect for fans who love the retro style and want to show off their love for the game. These jerseys often feature old-school logos, colors, and designs that bring back memories of the glory days of basketball. They're made from high-quality materials, ensuring they'll last for years to come. Whether you're wearing it to play a pick-up game or to show off at a sports bar, a vintage basketball jersey or shirt is a must-have for any fan of the game.
These jerseys not only make a bold fashion statement, but they also pay homage to the history of basketball and the players who helped make it what it is today. So, whether you're a fan of Michael Jordan, Magic Johnson, or Kareem Abdul-Jabbar, grab a vintage jersey and show off your love for the game!
Wear a Basketball Jersey Casually
If you want to make a fashion statement that is both unique and stylish, then wearing an NBA basketball jersey casually is the way to go. Not only does it look cool, but it also shows off your love for the game or your favorite team. It's a great way to express your personality and be fashionable. Wear your favorite basketball jersey anywhere you're going, it makes a great touch to almost all outfits, even skirts! They can be styled with a variety of other pieces, from a classic pair of sneakers to shorts and even jeans. The best part of wearing a basketball jersey casually is that you can take it from the court where you play basketball to the streets in no time.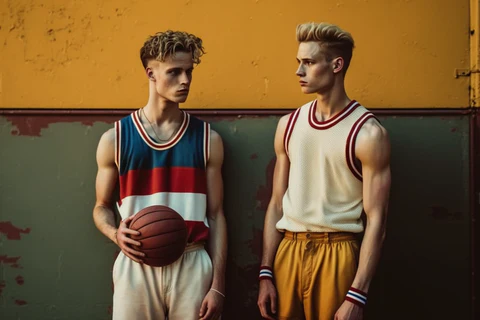 Making the Most Out of Your Shirt Choice: Which Shirt and Jersey To Wear?
When it comes to your basketball shirt, there is more to consider than just the size. The fit and design of your shirt can play a huge role in how you feel on the court.
While some may prefer baggy shirts for their comfort and ease of movement, others might prefer something with a tighter fit that allows them to move freely without being restricted by extra fabric.
Choose a jersey that hits the balance between style and function; after all, what's the point of wearing a stylish basketball shirt if it restricts your range of motion? Fortunately, there are many options available today that offer both form and function. Look for lightweight materials such as polyester or spandex blends that provide breathability while still allowing you to move freely during gameplay. Look for shirts with strategically placed panels or cutouts that help increase air circulation while also providing an eye-catching aesthetic element.
Don't forget about colors. Whether you're looking for something vibrant and bold or subtle yet stylish – having the right color combination can make all the difference when hitting up pick-up games at the park or competing on game day. With so many colors available today from traditional hues like black and white to more daring ones like hot pink or neon green – you'll be sure to find one that suits your individual style perfectly.
Conclusion
Basketball jerseys and shirts are typically not supposed to be too loose. Basketball jerseys are usually designed to fit closer to the body in order to allow for a maximum range of motion. Shirts, on the other hand, may be slightly looser and have a more relaxed fit. Ultimately, the fit of a basketball jersey or shirt depends on the individual wearing it. Some people like a more tailored, fitted style while others may opt for a baggier look. When wearing basketball jerseys or shirts be sure to pick ones that make you feel comfortable and allow you to move freely on the court.
Questions & Answers
How should a basketball jersey fit?
A basketball jersey should fit comfortably, not too loose, and not too tight. A form-fitting jersey will allow for maximum mobility on the court, while an overloose fit can get in the way of play.
Should the jersey be oversized?
Oversized jerseys are a personal preference, but they are not recommended for playing basketball.
An oversized jersey can get in the way of play and hinder mobility. But if you want to make a fashion statement, then you can wear your favorite player's jersey however you plan to wear it.
What to do if your basketball jersey is too big?
If your basketball jersey is too big, consider getting it altered or purchasing a smaller size. If you wear something underneath it can help to hold the jersey in place, but big jerseys are usually super comfortable to wear.
Are you supposed to tuck in a basketball jersey?
It depends on personal preference. Some players prefer to tuck in their jerseys for a more streamlined look, while others prefer to let the jersey hang loose for added comfort. Players tuck their jerseys mostly, but you can opt for a more relaxed look with your favorite jersey.