Lady Gaga is an American singer-songwriter, actress, and fashion icon. She has been a major influence in the world of pop culture for more than a decade. Her style is often described as eccentric, outrageous, and daring. Lady Gaga's signature looks are often copied by her fans all over the world who seek to emulate her unique style.
From red carpets to everyday life, Lady Gaga always manages to stand out from the crowd with her bold fashion choices. Her wardrobe includes everything from classically tailored suits to bright-colored wigs and wild costumes that show off her creativity and passion for self-expression through fashion. The way she dresses reflects both the traditional elegance of Hollywood glamour as well as modern punk chic which makes it instantly recognizable around the globe.
A Fashion Icon Redefining Style Boundaries
One of Lady Gaga's most iconic looks was when she attended the 2010 MTV Video Music Awards wearing a dress made entirely out of raw meat.
This eye-catching ensemble perfectly demonstrates how no matter what she wears, it will always be talked about due to its uniqueness and shock factor value – something that makes Lady Gaga an undeniable fashion icon in today's society.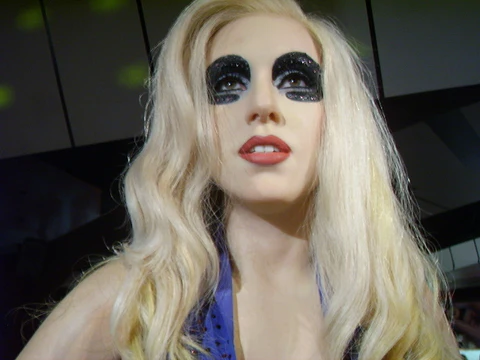 Her influence also extends into mainstream brands such as Versace where she recently collaborated on several collections including ready-to-wear pieces like leather jackets adorned with rhinestones or crystals inspired by some of her most memorable music videos;
Flamboyant gowns complete with feathered headpieces reminiscent of one of her many live performances;
Oversized sunglasses perfect for those who want to make a statement without saying a word; and even luxurious handbags featuring intricate designs crafted specifically for this collection alone.
Lady Gaga has also broken boundaries when it comes to gender roles within fashion. During one performance she wore a strapless jumpsuit paired with heeled boots which challenged society's perception of what constitutes feminine dressing versus masculine attire – inspiring others across genders to do whatever they feel comfortable wearing regardless social norms or expectations placed upon them regarding their clothing choices.
Her boldness when it comes to her looks has earned her the title "The Queen Of Pop". Her red-carpet appearances are often met with both shock and awe, as she continues to reinvent herself through her daring clothing choices.
Gaga's influence on fashion does not end at red carpets or music videos though; she uses them as an opportunity for self-expression and freedom. In one of her iconic interviews with Oprah Winfrey, Gaga said: "My mother always told me I should be confident in who I am…Fashion helps me do that." This attitude towards fashion is what has enabled Lady Gaga to stand out from other celebrities and become an inspiration for young people all over the world.
In addition to setting trends in clothing, Lady Gaga also utilizes makeup as a form of self-expression – something that many other icons don't seem willing or able to do without being judged by society's standards. By combining different colors, shapes, textures, and styles in her makeup looks, she creates unique expressions each time she steps out onto the stage or onto a red carpet event – something that only further solidifies Lady Gaga's status as a true fashion icon who redefines style boundaries everywhere she goes.
Lady Gaga's Impact on the Fashion World: From Raw Meat to Avant-Garde Fashion
Lady Gaga has become one of the most iconic figures in the fashion world. From her raw meat dress at the 2010 MTV Video Music Awards to her avant-garde style during award shows and red carpets, she is known for pushing boundaries when it comes to fashion. Her impact on the industry can be seen in everything from runway collections to everyday streetwear.
Gaga also helped usher in an era of celebrity collaborations with big brands like Versace, MAC Cosmetics, and H&M. She collaborated with these brands on campaigns featuring edgy looks created by top stylists such as Nicola Formichetti and Brandon Maxwell – both now having successful careers thanks in part to Lady Gaga's influence on their work. These partnerships further cemented Lady Gaga's reputation as a trendsetter who had her finger firmly planted on the pulse of what was happening in fashion today – from ready-to-wear lines designed for Target shoppers all way up to couture gowns for A-list celebrities walking down red carpets worldwide.
Gaga's Iconic Red Carpet Outfits: A Look into her Fashion Choices
Gaga's influence on fashion can be seen through her bold choices when it comes to dressing for events such as award shows and premieres. She often takes risks with daring silhouettes, color combinations, and intricate detailing that set her apart from other celebrities on the red carpet. Whether she is wearing an ethereal gown or an eccentric jumpsuit, Lady Gaga always manages to stand out amongst the crowd with unique ensembles that make a statement about who she is as a person and artist.

When attending events, Lady Gaga typically opts for garments designed by renowned designers like Alexander McQueen or Marc Jacobs that add an extra layer of drama and glamour to her look.
Even though these designer pieces are expensive investments, they allow Gaga to create memorable moments with each outfit that will stay etched into our memories forever.
Collaborations with Designers and Council of Fashion Designers of America
Lady Gaga has been making waves in the fashion world since her debut. She is a long-time collaborator with some of the biggest names in the industry, including Versace, Tom Ford, and Marc Jacobs.
Her influence on fashion has been widely recognized by many organizations such as the Council of Fashion Designers of America (CFDA). In 2011 she was named an ambassador for their 'Fashion Targets Breast Cancer' campaign and has recently become a CFDA Award Winner for Positive Change in 2019.
Gaga's collaborations with designers are highly sought after due to her unique style and fearless attitude when it comes to pushing boundaries. From bold prints to outrageous ensembles, Gaga never fails to surprise us with her next look. She frequently wears custom designs that have been made specifically for her which often feature intricate detailing that showcase both designer's creative vision and Gaga's own personal style.
To Wrap It Up
In a Star Is Born moment, Lady Gaga's fashion sensibilities have dazzled the world, leaving us all with our jaws on the floor. From her audacious Valentino getup at Paris Fashion Week to her unforgettable bra and sculptural Armani Privé gown combo at the Grammys, she's got that sparkle that makes her the bee's knees of the fashion industry. On the House of Gucci press tour, she rocked a fishnet bodysuit and platform boots like Rihanna at the Met Gala, all while influencing the fashion features of today.
A trailblazer in her own right, Gaga's sartorial choices have paved the way for the likes of Giorgio Armani, Jean Paul Gaultier, and other bigwigs to experiment with the likes of long sleeves, ball gowns, and chokers. A true mermaid in a sea of black gowns, her makeup line and fashion influence are as colossal as her long train and sculptural dresses. From her fishnet and platform boots to her spiky, sequined ball gown, Gaga's fashion is a delightful smorgasbord, tastier than Mama's home-cookin'!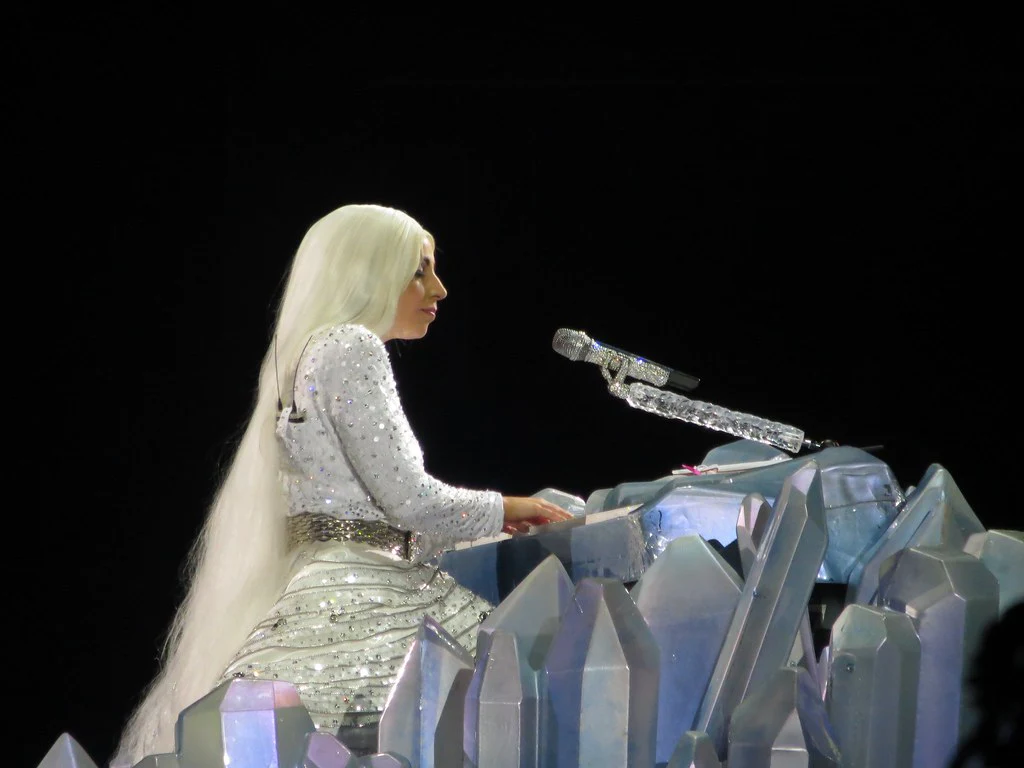 FAQs
What Are the Iconic Looks Of Lady Gaga?
With her ability to make latex and black lace as comfy as a favorite ol' blazer, Gaga's no stranger to over-the-top and downright jaw-droppin' looks, like that time she donned a spiky, hooded Schiaparelli haute couture gown with a neckline plungin' to kingdom come. Born Stefani Germanotta, this Sacred Heart alum has come a long way since her album release, showin' off her alter ego, Jo Calderone, in hot pink Armadillo shoes and thigh-high studded sequined robes. Gaga's red hair or blond hair – no matter the hue, she keeps us guessin' with her unexpected look, mixin' performance art, and a touch of spunk.
How has Lady Gaga influenced the fashion world with her boundary-pushing style?
Well, hold onto your hats, folks! Lady Gaga has always been known for pushin' the envelope and struttin' her stuff in the most eye-poppin' ensembles. As a pop star, she's been a trendsetter, wearin' outfits that have never been seen before, like that sculptural lavender number that had everyone talkin'.
What are some of the most memorable outfits Gaga has worn that showcase her iconic fashion sense?
Oh, boy! Where do we start? Lady Gaga is known for her out-of-this-world fashion choices that have left us gaspin' for air. Remember when Gaga first showed up wearing that famous meat dress? Or when she wore that unforgettable, sculptural lavender getup that looked like it was straight out of a sci-fi flick? These are just a couple of examples of how Gaga pushes boundaries with her fashion choices, making her a true icon in the world of style. Her ever-changin' looks keep us on our toes, and we can't wait to see what she'll come up with next!