Cool dads are an increasingly popular trend in fashion. They are fathers who have embraced the idea of dressing stylishly and comfortably, while still being able to show off their personality. This look is often characterized by mixing classic menswear staples with more modern pieces, creating a timeless yet contemporary style.
A cool dad look typically begins with basics such as a well-fitted T-shirt or polo shirt paired with jeans or chinos for bottoms. To give it an extra touch of style, try layering a sports coat over your top and adding some fresh kicks like sneakers or loafers. If you want to take things up a notch, opt for something eye-catching like bold prints on your shirt or trousers – but make sure they don't clash too much. You can also add accessories such as hats, watches and sunglasses to complete the outfit.
One of the main things that makes this look so unique is its versatility: it can be dressed up or down depending on the occasion. For instance, if you're going out for dinner you could wear dressier items like a blazer and chinos instead of jeans; if you're just running errands then keeping it casual with shorts would work just fine too. Cool dads aren't afraid to experiment with colors, either – pastels are always welcome in this look!
When putting together outfits as a cool dad, remember that comfort should come first above all else – after all, nobody wants to feel uncomfortable when they go out. Also keep in mind that trends come and go, but classic styles will always remain timeless – so invest in good quality wardrobe staples which will last season after season no matter what changes occur around them. Finally, don't forget to have fun – this is meant to be an expression of yourself, so let your own personality shine through!
Embracing Your Inner Cool Dad
When it comes to the art of dressing like a cool dad, the best way to start is by embracing your inner cool dad. Being a fashionable and stylish father is all about knowing how to embrace your own unique style and sense of fashion. This means that you don't have to stick with what's considered "trendy" or even follow current trends if they don't match up with who you are as a person. By taking this approach, you can create an outfit that not only looks great, but also expresses who you are on the inside.
A key element in dressing like a cool dad is being able to mix different items together without looking too overdressed or out-of-place. For example, pairing dressier trousers with sneakers or wearing jeans with dress shoes can create interesting contrast while still remaining appropriate for whatever occasion calls for it. Adding some bold accessories such as pocket squares, ties and lapel pins helps break up any blandness from simpler outfits while still keeping everything balanced in terms of formality levels.
Don't be afraid to take risks when creating new looks. Trying something unexpected or unusual such as mixing two seemingly opposite styles together can often result in stunning ensembles that will turn heads wherever you go – just make sure everything fits properly before stepping out into public! Ultimately, though, having fun and experimenting with clothes should be at the heart of every cool dad's wardrobe choices; after all, there's no better way of expressing yourself than through clothing.
What Key Pieces to Wear to Achieve Cool Dad Style: From Fleece Jackets To Denim And Khakis
When it comes to dressing like a cool dad, building the perfect wardrobe is key. To look as stylish and effortless as possible, start by focusing on classic pieces that never go out of fashion, such as plain tees and chinos in neutral colors. Investing in quality fabrics can help create an air of sophistication without sacrificing comfort. Don't be afraid to experiment with different silhouettes – think tailored jackets and blazers for a more structured look, or relaxed fit jeans for something a little more casual.
For those looking to add some extra personality to their outfits, patterned shirts are an excellent choice. Look for subtle prints like polka dots or stripes which will draw attention without going overboard. A variety of accessories including watches, bracelets and hats can also bring your outfit together while adding character – just make sure they don't clash too much with the rest of your ensemble. Invest in some good shoes – loafers or Oxfords will give you a polished finish every time.
Creating the perfect wardrobe for achieving cool dad style doesn't have to be difficult; all it takes is knowing what items work best together and investing in quality garments that last long-term. With these tips in mind, you'll soon be ready to take on any occasion looking sharp from head-to-toe.
Dress Like A Dad: Find Your Personal Style
When it comes to dressing like a cool dad, the key is finding your personal style. While you may have had the same wardrobe for years, now is the time to update and create something new. Start by evaluating what you already own – pick out items that fit well and are still in good condition. Try mixing different pieces together, such as an untucked shirt with chinos or jeans; this will give your look more character than wearing a suit every day.
Once you've identified some go-to pieces, take note of trends that catch your eye without going overboard. Don't be afraid to experiment with colors and textures – incorporate subtle patterns into classic looks, or try pairing unexpected hues together for a modern twist on traditional menswear styling. If bolder choices aren't quite up your alley yet, accessories are always an easy way to add interest without having too much commitment: think stylish hats or trendy sunglasses instead of wild prints or clashing color combos.
Remember that while fashion should be fun – don't forget practicality when putting outfits together; comfort is just as important as style when it comes to being a fashionable father figure. Invest in quality basics like dress shirts and shoes, which will last longer than their cheaper counterparts – no one wants to be caught out in sagging trousers. 
Embracing the Dad Fashion: Baseball Caps, Jorts And Sneakers
The dad fashion trend has been steadily gaining momentum in recent years. It's no secret that dads are taking a renewed interest in their sartorial choices and looking to dress with more style than ever before. But how do you make this trend work for you?
For starters, it's important to understand the basics of dad fashion. This look typically involves classic pieces such as baseball caps, baseball caps, jorts, and tweed blazers paired with loafers or sneakers depending on the occasion. To get the full effect, try mixing these staples together for an easy yet stylish outfit that exudes effortless coolness. If your budget allows, consider investing in high-quality fabrics like cashmere or wool blends for added comfort and longevity.
When creating your own personal interpretation of dad fashion, don't be afraid to experiment with bold colors and prints. Adding some character can really elevate an otherwise ordinary look – think subtle gingham or muted plaids on the top half of the outfit combined with neutral bottoms like navy blue trousers or jorts– so take advantage of it. Accessorize wisely: a baseball hat is always a great addition when pulling off this look; other options include statement glasses frames and dapper leather shoes (yes – even if you're wearing sneakers!).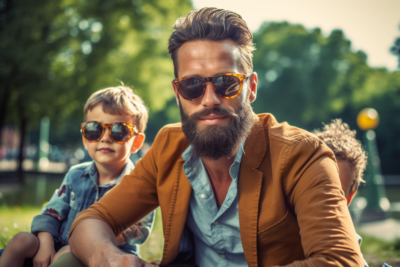 Style Icons: Inspirational Cool Dads to Look Up To
Many dads have found themselves in a style rut, wearing the same clothes day-in and day-out. To get out of that slump, it can be helpful to look up to some cool dad role models for inspiration on how to dress like a modern, stylish father.
Aspiring hipster dads should take note from actor Ryan Reynolds, who consistently rocks classic pieces with an unexpected twist.
He's often seen sporting vintage t-shirts paired with slim fit jeans or trousers and sneakers or boots; this is one combination any dad can easily pull off.
For slightly more formal occasions, he opts for tailored suits, which always appear sharp but never stuffy.
When it comes to red carpet events and other glamorous affairs, musician Pharrell Williams is sure to bring his signature funky yet sophisticated touch – think colorful sport coats over casual tees and smart blazers over graphic prints. Even when attending awards shows where everyone else wears black tie attire, Pharrell finds ways to stand out without looking garish or overdone – an admirable feat.
For everyday errands around town there's no better muse than British soccer star David Beckham who manages to make comfortable basics look high fashion. His timeless looks are usually made up of lightweight layering pieces like Henley under denim jackets coupled with dark wash jeans topped off with desert boots or loafers – simple yet effective styling at its best.
Dad Jeans: How to Wear Them and Still Look Cool
Dad jeans are a wardrobe staple for many fathers. These relaxed fit trousers are the perfect way to add comfort and style to any outfit. But how can you wear them in a way that looks cool?
To start, it is important to choose the right pair of dad jeans. Look for ones with a slimmer cut that still offer plenty of room around your waist and thighs; this will ensure they fit well without looking baggy or saggy. If you want something more tailored, try skinny or slim-fit styles – just make sure they don't cling too tightly. You should also pick a color and wash that suits your personal taste – from light blue washes to darker shades, there's something out there for everyone.
Consider what you'll be pairing with your dad jeans. Classic white sneakers look great when combined with dark denim, while leather loafers bring an extra touch of sophistication if you're aiming for smart casual attire. Alternatively, why not go all-out retro by wearing a crisp shirt tucked into high-waisted mom jeans? The possibilities are endless.
Tips for Nailing the Great Dad Look Every Time You Dress Up: Tucked T-Shirts
If you want to dress like a cool dad, the most important thing is to make sure that your outfit reflects your personality. It's important to be comfortable and confident in what you're wearing, so pick something that suits you best. Opt for pieces with classic silhouettes such as slim-fitting trousers or jeans, Oxford shirts and plain T-shirts. Avoid anything too baggy or loose; it will not only make you look sloppy, but also add years to your age.
When choosing colors for the great dad look, go for neutral tones such as navy blue, black or gray; they're timeless and will never go out of style. However, if bright colors are more up your alley, feel free to experiment with them by pairing them with neutrals – it adds an element of fun while still being stylishly appropriate. Accessorize with simple watches, leather belts and understated jewelry; this helps keep things looking clean and neat without overdoing it on the accessories front.
Finally, when dressing up like a cool dad, don't forget about shoes. Investing in quality footwear is always worth it because they can elevate any outfit from average to awesome in just one step! Stick to basic styles such as loafers or boots – these options are both versatile and comfortable enough for everyday wear no matter where life takes you.
In Conclusion
When it comes to dressing like a cool dad, there's one thing I'd go for: a mix of streetwear and classic men's fashion. You want to find the right balance between looking effortlessly chic and embracing your dad steez. It's pretty hot right now to rock oversized and chunky pieces, so I'm feeling those leather jackets and pleated khaki pants. Add a striped collar shirt and a pair of white New Balance or Nike kicks to complete the look. And hey, don't forget the fanny pack—it's a full-on fashion statement that epitomizes the anti-fashion vibes of the younger generation. Throw in a trucker hat and a corduroy tote, and you're good to go. Remember, being a dad doesn't mean you can't stay fashion-conscious and have your own unique style. Embrace the ubiquity of streetwear in the fashion landscape and let your personal style shine through. Now go out there and show the world that being a dad is no excuse for not slaying in the fashion game!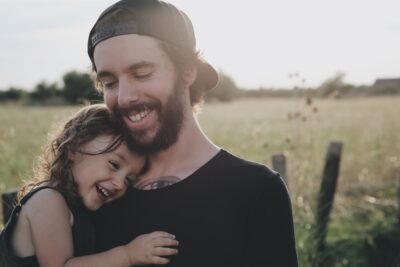 People Also Ask
How can I achieve that hip dad style without looking like a total poser?
Alrighty, here's the deal, my friend. When it comes to dressing like a cool dad, you have to embrace the style move known as "hype beast meets fatherhood."
It's all about finding that perfect balance between trendy and timeless. You want to rock those brands like Balenciaga or Supreme, but in a way that screams "effortlessly cool dad" rather than "fashion world try-hard."
So, my advice? Choose classic pieces with a modern twist, like a stonewashed denim jacket or a sleek bomber.
Pair 'em up with a crisp white-shirt, some loose-fitting chinos, and top it off with a vest. Trust me, you'll be turning heads at the playground in no time.
What should I wear if I'm not exactly built like a runway model?
The fashion world might have its own definition of the ideal body type, but us cool dads don't play by their rules. Embrace your dad bod and dress it up in a way that suits your unique style. Opt for clothes that flatter your body shape and make you feel like a million bucks. Don't shy away from a pair of chinos that give you room to breathe or some relaxed-fit jeans that are as comfy as can be. And hey, if you're all about that casual vibe, rock a pair of Birkenstocks or New Balance 990s. Complete the look with a fanny pack slung across your waistband, because who says dads can't be practical and stylish at the same time? 
I usually go for sweatpants and tees, but I want to step up my dad style game. Any suggestions?
Well, well, well, if it isn't a laid-back kind of guy looking to upgrade his fashion game. Don't sweat it, my friend, I got just the advice you need. While there's nothing wrong with a cozy pair of sweats, it's time to add a touch of sophistication to your dad wardrobe. Start by swapping those sweatpants for some well-fitting trousers or jeans. Pair 'em up with a button-down shirt and roll up the sleeves for that effortless cool look. Now, here's the secret sauce: throw on a lightweight jacket or a tailored blazer to elevate your style. And let's not forget the footwear. Ditch the worn-out sneakers and grab a pair of Birks or classic white kicks. With this new look, you'll be turning heads left and right, my friend.