When it comes to dressing for a casual wedding, there are many options. Casual weddings provide an opportunity for guests to express their individual style in a relaxed environment. The key is to be comfortable and dress appropriately for the occasion.
A casual wedding typically involves less formal attire than traditional weddings and can range from semi-formal to informal wear such as jeans or khakis with a blazer or sweater depending on the season and time of day.
For men, slacks, collared shirts, sports coats, and ties are usually acceptable attire. For women, sundresses, skirts, and pantsuits may all be appropriate choices for this type of event. It is important to remember that whatever you choose should fit within the dress code stated by the hosts so as not to stand out too much among other guests who may have opted for more casual styles of clothing.
What to Wear to a Casual Wedding: Dress for a Casual Wedding Party
Casual weddings also allow attendees some freedom when it comes to choosing accessories like shoes and jewelry that add personal flair without being over-the-top or inappropriate.
Shoes such as loafers or boat shoes might work well if paired with slacks.
While sandals could be worn with dresses or skirts depending on climate conditions at the venue location.
Jewelry should remain subtle but still make a statement; think simple earrings instead of large chandelier pieces along with delicate necklaces rather than bold statement pieces like oversized pendants or bracelets made from heavy metals like gold and silver.
No matter what look you decide upon when dressing for a casual wedding always ensure that your outfit is clean pressed before leaving home. An easy way to instantly elevate any look is through proper grooming which includes freshly shampooed hair, manicured nails, polished shoes, etc. You don't need expensive designer labels – just choose classic items in neutral colors (black navy blue grey white ) that will match almost anything else in your wardrobe. This way you can create multiple looks from one set of clothes!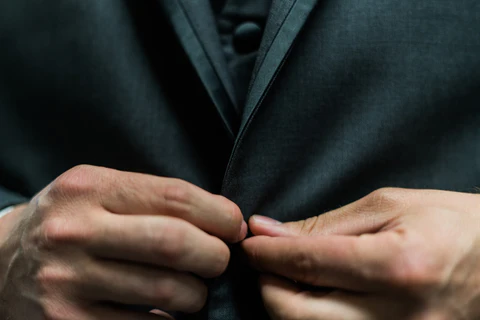 When attending a casual wedding, it is important to consider the right attire. You want to look appropriate and stylish while still being comfortable. Knowing what to wear can help you dress appropriately for the occasion without feeling out of place.
A great option for a casual wedding is an easy-going dress or jumpsuit paired with some strappy sandals or heels. This look can be dressed up or down depending on your personal style, allowing you to express yourself without overdoing it. If you choose a bold color like red, keep accessories minimal so as not to draw too much attention away from the couple's special day.
Add some subtle jewelry such as small earrings or necklaces that won't distract from your overall outfit but will bring a little bit of sparkle and shine when the light hits them just right.
For men attending a casual wedding, try pairing some fitted trousers with an untucked shirt and loafers – no need for socks if they're leather shoes. A nice blazer in muted colors will take this look up another notch – perfect for any wedding photos that may be taken during the event. Accessorize with simple items like cufflinks or pocket squares if desired; anything too flashy should probably stay at home on this occasion!
Decoding the Casual Wedding Guest Attire: A Guide for Wedding Guests
When it comes to attending a casual wedding, the dress code can be tricky. It is important for guests to ensure they have dressed appropriately and with the right level of formality. To help you navigate through this difficult task, here are some tips on how to decode what's appropriate when it comes to dressing as a guest at a casual wedding:
First off, remember that even though the event is labeled as "casual", there may still be certain restrictions or expectations regarding attire – so make sure you take time to read through any guidelines given by the bride and groom before planning your outfit. Typically speaking, however, most couples opt for something more relaxed than formal wear but still stylish enough for their special day. For men this could mean wearing nice slacks and shirts without ties; women might choose from lighter colors like pastels paired with tailored trousers or skirts.
As far as accessories go, leave behind flashy jewelry or statement pieces in favor of more subdued ones such as delicate necklaces and earrings. For shoes avoid anything too high-heeled – flats will do just fine. Keep bags minimalistic and opt for small clutch purses rather than larger totes which could look out of place in an outdoor garden wedding setting. Finally, try not to forget about details like scarves or hats – these can add extra layers of sophistication while also making your ensemble stand out from other guests.
Casual Wedding Outfit Ideas: How to Dress for a Laid-Back Celebration
When you think of weddings, the first thing that comes to mind is usually a formal event with everyone dressed in their best attire. However, many couples are now opting for more laid-back celebrations that call for more casual looks. While this can make it harder to decide what to wear, there are plenty of outfit ideas out there to help you look stylish and feel comfortable at your next casual wedding.

For men, chinos or khakis are an excellent option when attending a casual wedding. These trousers provide just enough smartness while still being appropriate for a relaxed affair – they should be paired with an open-collar shirt and loafers or brogues depending on the weather outside. If you're looking for something even dressier than chinos but not quite as formal as suit trousers, consider wearing linen pants instead; pair them with some deck shoes and a bright polo shirt for maximum effect.
Women have so many choices when deciding how to dress for a casual wedding: from pretty dresses through skirts and tops all the way up to jumpsuits or two pieces – whatever suits your personal style.
If going down the skirt/top route opt for lighter fabrics such as cotton or lace – flowy maxi skirts also look great when teamed up with wedges or sandals if you don't want too high of heels (or no heels at all!). When choosing between different shades go bolder during summer months – florals work well here too. For winter try darker tones such as navy blue which will always remain timelessly classic yet elegant.
Get Dressy for a Daytime Wedding: What to Wear to a Low-Key Casual Wedding Venue
The perfect wedding dress is often the one that strikes a balance between formal and casual. For daytime weddings, especially ones held in more laid-back venues like beachfront or country gardens, the challenge can be to find an outfit that looks special enough without being over the top. Whether you're a guest attending the nuptials or part of the bridal party, there are certain styling rules to abide by when choosing your look for a casual wedding.
To get dressy for a low-key ceremony, opt for fabrics such as silk and linen that bring refinement but still maintain an air of ease about them. A lightweight skirt suit with delicate pleats will achieve this effortlessly – just make sure it isn't too long and fits well at the shoulders so it doesn't look boxy on top. Alternatively, if you prefer trousers over skirts, choose chinos in muted tones that have been tailored around the waistline – drawstring details give off an effortless feel while structured lines retain sophistication. You could even go for dungarees made from soft cotton materials – wearing yours with pointed flats gives off smartness whilst maintaining comfort levels all day long.
Accessorise wisely: jewelry should remain minimal but don't be afraid to add statement pieces such as drop earrings or layered necklaces if they fit into your overall look nicely – wear bright colors sparingly but use them tastefully to inject color into your ensemble where possible. Investing in quality accessories like these is key when creating an elegant yet relaxed vibe; invest in items that won't date quickly and will last many occasions.
Casual Wedding Attire for Men: Tips and Outfit Ideas
When it comes to attending a casual wedding, men may feel uncertain about what type of clothing is appropriate for the occasion. It is important to ensure that you look stylish and smart while still adhering to the dress code of the event. Here are some tips and outfit ideas that will help men dress appropriately for any casual wedding they attend.
One great option for a man's attire at a casual wedding is to wear semi-formal attire such as slacks with a collared shirt or polo top. These garments can be paired with loafers or other comfortable shoes such as boat shoes or desert boots, depending on your personal style preference. A blazer or light jacket can also be worn over this ensemble if desired, providing an extra layer of warmth and added sophistication without going overboard on formality. If you prefer something more relaxed than traditional office wear, consider pairing jeans with either a nice button-down shirt or a t-shirt in muted colors; these pieces offer comfort without sacrificing style when combined correctly.
For an even more laid-back look suitable for many types of casual weddings, choose chinos in neutral tones like navy blue or olive green along with loafers, canvas sneakers, sandals, or espadrilles – all easygoing footwear options which provide plenty of comfort throughout the day while still looking sharp enough to fit into most dress codes. Accessorize with items like pocket squares and belts if desired; just make sure not to go too flashy in order not to draw attention away from the bride and groom. With these tips in mind, you'll have no trouble finding an outfit perfect for any kind of casual wedding celebration!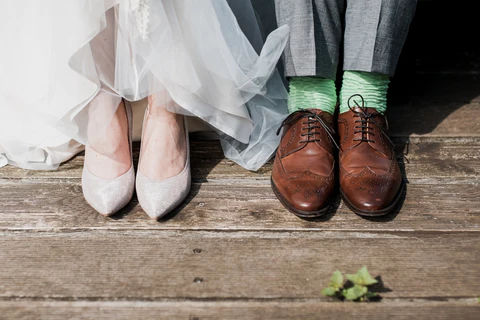 Wedding Guest Attire: Dos and Don'ts for a Casual Wedding
Attending a casual wedding require special considerations when selecting the right outfit.
To ensure that you look stylish and well-dressed, here are some dos and don'ts to keep in mind.
When deciding on an ensemble for a relaxed wedding, it is important to pay attention to the dress code stated on the invitation or provided by the bride and groom. This will be your guide as to how formal or informal your attire should be. Generally speaking, light-colored slacks paired with a nice shirt are suitable options for men while ladies can opt for sundresses or skirts with blouses. For an extra touch of elegance, consider adding statement jewelry pieces such as earrings and necklaces but avoid wearing anything too flashy like tiaras or crowns – this could make you appear overdressed compared to other guests at the event.
Although not necessary for a casual wedding celebration, accessories such as hats can add interest if worn tastefully; however, bear in mind that headwear is typically only appropriate for more formal events so proceed with caution. Men should also remember that ties may be optional depending on the style of the event being hosted so always double-check before attending just in case you need one after all! But certainly not least – sandals might seem like an obvious choice given their comfort level but try opting instead for something slightly dressier such as loafers which won't compromise your sense of style yet still remain comfortable enough throughout any activities associated with the big day.
Final Thoughts
In conclusion, the question of how casually you can dress for a wedding depends largely on the wedding invitation and the wedding's theme. A casual dress code may be appropriate for a backyard or beach wedding, but it's important to still look your best and dress in a way that shows respect for the happy couple.
For men, a pair of khaki pants and a cotton button-down shirt can create a laidback look that is still wedding-appropriate. Women might opt for a floral or geometric printed midi dress or a flowy maxi dress for a beachy wedding.
When in doubt, it's always better to play it safe and dress up a little rather than show up underdressed.
With some outfit inspiration and a focus on style and comfort, it's possible to create the perfect wedding ensemble for any casual ceremony or reception.
FAQs
Can I wear tennis shoes to a casual wedding?
While tennis shoes may be comfortable, they may not be the best choice for a wedding.
Even if the dress code is casual, it's still a special occasion and you'll want to dress appropriately.
Opt for a pair of loafers or other dress shoes that are comfortable but still look polished.
What should men wear to a casual summer wedding?
For a casual summer wedding, men can choose a business casual or dressy casual look. Tailored pants in a light hue like khaki or a navy blue cotton button-down shirt can create a laidback yet polished look. A pair of statement earrings can also add a touch of personality to the outfit.
Is it appropriate to wear a cocktail dress to a casual wedding?
A cocktail dress may be too formal for a casual wedding, especially if it's held outdoors during the day. Instead, opt for a flowy maxi dress in a floral print or geometric pattern. Pair it with comfortable shoes like sandals or wedges and statement jewelry to complete the look.
What should women wear to a winter wedding with a casual dress code?
For a winter wedding with a casual dress code, women can choose a cozy yet chic outfit. Dress slacks in a dark hue like black or navy paired with a cashmere sweater or a fitted turtleneck can create a warm and polished look. Opt for tailored pants or a midi dress that is easy to dance in, and pair with comfortable shoes like loafers or ankle boots.