A beer belly is typically an accumulation of fat around the abdomen due to lifestyle habits such as drinking too much alcohol and eating unhealthy foods. This excess fat often gives someone a "pot-bellied" appearance that's difficult to hide when dressing for any occasion.
For those with a beer belly, finding flattering clothes that hide your midsection can be difficult.
The challenge is to select pieces that are stylish and look good while disguising any excess weight. With the right pieces and styling tips, you can look great without sacrificing comfort or style. So keep on reading and find out how to dress properly for your body shape.
Flattering Clothes to Hide Your Belly: Tips for Dressing with Confidence
To dress well if you have a beer belly, start by selecting items in darker colors like black, navy blue, or dark gray since these shades help slim down your silhouette and make your midsection appear smaller.
Avoid wearing tight clothing as this only accentuates your stomach area; instead, opt for loose-fitting garments that allow room for movement while still looking stylish on you – think relaxed trousers paired with a blazer or oversized t-shirt tucked into jeans or tailored shorts.
It's also important to choose fabrics that are breathable so they don't stick to your body uncomfortably; cotton blends are usually best as they provide some structure while still being lightweight enough not to restrict movement.
Accessories should also be kept minimalistic yet fashionable – try sporting hats like fedoras which will draw attention away from the midsection whilst adding some personality to your outfit at the same time.
Here are some tips for dressing with confidence and still looking great:
Opt for looser-fitting garments such as an oversized shirt or sweater. These will help you feel more comfortable and won't cling to your body in the wrong places. Choose trousers with a higher waistline so they fit snugly around your hips, but not too tight at the stomach area.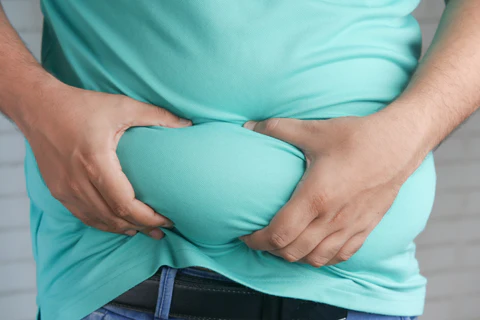 When it comes to shirts, choose styles that have long tails at the back so they cover part of your bottom when tucked in – this helps elongate the torso giving off a slimmer illusion overall; plus don't forget about vertical stripes which tend to slim down any figure.
Layering Strategies: Using Vests and Cardigans to Conceal Beer Belly Fat
Vests come in various styles and colors, so there is something for everyone when it comes to finding the perfect one for you. Try choosing one in a solid color that matches the rest of your ensemble, such as black or navy blue if wearing dark bottoms, or white if wearing light bottoms – this will help create a slimming effect without having to sacrifice comfort or style.
Cardigans come in all sorts of lengths from cropped tops to longer sweaters which means they pair perfectly with whatever type of bottoms you choose – trousers, skirts, shorts, etc.
Plus they're usually made out of lightweight materials so even though they add bulkiness around the waistline area (which is beneficial!), It won't weigh down too much on warmer days either making them ideal for every season.
The Power of Drape: Flattering Clothes for Big Stomach
The beauty of drape-style garments is that they are perfect for both casual and formal occasions – from lunch dates to important business meetings. For example, if you have a big stomach but still want to look dressy for a special event like a wedding or gala dinner, opt for an empire-waist maxi dress or a wrap top with billowy sleeves. This type of clothing won't cling tightly around your middle section and yet looks elegant enough for any occasion.
Choosing the Right Neckline: V-Neck and Other Style Tips for Looking Your Best
When it comes to dressing with a beer belly, one of the most important factors is choosing the right neckline. A V-neck shirt or dress can be a great choice as it will draw attention away from your stomach and up to your face.
This style also helps elongate the torso and make you look taller, which can be especially beneficial if you're carrying extra weight around your midsection. Scoop neck shirts are flattering for those with larger bellies because they provide more coverage than other styles while still creating an attractive silhouette.
Belly-Hiding Style Tips for Big Beer Bellies: Wear Dark Colors and Avoid Wearing Tight Clothes
Having a big beer belly can be difficult when it comes to choosing the right clothes. The first tip is to wear dark colors. Dark colors such as navy blue, black or brown are great choices since they will create an illusion of slimness and make any extra weight appear less visible.


Another useful trick is avoiding tight-fitting clothes as much as possible. Tight clothing may make you look fashionable, but it won't do anything for hiding those extra pounds.
Choose fabrics carefully – avoid thick materials like denim since they tend to add bulkiness around the midsection making everything seem bigger than it really is; try lightweight options like chiffon and silk instead which drape nicely over curves creating subtle definition without clinging too close onto body shape giving away all its secrets.
How to Hide Belly Fat for a Flattering Look
When it comes to hiding a beer belly, the goal should be to create an overall silhouette that flatters your figure. This means creating a look that will draw attention away from any problem areas and highlight more flattering features.
Layering can be an effective way to hide problem areas without adding bulk or sacrificing style. Choose thinner materials such as cotton jersey or linen for comfort in warmer months, while thicker woolens are ideal for cooler climates. To draw attention away from your midsection pair items like slim-fitting t-shirts with longer cardigans or open jackets.
Finally, try wearing trousers with side pockets – these sit slightly higher on the hips so won't draw too much attention to larger stomachs; plus their tailored cut ensures an elegant fit even if you don't have toned abs underneath.
Strategies for Concealing Your Beer Belly
Layering can be an effective tool when hiding a beer belly since it adds dimension without highlighting bulges or curves. Wearing darker colors helps as well because they provide more coverage while disguising any lumps or bumps along the way.
For men, untucked fitted t-shirts and cardigans thrown over the top will provide enough structure without being too tight against your stomach area. Opting for chinos or trousers with flat fronts instead of pleated ones will also help minimize any unwanted attention on your midsection by creating a sleek silhouette that does not cling to one particular area of your body.
For women, pairing looser tops like tunics or blouses tucked into jeans that have some stretch in them allows for added comfort while helping keep everything hidden from view.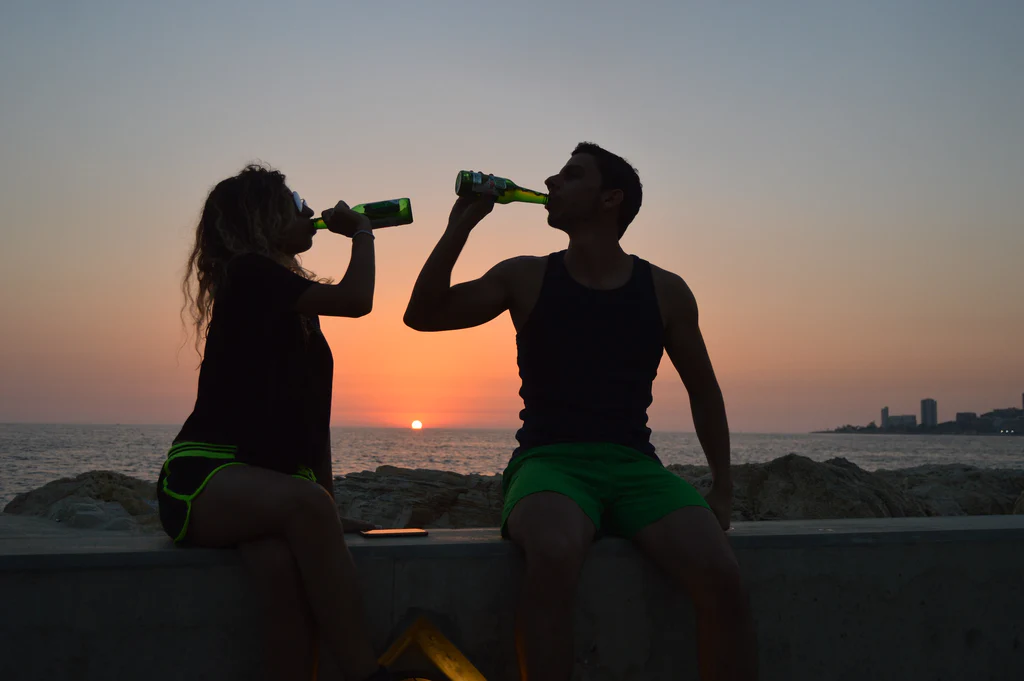 Hiding Your Belly Fat: What to Wear When You Have a Big Belly Bulge
If you have a big belly bulge, it can be difficult to find clothing that is both stylish and flattering. A good place to start is with high-waisted bottoms, such as jeans or skirts. These items of clothing will help cover up your stomach area while also providing an attractive silhouette.
Make sure the fabric has some stretch in it so that it doesn't look too tight around your waistline. If you opt for trousers, try wearing them slightly baggier than normal to create a more relaxed fit.
Flowy blouses and tunic shirts with empire waists are ideal for concealing larger bellies, as they'll draw attention away from this part of the body by emphasizing other areas instead.
Final Thoughts
In conclusion, there are several effective style tips for men and women looking for a way to hide a beer gut or disguise their belly. It's easy to become self-conscious about certain parts of your body, but with time and effort, it's possible to dress in a way that makes you feel confident and comfortable. Wearing dark colors, preferably in black color, can be effective to disguise a belly gut and create a slimming effect.
Mix and match clothes to find the right balance, and make sure they match and fit properly. It may be tempting to hide behind loose clothing, but clothes that fit well and create a straight line all the way down can come in handy, especially when there are people to see, i.e. at social events or work. Remember, the key is to find what works for you and to embrace your unique style.
FAQs
What are some tips for men trying to hide their beer gut?
If you're figuring out how to dress to hide your beer gut, there are several ways to dress that can help. One of the best ways to hide a belly is to wear clothes that fit properly. Avoid baggy or loose clothing that can make the belly area look bigger. Instead, wear pants that fit comfortably around the waist and end above your belly. Choosing clothes that create the illusion of a proportionate and slimmer frame is the key to hiding a beer gut.
What are some fashion tips for men with a beer belly who want to look good in sleeveless clothes?
If you prefer sleeveless clothes, it's best to wear dark colors to hide the belly but also create a vertical column of color that draws the eye up and down. Make sure the clothes are designed to be worn by people with an extra cushion around the belly area. Prints are very effective in hiding a beer gut, but make sure they line up with your shoulders to create a straight line all the way down, creating an illusion of a slimmer frame. If you're still unsure, consider adding an overcoat or layering with a vest.
Can women over 40 effectively disguise a belly?
Yes, women over 40 can definitely consider adding an overcoat or layering with a vest or blouse that doesn't get in the way. If you're wearing dresses and tops, make sure they have the right sleeve length and that the belt is worn around the smallest part of your waist to create a column of color. Mix and match to find the right balance and make sure that the belt and prints match the rest of your outfit. Remember, the goal is to create a straight line all the way down, and the eye is drawn to where the line is broken. So, simply make sure to get the right fit and wear clothes that are effective in hiding your belly.