Dressing like Brad Pitt is a style choice that can make you look dashing and suave. It's not just about the clothes he wears but also how he carries himself with confidence and poise. Brad Pitt has become an icon in Hollywood for his effortless cool, so it's no surprise that people are interested in learning how to dress like him.
If you want to dress like Brad Pitt then stick with quality fabrics and natural fibers such as cotton and wool – synthetic materials may be cheaper but won't last nearly as long nor provide enough comfort compared to their natural counterparts. As we all know by now: quality over quantity every single time.
Brad Pitt's Outfit: Tips for Incorporating Suits, Sneakers, and Adidas into Your Wardrobe
The basics of dressing like Brad Pitt are all about wearing classic pieces that will never go out of style. This means opting for timeless designs rather than trend-driven items. When it comes to shirts, opt for slim-fit white or black tees paired with jeans or trousers in darker colors such as navy blue or black.
To complete the outfit, add some smart leather shoes such as loafers or brogues and a simple belt in either brown or black depending on what you prefer.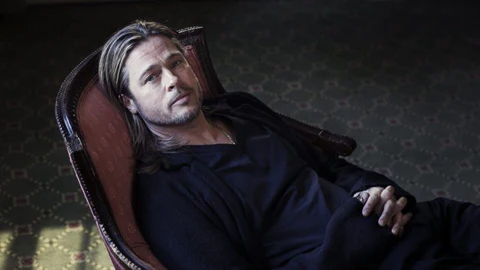 Accessories are key when dressing like Brad Pitt; they can help to take an outfit from good to great.
Opt for statement watches with metal straps, aviator sunglasses, and even hats if you feel daring enough!
These accessories will give your look an edge while still keeping it classic – perfect if you want to emulate the actor's signature style without going too far over the top.
When it comes to outerwear, there's nothing quite as iconic as a well-fitting leather jacket – this is one item that really ties together any ensemble effortlessly. If leather isn't your thing then why not try denim jackets instead? They have the same effect but offer more flexibility when styling them with other items due to their versatility. Alternatively, invest in some tailored blazers – these are always surefire winners whether dressed up or down!
When it comes to dressing like Brad Pitt, suits are the way to go. The actor is known for his timeless style, often wearing sleek and tailored looks that exude confidence and sophistication. But don't think you have to be limited to a suit all the time; there are plenty of ways you can incorporate some of Brad Pitt's favorite wardrobe staples into your own look.
For starters, no one does casual better than Brad Pitt. He has mastered the art of looking effortlessly cool with a simple pair of sneakers and jeans combination or an Adidas tracksuit. If you want to emulate this laid-back yet stylish vibe in your own wardrobe, focus on high-quality basics such as well-fitting tees and slim-fit denim paired with classic white sneakers or slip-on shoes from brands like Vans or Converse for an effortless streetwear feel.
And when it comes to formal occasions, consider incorporating some of Brad Pitt's signature suiting styles into your look – think double-breasted blazers over crisp collared shirts and tapered trousers accessorized with a belt or pocket square for extra dapper vibes. To add even more personality try adding a statement accessory like a bowtie or brightly colored socks which will really help turn heads at any event!
The Iconic Style of Brad Pitt: How to Get His Classic Suit Look and Laid-Back Casual Style
Brad Pitt has a timeless style that has made him an icon for decades. From his classic suit look to his laid-back casual style, the Hollywood star always looks sharp and sophisticated.
To get Brad's signature suit look, choose a tailored blazer with slim trousers or jeans. Look for fabrics like tweed or corduroy in warm tones such as browns, tans, and greens. Pair it with some loafers or boots depending on your preference and you'll be ready to channel Brad's iconic style. For those looking to dress down their ensemble but still maintain an air of sophistication, opt for earthy tones such as khakis paired with a crisp white shirt and slip-on shoes like sneakers or boat shoes. Add some vintage sunglasses if you want to really make a statement!
For an effortless yet stylish outfit that resembles Brad's everyday wardrobe, try combining fitted denim jeans with plain tees in shades of grey and black. Finish off the look by throwing on some classic leather jackets – both full-length biker styles as well as bomber jackets are perfect choices – along with simple trainers for the ultimate cool guy aesthetic.
Dressing Like Brad Pitt: From Red Carpet to Everyday Wear, How to Channel His Renaissance Man Style
When it comes to style icons, Brad Pitt has been one of the biggest influences over the past two decades. His chameleon-like ability to transform himself from red carpet dapper to everyday casual is a testament to his true fashion mastery. So if you're looking for some inspiration on how to dress like Brad Pitt, here are our tips.
First and foremost, let's look at formal wear. On the red carpet or at events such as movie premieres, Pitt often sports three-piece suits in classic colors such as black or navy blue. The fit should be slim but not too tight; he tends to favor higher armholes and trousers that skim just above his ankles for an elegant finish. A crisp white shirt with a tailored collar completes the ensemble – never without cufflinks – while patent leather loafers round out this timelessly stylish look.
For more informal occasions such as parties or even date nights, Pitt knows how to keep things interesting by experimenting with textures and patterns in shades of browns, blues, and greys.
Think corduroy blazers paired with denim jeans or striped T-shirts layered under suede jackets – nothing ever looks overdone but rather perfectly balanced between smart and casual.
If you want your outfit to go all the way down to your feet (which we highly recommend), then opt for desert boots which always seem befitting when channeling Mr. Pitt's aesthetic sensibilities – plus they can easily transition into any season!
Summary
Well, folks, if you're keen as mustard to hop on the bullet train to Brad Pitt's new style station, buckle up 'cause we're about to give you the lowdown!
Channeling the 58-year-old stud's slick looks is a piece of cake, and before you know it, you'll be strutting your stuff like Brad Pitt himself.
In 2022, Brad wowed us all in Berlin with his brown linen revival, so don't skirt the issue and get yourself a dashing wardrobe update, stat! Men's Vogue went bananas over the ensemble he wore to the Berlin promo tour, which was the bee's knees, to say the least.
As we cruise through this phase of Brad Pitt's new style, we're battin' a thousand and obsessing over every last detail, from the top-notch Breitling on his wrist to the way he casually tosses on his jacket.
I mean, crikey, if we ain't havin' a style epiphany right now, I don't know what is! While we may receive a commission for spillin' the beans on the secret sauce of dressing like Brad, it's worth its weight in gold. So, gents, dust off your sartorial cobwebs and embrace the Brad Pitt metamorphosis.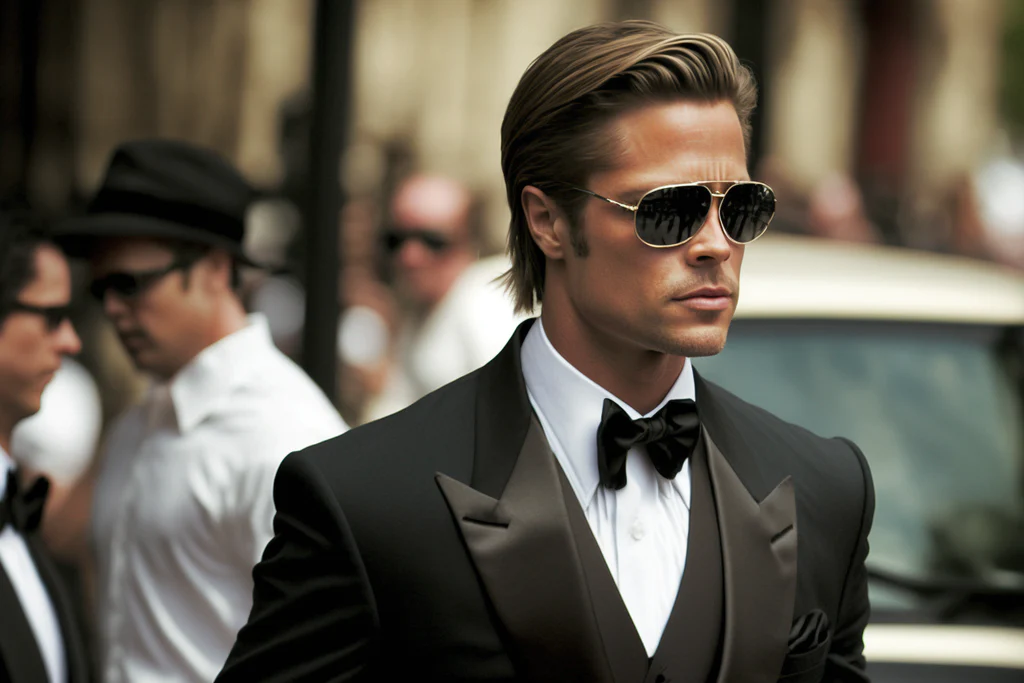 FAQ
What's the skinny on Brad Pitt's style, and how can I look like him?
Well, butter my biscuit, you've come to the right place! Brad's style is a combo of retro silhouettes and leading men's fashion, so start by refreshin' your wardrobe with designer duds like Haans Nicholas Mott's single-breasted teal suits, louche unbuttoned shirts, and some untucked, experimental tees. Don't forget to stack the bracelets for added panache!
How can I rock the baggy pants like Brad Pitt?
When it comes to Brad, he's always sportin' drawstring and baggy pants, whether it's Mott's designs or his trusty ol' matching sweats. Just remember to balance that relaxed silhouette with a fitted tee or polo, and you'll be ready in no time!
What key pieces should I snag to debut Brad Pitt's style?
Well, we've seen Brad wear some snazzy stuff, like unbuttoned shirts, retro t-shirts, and designer Haans Nicholas Mott pants during press tours. So, grab yourself some of those dapper duds, and don't be afraid to take a risk with experimental prints and colors.
How can I hop on the bullet train to Brad Pitt style-town and freshen up my wardrobe like his?
Well, buckle up, buttercup! To get your wardrobe cruising like Brad's, start by picking up some classic tees—after all, this leading man ain't afraid to rock a simple t-shirt whilst strutting his stuff. Then, you'll want to snag yourself a stylist (or at least channel your inner one), and get inspired by Brad's looks, i.e., the perfect blend of casual and chic.
I'm dying to dress like Brad Pitt—any tips on nailing his iconic style?
You betcha! First things first, you'll want to emulate that laid-back, devil-may-care vibe Brad's known for. Mix and match timeless staples like tees, jeans, and a killer pair of shades. Don't forget to throw in some dapper threads for special occasions, though, because Brad sure knows how to clean up nice when the situation calls for it. And remember, confidence is key—wear your revamped wardrobe with pride, and you'll be turning heads like Brad in no time.