Hippie fashion is an iconic style that has been around for decades. It's a popular way to express yourself and your beliefs, and it can be seen in many people today. The hippie look is characterized by bright colors, natural fabrics, handmade items, and vintage clothing.
The key elements of dressing like a hippie include loose-fitting clothes in neutral colors such as white, brown, or black. Layering is also important – adding different textures and layers will help you achieve the perfect bohemian look. For example, you could wear bell-bottom jeans with a long-sleeved shirt over a tank top or t-shirt. To complete the ensemble add accessories like necklaces, headbands, or scarves to create an effortless boho vibe.
Vintage clothing is essential when trying to dress like a hippie; thrift stores are full of unique finds that fit this style perfectly. Flowing skirts in bold prints paired with peasant blouses make up one classic outfit combination while cropped jackets with wide-leg trousers give off major 70s vibes too! Adding extra touches such as ethnic jewelry pieces or fringed bags helps bring the look together for an effortlessly cool finish.
When looking at footwear options for this style think flat sandals or boots along with ankle socks if desired – both options provide comfort but still look chic enough for any occasion.
Finally don't forget about hairstyles; think long locks styled into waves combined with floral crowns – these will certainly turn heads wherever you go!
Why People Love Hippie Style: Understanding What Hippies Wear
The hippie style of clothing has been popular for decades and continues to be fashionable today.
This iconic fashion statement is a way to express yourself, make a bold statement, and stand out from the crowd. It can be seen in modern-day music festivals, streetwear, and even high-end designer collections. But what makes this look so appealing?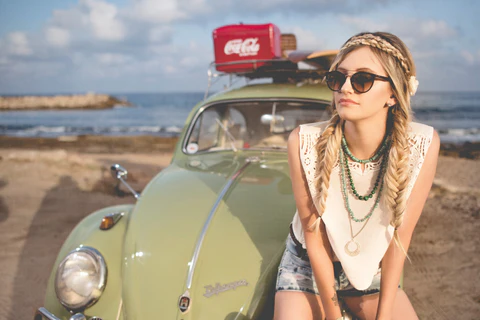 When it comes to understanding why people love the hippie style, it all starts with its roots in the 1960s counterculture movement. The aesthetic of this time period was defined by freedom of expression; bright colors and patterns that embraced individuality; an attitude of acceptance towards different lifestyles; and a desire to live outside the norms set by society at large. These values have remained true throughout the years as many still seek comfort in being able to create their own unique look without having any boundaries or restrictions placed upon them.
Hippie fashion is incredibly versatile – there's something for everyone. Whether you're looking for flowy dresses, denim jackets, or bell-bottom jeans – you'll find plenty of options that are suitable for any occasion or season. There are also lots of accessories like headbands and peace sign necklaces which can add more personality to your wardrobe choices too! Plus there's no need to break your budget when trying out this trend either – thrift stores often have great deals on vintage pieces so you can get some fantastic items at low prices if you search around enough.
Incorporating Denim And Fringe: Different Ways To Dress Like A Hippie
Denim and fringe are staples of the classic hippie style. Denim is a great way to add a casual, relaxed feel to any outfit and can be worn in many different ways. Fringe can be used to create a fun, bohemian look that will turn heads wherever you go. Here are some ideas for incorporating denim and fringe into your hippie wardrobe:
One popular way to dress like a hippie is with jeans or jean shorts paired with an oversized T-shirt or tank top, accessorized with lots of jewelry and bright colors. Add some colorful scarves for added texture, as well as chunky boots or sandals for extra flair. Finish off the look by throwing on a denim vest overtop – this will give it more structure while still keeping it laid-back. For an even more eye-catching ensemble, try pairing bell-bottom jeans with an embroidered peasant blouse – this style oozes vintage vibes.
Fringe adds instant boho charm to any outfit – it looks great when layered over tees or tanks and pairs perfectly with maxi skirts or flared jeans too. Choose from long suede fringed jackets for cooler weather days, short crocheted cardigans for summer evenings, or decorative patchwork vests any time of year – all perfect options if you want to get the true 'hippie' look. Don't forget about accessories either – tasseled bags, belts adorned in beads, and feathers tucked into hats make excellent additions!
DIY Hippie Costume: Simple Steps to Create Your Flower Child Look
Creating a DIY hippie costume doesn't have to be difficult. With just a few basic materials, you can make your own flower child look in no time at all. To begin with, you'll need some type of clothing that will serve as the base for your outfit. An oversized tie-dye shirt or kaftan is perfect for achieving an authentically groovy style. Alternatively, opt for something plain and neutral such as a white blouse so that the focus remains on the accessories.
For the bottoms of your ensemble, choose either bell-bottom jeans or loose-fitting pants – both looks are quintessential to dressing like a hippie. Once you've got the main elements sorted out, it's time to start adding in accessories and items which will help bring together your unique style. A wide-brimmed hat is essential if you want to achieve an authentic 70s feel – these come in many different styles from fedoras to cowboy hats so pick one which suits you best! For jewelry, think along similar lines; chunky wooden beads, layered necklaces and lots of rings (including midi rings) should do the trick nicely.
Finally don't forget about footwear; sandals or even bare feet are ideal when it comes to creating a bohemian vibe – although this may not always be practical depending on where you live. If necessary swap them out for ankle boots instead but make sure they still fit within your desired aesthetic by opting for tasseled ones rather than anything too modern looking. There we have it: simple steps towards creating an eye-catching DIY hippie costume – happy styling everyone!
Accessorizing With Love: Should Vest Be An Important Part Of Your Hippie Outfit
Vests are an essential part of a hippie outfit, and it's important to choose the right one. If you want to capture the classic look, go for something that is both stylish and comfortable. A patchwork vest with fringe details can be perfect for achieving this kind of look. The patches can come in different colors and textures like suede or cotton, adding more depth to your overall style. It also helps if you find vests with some beads or embroidery work on them as these will help add character to your ensemble.
If you're looking for a unique way to show off your style while still keeping true to the spirit of being a hippie, try wearing a brightly colored vest over a plain white shirt or t-shirt.
This will give you an eye-catching effect without going too overboard on accessories. You could even pair this type of look with some bell bottoms or wide-leg pants if you want something more modern but still vintage-inspired at the same time.
Don't forget about accessorizing when it comes to rocking your favorite vest either. Adding bangles, necklaces, and earrings – anything that screams 'hippie chic' – can make all the difference when putting together an outfit that truly speaks volumes about who you are as a person and how much love goes into each piece of clothing!
So don't forget – accessorize with love – should vests be an important part of your hippie outfit? Absolutely.
Tie Dye and Peace Signs: Must-Have Elements of a Tie-Dye Hippie Costume
Tie dye and peace signs are essential elements of a hippie costume. Tie-dye shirts and dresses, along with accessories such as scarves and hats, are key pieces to making any outfit look groovy. The bright colors can be mixed and matched to create an original ensemble that will definitely stand out in the crowd. While the traditional tie-dye style features mainly blues, reds, purples, oranges, and yellows, don't be afraid to experiment with more modern color combinations for a fresh take on the classic look.
Adding fun accessories like peace sign necklaces or headbands makes it easy to show off your hippie spirit without going overboard. If you really want to commit to the theme of peace and love, consider adding some fringe accents or floral embroidery for extra flair. For footwear options, sandals or boots work well depending on what kind of statement you're trying to make; just remember that comfort is key if you plan on dancing all night long.
For an authentic '70s vibe complete your tie-dye getup with aviator sunglasses and lots of layered jewelry – think beads in various shapes and sizes as well as bangles stacked up your arms – not only will these add texture but they'll also sparkle under stage lights while you dance away.
Hippie-Chic: How to Dress Like a Hippie in Everyday Life
Hippie-chic is a fashion style that combines the laid-back attitude of the 1960s with modern elements. It's an easy look to pull off if you have the right pieces in your wardrobe. To start, choose items like flowy maxi dresses and peasant blouses, then accessorize with chunky jewelry and vintage accessories. Layer on light fabrics such as cotton, linen, and denim for a carefree yet put-together look. Wide-brimmed hats add a bit of drama while still staying true to hippie chic vibes.
Footwear should be kept casual; sandals or canvas sneakers are perfect choices for achieving this aesthetic. Embellishments like fringing or embroidery can help complete your ensemble – just make sure not to overdo it. If you want something more subtle than those bolder options opt for tie-dye prints or floral motifs instead which will still evoke retro charm without being too loud or distracting from the rest of your outfit.
Don't forget about makeup when creating this boho look: earth tones work best here so reach for eyeshadows in shades of brown and bronze paired with dewy foundation – no heavy contouring necessary. Finish off by adding some mascara and lip balm – natural beauty is key here! With these tips in mind, you'll be able to master hippie-chic dressing in no time at all.
What to Wear to a Hippie Event: Tips for Nailing the Hippie Dress Code
Dressing like a hippie is an art form and one that requires careful consideration. When attending a hippie-themed event, it's important to dress in the right way so as to truly capture the spirit of the occasion. Whether you're headed to a music festival or simply want to show off your boho style at home with friends, here are some tips for nailing the perfect hippie look.
Start with comfort first – there's nothing more essential than feeling relaxed in what you wear. Opt for loose-fitting garments such as flowing maxi dresses and wide-legged trousers made from natural fabrics like cotton and linen. Add layers such as ponchos, kimonos, or wraps if desired for extra warmth on cooler days. Bohemian sandals or espadrilles work well for footwear; alternatively, choose boots with lots of embellishment if temperatures drop even lower.
Accessories can make all the difference when creating an authentic hippie outfit too – think beaded necklaces, embroidered bags, and oversized sunglasses. A fedora hat adds instant flair while statement jewelry pieces provide plenty of glitz and glamor – chunky rings, charm bracelets or dangling earrings will do just fine! Finally don't forget colorful scarves which can be draped around necks (or worn as headbands.) For added interest in any ensemble – they'll also come in handy should weather conditions change unexpectedly throughout your day out!
Final Thoughts
Dressing like a hippie is all about channeling that carefree, bohemian spirit that characterized the hippie culture of the 1960s and 1970s. The whole point of hippie fashion was to abandon the mainstream fashion trends that big corporations were selling in favor of a more natural and individualistic style.
When putting together your hippie clothes, the key is to wear what feels right and expresses your inner flower child. From simple tees and patched jeans to suede fringe vests and vintage denim jackets with patterned trim, there are many ways to create a groovy costume without being fussy. Accessories like hippie boots and black kohl outlining your eyes can help complete the look.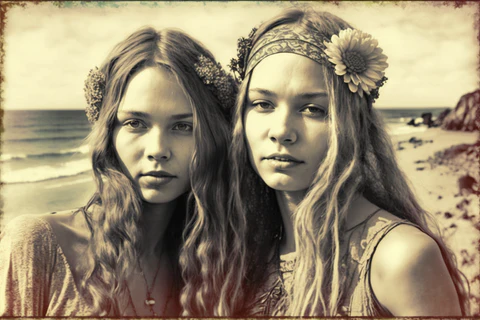 Whether you're getting ready for a Hippie Halloween costume or simply want to look like a hippie because it's cool, the hippie culture is still alive and well today, and many people still enjoy sewing and embroidery to make their intentions known. S
o stick to older items and shop at thrift stores, garage sales, and flea markets whenever possible to create the perfect hippie outfit that truly reflects your inner child of the earth.
FAQs
What are some good hippie costume ideas?
Many hippies enjoy wearing long dresses and skirts made of suede or leather, as well as patched jeans and simple tees. Accessories like flowers in your hair and fringe vests are also popular. For men's hippie fashion, a sheepskin vest or a simple tee will work, paired with jeans or even cutoffs. Adding boots or booties can also help complete the look.
Was the fringe vest a classic hippie fashion item?
Yes, the fringe vest was a classic option for both men and women during the height of hippiedom in the 1960s and 1970s. It was part of the anti-war movement's fashion trend, which aimed to abandon buying what big corporations were selling in favor of more natural and individualistic styles.
Do many hippies enjoy sewing and embroidery?
Yes, many hippies enjoy sewing and embroidery as a way to express their individuality and make their intentions known. Women in the 1960s often wore long-sleeved peasant blouses with embroidered peaceful slogans or images, and many male hippies also enjoyed putting on and taking off vests and jackets made of suede or leather. Fraying old jackets and vests was also a popular way to spice things up and create a unique look.