Disco attire is clothing and accessories that were popular in the 1970s when disco music was at its peak, such as led t-shirts. The style often included a combination of bright colors, flashy fabrics, and bold patterns. Disco fashion was all about tight-fitting clothes such as mini skirts, hot pants, halter tops, tube tops, and bell bottoms. Platform shoes or high heels are also a common part of disco attire. Accessories may include large earrings and chunky jewelry to create a more dramatic look, so stay with us and learn about all the essential elements of the disco attire.
What to Wear to a Disco Party?
A classic example of disco attire, besides led tshirt, is the jumpsuit – an all-in-one garment made from stretchy material such as Lycra or spandex with flared legs for added volume. These can come in different styles including one-shoulder jumpsuits or sleeveless versions with metallic detailing on them for extra sparkle on the dance floor. Another staple item is sequined fabric which can be used to make glamorous dresses featuring plunging necklines and low backs to show off some skin while you're dancing away!
For men who want to join in on the fun too, there are plenty of options available like colorful silk shirts paired with bell-bottom trousers or tight leather trousers combined with platform boots – all guaranteed to get you noticed out on the dancefloor.
When it comes to dressing up for your next night out don't forget about disco attire – it's sure to make any party feel just like Studio 54 back in the day.
Party Outfits for a Nightclub: Disco Fashion for Women
When it comes to disco attire, bold and colorful patterns are the way to go. Nothing will make you stand out like a suit or dress that pops with vibrant colors. No matter how you choose to incorporate bold patterns into your wardrobe, it's sure to turn heads on the dance floor.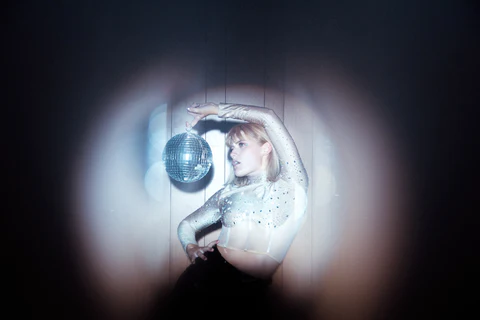 Adding some sparkle never hurt either – rhinestones and sequins can give any piece of clothing extra point and bring attention from afar. You can find pieces with just enough embellishment if too much bling isn't really your thing; select one item such as a jumpsuit with sequin accents along the neckline or opt for subtle shimmer on fabric instead of individual stones.
So get ready for disco fever this weekend by selecting something special from our collection – whatever you decide on is sure to be worth every penny.
When it comes to disco attire, the choice of fabric can be just as important as the style. While polyester and other synthetic fabrics were popular during the 1970s, flowing fabrics such as satin, chiffon, velvet, and crepe are great choices for replicating that classic era look. Not only do these fabrics provide a hint of glamour but they also allow you to create a dreamy silhouette with plenty of movement on the dance floor.
A dress paired with metallic accents such as sequins or glitter will help bring your outfit alive when light catches it – perfect for capturing all those special moments at a party or event.
Popular Disco Outfits & Accessories
When it comes to creating a truly showstopping disco outfit, accessories are the key. From sparkly berets and wide-brimmed hats to glittery scarves and bold statement jewelry, accessorizing is what will make your look stand out in any crowd. Whether you're looking for something subtle or an attention-grabbing piece, there's sure to be something that fits your style perfectly.
A great way to take your look up a notch is with some dazzling sunglasses. Whether they're oversized aviators or cat eye frames with rhinestones, these can really add pizzazz and glamour to any ensemble. Don't forget about purses. A sequined bag adds instant bling and will help carry all of those extra necessities like lipstick and phone chargers throughout the night without compromising on fashionista points.
Why not throw on some platform shoes? They'll elongate your legs while adding height – perfect for busting moves on the dance floor.
Platform Shoes for Disco Dancing
Platform shoes are a popular choice for disco attire, as they provide the extra height and stability needed when dancing. The shoes come in all shapes and sizes, from subtle one-inch platforms to four-inch heels that will surely make you stand out on the dance floor.
When selecting platform shoes for your disco outfit, it is important to consider both style and practicality. Shoes with a bold color or pattern will draw attention while still allowing you freedom of movement on the dance floor.
Are Retro Outfit Ideas Enough for a Disco Look?
Disco is a fun theme for any party, and the disco craze of the 70s look is no exception. Whether it's Halloween or your birthday, nothing says festive like disco lights, shimmery dresses, and sparkling shoes!
Metallic dress: For a '70s disco fashion-inspired ensemble, try wearing a metallic dress made of chiffon or sequins in pink. Team it with high-waisted flared pants, colored shades, and metallic heels for the ideal party ensemble.
Bell bottoms: For a more feminine style, wear them in shiny material or one with rhinestone trim.
These pants are great because they're comfortable and can be styled in several different ways; plus, their flattering silhouette makes for a great contrast against loose tops. You can always pair them with faux fur or some pleated creation.
Harem pants with high-side slits: For a daring disco look, pair belly dancer harem pants with a chic short top. These trousers create an eye-catching combination and can be paired with either a thigh-high skirt for even more drama.
Flared jeans: For a more relaxed style, don some flared jeans. They're ideal for disco parties and can be paired with any top to show off your legs.
Leather shorts: Leather shorts are an attractive alternative to jeans for a more trendy and casual look – ideal for the younger crowd and they are making a comeback. These are perfect for adding some disco flair to your ensemble! Just get a pair of heels (stiletto) to match the entire outfit and you will be ready to hit the scene at disco clubs.
Sequined top: A sequined top is a timeless disco look that will never go out of style. Pair it with either a sleeveless or cropped top and accessorize with some bangles, shiny eyeshadow, and other accessories to complete the ensemble.
Theme Party: Disco Era of the 70s Disco Fashion
The look of the 1970s fashion disco attire is all about head-to-toe glamour. To understand the disco craze of the 1970s ensemble, it's essential to start with the right clothing items. The foundation should be a sparkly or metallic mini dress or jumpsuit in any bold color. Disco trousers, which are typically flared and high-waisted, should also be included in your outfit along with a halter neck top or sequin blouse. Accessories can really accentuate an entire disco look together; make sure you choose glittery jewelry such as hoop earrings and pendants to add some shine.
For men, denim paired with velvet shirts or turtlenecks will give off a major 70s-inspired look. For footwear, platform shoes for both genders will provide an extra touch of flair when putting together your disco outfit – think white patent leather boots for women and brown suede loafers for men. If you want to go all out on accessories then why not finish off the look with a statement hat like a trilby fedora?
No 70s style would be complete without hair styling products such as mousse and hairspray. Put your hair into curls using rollers and finish off by adding some glitzy clips – this will ensure that you have maximum impact at any party!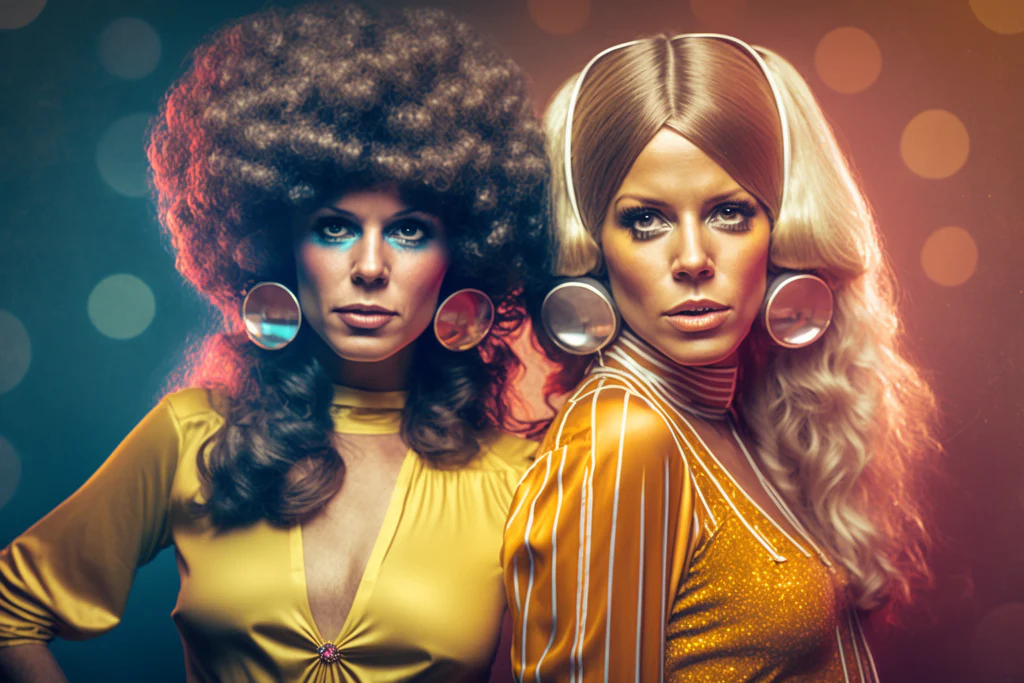 Are Skinny Jeans Hippy or Disco Clothes?
This question often arises, and it's certainly valid. Ultimately, it comes down to what makes you feel best and how you dress for whatever occasion arises.
If you want to draw attention to your body's natural curves, opt for skinny jeans that fall straight from your hips and have a flattering, tailored tapered fit. They will draw attention to your narrow waist while eliminating any bags or out-of-proportion clothing when paired with tight clothing.
The way you can pair your skinny jeans with baggy shirts and colorful blouses, letting your hair down and wearing sandals can definitely give off some hippie vibes. On the other side, skinny jeans can make a gret addition when recreating a disco outfit.
Where to Buy Disco Clothes?
The best place to look for disco pieces is online at websites selling vintage and designer pieces. Here, you'll find an array of dresses, jumpsuits, flared pants, and more that are inspired by this classic music genre.
Inspiration: Look Like a Million Buck
From short and long sequin dresses to rainbow stripe minis, there are numerous ways to rock this trend.
If you're on a budget, try searching for vintage or inexpensive outfits to recreate the classic style. For instance, an easy satin wrap dress or sleek slip dress will do the trick for any dance party.
Look Even: Make sure your clothing accentuates your figure and ties together the rest of your ensemble. Men also need to pay attention to their clothes, a ruffled shirt paired with denim jeans will make a great choice.
Accessorize: For a unique look, or if you want to change your identity by changing your style, opt for a belt with metallic or glitter detailing. Wear something with Indian beads, metal mesh or tooled leather. Adding wine flasks, binocular cases, or coin purses add extra flair too! Having these glitzy accessories will complete your outfit and make you stand out from the rest!
To Wrap It Up
In the '70s, discotheques became places where glamour and fantasy reigned. This dance craze featured bright colors, sparkles, sporty clothing like velour sweatpants or bright chiffon skirts and jumpsuits – as well as sporty sneakers. The perfect disco boho-style clothes were comfortable to dance in, and if you were shiny like a disco ball was only a plus.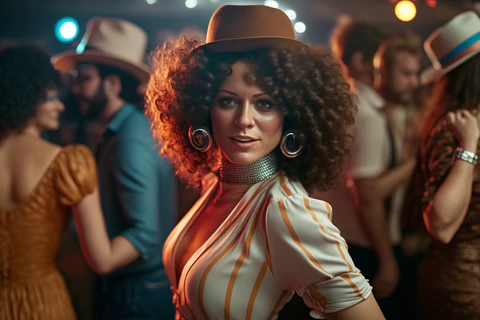 Today, you can wear this fun and trendy style for Halloween, themed parties, or simply to dress up your everyday ensemble. For a true disco inspo outfit, accessorize with accessories like a glittery top or ribbon headband for added effect – you could even go all out and rock the 1970s aesthetic. The disco era was nothing if not a fantastic time where you could dress up almost any way you wanted and rock any style there was.
Questions & Answers
What does disco style look like?
To reflect the disco style is to wear glam and flashy clothing featuring sequins, metallic fabrics, and bright colors. Platform shoes, bell-bottom pants, and wide-collared shirts were also popular.
What is the disco dress code?
The disco dress code typically requires clothing that is glamorous, and attention-grabbing. Men can wear bell-bottom pants, colorful shirts, and platform shoes while women's disco attire consists of jumpsuits, mini dresses, and high-heeled shoes.
What were some fashion trends of the 1970s disco era?
Some popular fashion trends of the 1970s disco era include wide-collared shirts, jumpsuits, mini dresses, hot pants, and flashy accessories such as large hoop earrings and necklaces.
How should I dress for a 70s disco party?
To make a statement for a 70s disco party, you can wear a jumpsuit, mini dress, or bell-bottom pants paired with a wide-collared shirt. Accessorize with platform shoes, large hoop earrings, and a disco-inspired hairstyle for a common disco look.