Rock concerts are a unique and exciting experience that many people enjoy. They provide an opportunity to get together with friends and listen to some of your favorite bands while having fun in the process. It is important, however, to make sure you dress appropriately for such an event.
When it comes to what to wear at a rock concert, comfort should be your top priority. A typical rock concert involves standing or dancing for several hours, so wearing clothes that allow freedom of movement will keep you comfortable throughout the show. You may want to consider loose-fitting jeans or pants with a T-shirt or tank top along with sneakers or other comfortable shoes, as these items provide adequate coverage and still allow you room to move around freely during the performance. Depending on how cold it is outside, jackets and hoodies can also be worn overtop if desired but try not to bring anything too bulky since it could impede your ability to dance if needed.
Another great option for rocking out at a concert would be band merchandise, like t-shirts featuring logos from your favorite acts. Not only do they look cool, but they help show support for the artist, which many fans appreciate as well. If you don't have any official gear then fear not because there are plenty of stores online where you can find replica clothing items emblazoned with various images related to different musical genres ranging from classic rock all the way through modern metal core – something suitable for everyone no matter their tastes!
Accessories can really tie together any outfit and make it stand out amongst fellow fans at shows; jewelry pieces like necklaces featuring iconic symbols associated with music legends past & present never fail to turn heads, while hats adorned by famous album artworks always draw attention (but remember: take them off during loud sections.). While dressing up might seem excessive, just bear in mind that this kind of fashion statement goes hand in hand when attending such events – after all, part of being a fan means showing appreciation through whatever mediums available, so why not express yourself through style?
Dress For the Occasion: What To Consider When Choosing a Concert Outfit For a Rock Concert
When attending a rock concert, the outfit you choose can be as important as the music. You want to look fashionable and stylish, but also show your enthusiasm for the band or artist performing.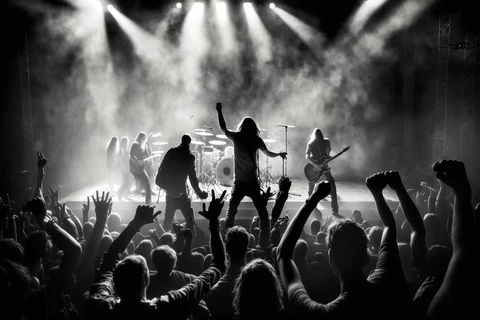 Here are some things to consider when picking out an outfit for a rock gig:
Firstly, comfort should always be at the top of your list. If you're not comfortable in what you're wearing, it will be hard to focus on enjoying yourself and having fun with friends. Make sure that whatever you decide to wear allows free movement so that you can dance along with everyone else without any restrictions or hindrances. When it comes to footwear, opt for something flat like sneakers or boots, since heels won't do much good if there's jumping involved.
Color is key when choosing an ensemble for a rock concert – bright colors work best since they stand out against dark venues and add more energy into your overall look. Go bold with patterns and accessories, too; pick pieces that reflect your own personal style, while making sure they don't overpower everything else in your ensemble. Band tees make great statement pieces – perfect if you really want to show off which band or artist is playing.
Keep in mind where exactly the event will take place – indoor concerts tend to get very hot due to large crowds, so dress accordingly by opting for light layers instead of heavy materials like denim jackets or leather coats, which could end up being quite uncomfortable after a few hours of standing around sweating.
Best Rock Concert Outfit Ideas
Attending a rock concert is the perfect opportunity to get out of your comfort zone and experiment with bold fashion choices. Think leather jackets, band tees, ripped jeans, combat boots – all staples in the rock aesthetic. To start off your look, an oversized graphic tee or vintage band shirt gives you instant street cred without being too over-the-top. Layer it up with a faux leather motor jacket for some extra edge, and make sure to leave it open to show off your statement tee.
Ripped jeans are also essential for that classic rocker vibe. Look for light wash denim styles featuring frayed hems or distressed detailing along the thighs and knees for added drama. Finish off this edgy ensemble by pairing these jeans with rugged combat boots in black or brown hues – a timeless look that will never go out of style at any concert venue. Accessorize as much as you want – just remember less is more when trying to keep true to the rocker spirit! Opt for minimal jewelry pieces like studded earrings and chunky silver rings that won't overpower your outfit but still add some flair. A mini shoulder bag can also be useful if you don't want to carry around a bulky backpack throughout the night.
The Classic Rock Concerts Outfit: A Leather Jacket Or A Band Tee
Leather jackets are a classic fashion statement that never go out of style. Perfect for any occasion, they remain the staple of rock concerts around the world. They can be found in nearly every corner of the music scene and have been worn by some of the most iconic figures throughout history.
Whether you opt for a traditional black biker jacket or something more colorful like a bright yellow aviator jacket, leather is sure to turn heads wherever you go. Not only will it make you look stylish, but it also offers protection from both cold weather and unwanted attention at crowded shows. The comfort level is unparalleled, and their timelessness ensures that you won't need to worry about replacing them anytime soon – making them well worth your investment.
A good quality leather jacket doesn't need to break your bank, either – there are plenty of affordable options available if you know where to look. With so many different styles on offer, finding one that suits your personality should be easy enough; just remember not to forget about accessories such as scarves, hats and gloves which can help add an extra edge to your outfit.
Choosing an Outfit: What to Wear to a Rock Concert?
If you're headed to a rock concert, your priority should be comfort. After all, the whole point of going is to enjoy the music and dance along with friends. But that doesn't mean you have to sacrifice style. Here are some tips for finding an outfit that allows you to show off your personality without sacrificing practicality.
First and foremost, think about what kind of shoes will work best. While heels may look nice, they won't do much good if they can't handle standing up in a crowd or dancing around during the performance. Instead, opt for something like sneakers or ankle boots, so you can keep moving without worrying about slipping over or having sore feet by the end of the night.
A t-shirt or tank top is great on its own but wearing one under a denim jacket means that if it gets too hot in there (which is likely!) Then it's easy enough to take off and tie around your waist until needed again later on when temperatures cool down after midnight. Throw in some statement jewelry pieces like chunky rings or necklaces and voilà – an effortless yet stylish ensemble perfect for rocking out at any gig.
Accessorizing For Rock Concert: Adding The Finishing Touches To Your Concert Outfit
When putting together the perfect look for a rock concert, there are plenty of elements to consider. The clothes you wear can be just as important as the accessories that come with it. Taking your ensemble to the next level can be achieved with just a few touches here and there.
One great way to accessorize is by wearing statement jewelry pieces like large earrings or chunky necklaces that really make an impact when paired with leather jackets and graphic tees. You could also opt for layered bracelets or rings, which create an edgy vibe, no matter what kind of music you're going to see at the show.
For something more subtle, try out some cool sunglasses in bold colors or interesting shapes, such as aviators or cat-eyes – these will help complete your rock star look without being too overbearing. A pair of boots is also a must-have item; from ankle booties to combat styles, they can easily transition from day into night and add some serious attitude. Whether you want to go all out glamorous or keep things minimalistic, it's easy to find stylish accessories that fit your style while still staying true to the genre of music you'll be hearing live on stage.
Dressing For The Venue: What to Wear to an Indoor Or Outdoor Concert
When deciding what to wear for a rock concert, the venue can play a major role in your outfit choice. Attending an indoor show gives you more freedom to express yourself with bolder pieces that may not be suitable for outdoor concerts. For example, if you are attending an indoor concert, consider wearing leather pants or jeans paired with a classic t-shirt featuring the band's logo or graphic design. You could also opt for some statement jewelry such as chunky rings and necklaces, along with stylish boots or sandals to complete your look.
On the other hand, when going to an outdoor show, it is important to choose something more casual but still chic. A pair of lightweight trousers like linen pants or shorts work great during summer, while denim shorts and skirts are always popular options all year round. A comfortable tank top will keep you cool even on hot days, while allowing you to showcase any band merch designs that you have bought beforehand. An oversized hat is also key in keeping off the sun and accessorizing at the same time. Make sure that whatever shoes you choose to provide good support, so they don't cause too much discomfort after standing up all day long – sneakers usually fit these criteria perfectly!
Putting It All Together: Examples Of Outfits For Concerts, From Casual To Glam
When it comes to attending a rock concert, the right outfit can make or break your night. After all, you want to look stylish and feel comfortable while still expressing your individual style and personality. To get some fashion inspiration for a rock show, here are several outfits that will have you looking great while also standing out in the crowd.
For those who prefer something more casual but still put-together, try pairing distressed jeans with a graphic t-shirt featuring their favorite band's logo or album artwork. Complement this look by adding statement accessories like metallic boots and an eye-catching belt buckle or necklace. You can even top it off with a vintage denim jacket for added flair.
If you're looking for something slightly dressier yet still edgy, opt for leather pants paired with combat boots and an embellished tank top featuring bold colors and patterns. Then add some color to your ensemble by accessorizing with bright jewelry pieces such as dangling earrings or colorful bracelets stacked up on one arm – these details will help elevate your entire look without going overboard.
If you want to go all out glamorous at the concert of your dreams, then slip into some high-waisted trousers accompanied by an oversized blazer that features unique detailing such as studs along its lapels – don't forget about the matching black ankle boots too. And since any good outfit needs just the right finishing touch; consider accessorizing this head-turning ensemble with bold lipstick shades in hues of red or purple – they will definitely take this glamorous look over the top!
Final Thoughts
When it comes to dressing for a rock concert, you've got plenty of options to choose from. If you're not sure what to wear, don't worry—I've got you covered. Rock concerts can get rowdy, so you want to wear something that allows you to let loose and enjoy the vibes. A band t-shirt is always a great choice, especially if it's paired with some black pants or black denim. If you want to avoid blending in, throw on a leather jacket to add that grunge factor.
Fishnet stockings or ripped jeans combo work just as well to give your outfit an effortlessly cool edge. If it's hot and sticky, keep it simple with a crop top or a bralette, and style it with denim shorts or a miniskirt. Finish off the look with some black boots or sneakers and a fanny pack to keep your essentials close while you mosh. Whether you're going to your first rock concert or you've been to many bands before, the ultimate guide is to wear what makes you feel comfortable and confident. Enjoy the show and rock the night away!
FAQs
What should I wear to a rock concert?
When it comes to dressing for a concert, especially if it's a rock music extravaganza, you have the freedom to let your style shine. If you want to go for a classic look, you can't go wrong with an all-black ensemble. Rock concerts are all about attitude, so feel free to unleash your inner rock star. Throw on your favorite band's shirt, pair it with some confident-fitting black pants or leather leggings, and you're ready to rock the night away.
Can I wear something comfortable and still look cute?
Absolutely! It's totally possible to style the perfect rock concert outfit that keeps you cool and comfortable while making you look cute as hell. Opt for a band t-shirt or a cool graphic tee paired with some baggy jeans or shorts. If it's a bit chilly, layer it up with a stylish cardigan or a denim jacket. Don't forget to finish off your look with some comfy sneakers or boots. With the right combination of comfort and style, you'll be rocking that concert with confidence.
Are there any rules when it comes to makeup for a rock concert?
No rules, my friend! Express yourself with your makeup choices when going to a rock concert. It's the perfect opportunity to go bold and experiment with edgy looks. Smokey eyes, dark and dramatic eyeliner, or a pop of vibrant color on your lips can elevate your rock star persona. Remember, it's all about embracing the spirit of rock music, so let your makeup reflect your inner rock goddess or god.
What should I avoid wearing to a rock concert?
While there aren't strict fashion police at rock concerts, there are a few things you might want to steer clear of. Avoid wearing anything too restrictive that might hinder your ability to move and groove to the music. Stay away from delicate fabrics that can easily get ruined in the rowdy moshing or hours of endorphin-fueled dancing. Additionally, it's best to leave your heels at home and opt for comfortable shoes instead. Lastly, while black clothes are a popular choice, feel free to mix it up with other dark hues or pops of color. The key is to wear something that fits right, keeps you cool and comfortable, and makes you feel like the rock star you are.